Greetings! I am Kendra Lewis, evaluation coordinator for the California 4-H Youth Development Program at University of California, Agriculture and Natural Resources. I am going to share my experience with a "data party" as a way to engage camp staff in evaluation data. In California, we recently held a one-day workshop with 4-H camp staff (teens and adults) to review evaluation data collected at their camps last summer. Evaluation data was collected from two sources: youth campers and teen camp staff. We had nearly 30 people representing six camps attend. We presented results from across the state as a whole, as well as specific results for each camp. We used graphs, tables, word clouds, and posed open-ended prompts to initiate conversation among the staff.
The first part of the party consisted of a "gallery walk" that gives an overview of the statewide results. We had large posters that presented data from the results, and had small groups of people walk around to review the posters. We made sure to mix teens with adults and to put people from different camps together to ensure diversity in camp experiences. Participants enjoyed looking over the posters and had to be reminded to move around to the other posters so they had time to see them all! Conversations were rich in interpretations about what the findings meant and examples from the various camps. Mixing teen and adult participants also allowed for the different views and perspectives of the results to be discussed.
Next, each camp gathered together at a table to go over a "data placemat." The data placemat was a sheet of 11x14 paper with results specifically from their camp. Each camp received two placemats: one for the camper data and one for the teen data. We first went over the camper data. The placemat had demographic information about the sample and survey results on the front, along with the open-ended prompts to facilitate conversation of the results. On the back of the placemat was a word cloud with results from the open-ended questions we asked of the campers. This was a great way to introduce qualitative data, so as not to overwhelm them. After reviewing the word clouds, each camp had the opportunity to go over all their qualitative data in full. After each camp had some time to review their data, we had a large group discussion about the implications of the results. Then, we went through the teen staff data in the same format as the camper data.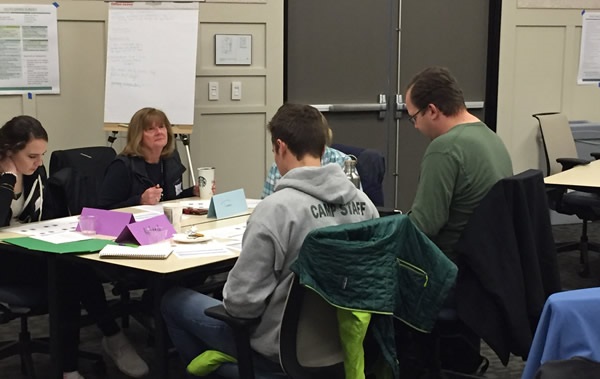 Camps then spent some time coming up with some action plans for next year's camps. They shared plans and ideas with the large group, and were able to relate them back to the results of their camps. Participants enjoyed having the data presented to them in an easy, manageable way, and then having the opportunity to brainstorm ways to improve their camps not only with their staff, but with other staff across the state. The data party served as a great tool for getting camp staff engaged in evaluation and sharing resources with one another. All camps present signed up to be part of the evaluation again, and we already have our next data party set for October 2017!
For more tips on data parties, check out all these great ideas and pins from Kylie Hutchinson. And, see the Innovation Network's slide deck on Data Placemats for more information about this cool tool.
Kendra Lewis is the Academic Coordinator of Evaluation for California 4-H. Her research expertise and interests lie in positive youth development and program evaluation. She uses these interests as well as her skills in data management and statistical analyses to evaluate statewide 4-H programming (including camp) and build the capacity of county 4-H academics and staff to conduct evaluation on their programs.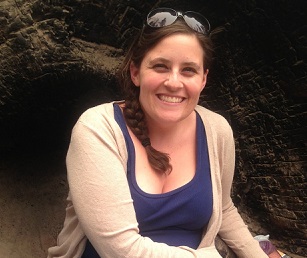 Event photos courtesy of Marianne Bird.
Thanks to our research partner, Redwoods.
Additional thanks goes to our research supporter, Chaco.