At CampHire, staff recruitment is our business. It's what's on the agenda, all day, every day — counselors to nurses and everything in between. In order to hone our craft, we study the science of sourcing to provide our camp partners with the best possible candidates each summer. As the recruitment season heats up, we thought we'd share our proven tips for how to write the best job descriptions and generate the most interest in your post.
First things first — the key to a successful job description is to be direct and to bring career-oriented language to the forefront. For more on this, check out our post in partnership with ACA's #projectrealjob entitled Cut the Fluff.
Now let's dive a little deeper. In this three-part series on job descriptions, we will share practical examples highlighting three key principles that will draw in applications:
How to write inclusive job descriptions
How to avoid application barriers
How to get the most from job board promotion
How to Write Inclusive Job Descriptions
Identifying and removing bias from your job description is critical to turning "views" into "applicants." The language you use can impact who is applying for the role. There is a lot of chatter on this topic, but for the sake of this post I've summarized the key principles we hold ourselves accountable to at CampHire.
Avoid subjective or vague language such as "a good cultural fit." Without context, these types of phrases can be misinterpreted and even considered offensive to candidates who don't fit in with the photos on your website. Focus on the skills and competencies required for the job.

What We Do: We structure job descriptions like Mad Libs. While it may seem simple, this has proven to be an effective method to ensure that skills are the focus. A typical CampHire template reads something like:

"This position requires _______  and _______, and provides the opportunity to develop _______ and _______  skills in a supportive camp environment."
CampHire Pro-tip: Where asked to provide contact information on your job post, be sure to include your preferred pronouns (she/her, they/them, he/him). It is one of the most basic ways to show respect for gender identity and signals to candidates that camp is a safe space for all.
Keep the camp lingo to a minimum. When drafting language for your job description consider that much of your audience has never been to camp before. Even common camp terms like "canteen", "CITs," and "bunks" may not resonate with those who spent summers outside of camp. Camp has an exclusive appeal, but too much camp jargon can give the impression that you have to speak the language in order to work at camp. That feeling can deter candidates from applying.
What We Do: At CampHire we describe cabins as "dorm-style housing" or "shared living spaces with campers." By changing a post from "Head Counselor" to "Chief of Staff" we reach a broader audience of qualified applicants.
Limit job requirements to the essentials. Think about what skills are critical for the role, and minimize the rest. While some jobs at camp require formal certifications (nurse, lifeguard, etc), the majority don't. If a candidate doesn't check every box on your long list of qualifications, they likely won't apply.

What We Do: At CampHire we recently removed "college degree" from a handful of job descriptions. Why? Because cooks don't have to have gone to college to know how to make delicious food, and camp counselors don't have to be enrolled at universities to be positive role models. If candidates don't see their background aligning with your list of qualifications, they will move on to a role that is more approachable — and never look back.
How to Avoid Application Barriers
Getting someone to view your post is hard. Getting someone to apply to your post is even harder. Do yourself a favor and make it easy for candidates to get in touch with you. A seamless application experience is essential to getting real hits on your post.
Thankfully, major job boards have really streamlined the process. Indeed, for example, has reduced applications to two clicks (two clicks!).
You might be thinking "Two clicks? How do I know I'll get qualified applicants?" Okay, you might be right, not all of them will work out. But the alternative to too many applicants is not enough.
Try instead to see the "easy apply" button for what it's worth. By removing some of the barriers to application, it gives you a larger pool of "warm leads" to work with. Being open to all application methods, regardless of platform, will increase your chances of finding "the one."
Put yourself in the shoes of the candidate. They've read your job description on their phone (according to Indeed, 65 percent of people apply on mobile), liked it, and decided to give it a shot. Applying was a breeze, and it's no skin off their back to see where it goes.
The candidate made the first move. The ball is in your court. The notification you just received on your phone is a newfound opportunity to sell someone on the experience you have to offer.
What We Do: At CampHire, we've found a happy medium. We add two to three short-answer custom questions that are suggested, not required. This strikes the right balance of making it seamless for applicants while providing us with enough substance to evaluate the candidate.
You might want to sit down for our next tip. Deep breath now. Let's talk The Camp Application.
When it comes to the camp app, we've heard it all:
"Completing our app shows their commitment level."
"We need the information for our records."
"If a candidate can't complete our application, it's a telling sign."
These reasons are valid, but let's be clear. If you require your camp application to be filled out prior to an interview, you are missing out on candidates. Once you stray away from the streamlined process on job boards, you are guaranteed to lose applicants.
Two common (and often costly) mistakes to avoid:
Directing candidates to apply on your camp website instead of using the job board's process.
Requiring applicants to complete your camp application before ever speaking to them.
The typical camp application is more than 20 steps. It requires responses to multiple open-form questions (essays!), DOB, driver's license, t-shirt size, and a social security number. Compare that to the two-step Indeed process, and you can see how it could impact application rates.
Don't get me wrong, we see the value in capturing the critical information in the Camp App prior to a candidate's start date, but we don't see the value in requiring it as the first step. You haven't hooked them yet.
For most candidates, completing the 20-step application is a daunting task and a somewhat invasive process. It doesn't align with the "fun and inclusive camp environment" they read about in the job description and is excessive compared to the other roles they applied to. In addition, the level of rigor required to complete the application sends a message to candidates that "you have to pass this test in order to join the club." The long-answer questions favor those with advanced writing skills, which could introduce bias into the process. It's not a good recruiting practice.
CampHire Pro-tip: Try it here instead: 1. We like you! 2. We want you as part of our camp community. 3. Want to get paid? 4. Now fill out the application.
Don't create unnecessary barriers for your candidates. Your application shouldn't be a gatekeeper that deters interest and inhibits real human connection. Leverage the quick-apply options and meet candidates where they are.
How to Get the Most from Job Board Promotion
At CampHire, we post to all major job boards, as well as specialty boards for targeted roles. We leverage an automated recruiting tool that makes it seamless to blast roles across dozens of platforms with one click. But as a camp director, you may not have that luxury, and likely don't have the bandwidth, to post on such a robust scale.
So what should you do?
When it comes to job boards, there is one to rule them all. Indeed. It's the number one job board in the US, and it's not even close, capturing 75 percent of applications nationwide. If you aren't serious about Indeed, you're missing out on candidates. We spend lots of time (and money!) on Indeed and are excited to share learnings to help you get the most out of the platform.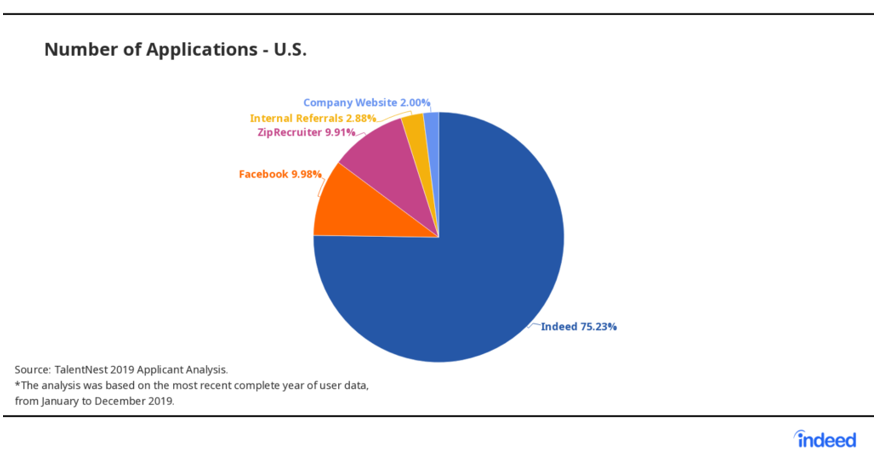 For starters, there are a couple of key things to know about Indeed.
Posting for free on Indeed won't get you very far. In fact, free posts only show up within a 25-mile radius of the job location. For most camps, that's the middle of nowhere. The solution? To broaden exposure you need to pay to promote the job in multiple locations.
"Post and pray" is not a strategy. If you are going to rely on job boards, you have to be proactive. That means monitoring analytics, budget, and quality of applicants on a daily basis. The good news is Indeed provides tools for this.
Utilize keywords to maximize your placement in search results. It's not as hard as it sounds, we promise. A quick example: at CampHire, we boosted views for a Waterfront Director by 200 percent by adding the word "Aquatics" into the post.
Pay to stay relevant. If you're relying on your free post, it goes to the bottom of the heap pretty quickly. To stay at the top of search results, promote the job.
The reality: "pay to play" is the name of the game. It's a competitive market and candidates' attention spans are short. So make the most of the tools at your disposal. According to Indeed, sponsored posts perform three to five times better than free posts. At CampHire, we know from experience that this works.
---
Aaron Lyon (he/him) and Esther Eisenhard (she/her) are the founders of CampHire, a recruitment and staffing agency for summer camps. They take the stress out of hiring by sourcing highly qualified candidates that embody the camp spirit.
Looking for assistance with recruiting for your camp? Email esther.eisenhard@camphire.com for more information.