Greetings from the ACA Research Team! For this blog, we welcome Christie Ko, executive director of Fiver Children's Foundation and member of the ACA's Research Advisory Committee. Christie and I are excited to share with you an exciting update on the 5-Year Impact Study, but first we have to say that 2018 marks an exciting time for ACA research in general. In the coming months, we will be launching Phases 2 and 3 of the Impact Study, while at the same time sharing with you the results of Phase 1 of the Impact Study, as well as the results of two new sets of camp research studies. You can read about the first set of studies in the 2018 ACA Research Forum Book of Abstracts; even better, plan to attend the Research Forum and the Research Awards Recognition and Social at the ACA National Conference in February. Later in the spring, we will share a new special issue of the Journal of Youth Development, a free, online research journal that focuses on practical studies on camp practices and outcomes. Results of Phase 1 of the Impact Study will be presented at the ACA National Conference and made available on the ACA website.
Particularly exciting, though, is a new component of the 5-Year Impact Study. Like most multi-year, comprehensive studies of this kind, the Impact Study was designed around a core set of research questions and within the parameters of an initial budget. These core questions focused on if and how camp experience prepare campers for college, career, and life, and a budget was allocated to cover the expenses of tracking campers and their families for multiple years. That budget did not include funding to explore college and career readiness among camp staff; however, the research team identified this as a critical expansion should additional funds become available.
We are thrilled to announce that ACA, New York & New Jersey committed to funding a multi-year study on if and how camp staff experiences prepare emerging adults for college, career, and life success! This is a tremendous commitment that will benefit ACA camps across the country.
Here is a snapshot of what the study will look like: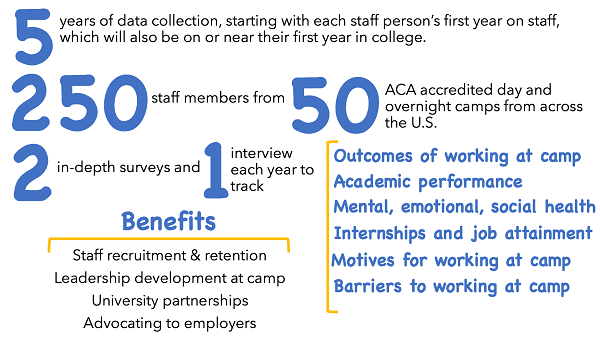 Like the camper component of the Impact Study, results of the Staff Study will emerge each year, starting in fall 2018, and they will be shared with you through blog posts, presentations at ACA National Conference and the TriState Camp Conference, and in Camping Magazine. The goal with the results of the Staff Study, as with the camper results, are to present findings in a way that is accessible and usable for camp professionals, university personnel, employers, parents, and emerging adults who have worked at camp or are considering working at camp in the future.
ACA, New York & New Jersey's support of the staff expansion could not come at a better time. Our Emerging Issues reports reveal that camps increasingly struggle to recruit, train, and retain high quality staff, and threats to the Summer Work Travel program present, for some camps, an added challenge. It is critical we document the benefits of working at camp and how those benefits help emerging adults succeed in college, in their early careers, and throughout their lives. With these findings we can more effectively recruit and retain staff, facilitate leadership development at camp, and advocate for camp work experiences to broad audiences. Stay tuned as these and the other results of the 5-Year Impact Study emerge!
Christie Ko became executive director of the Fiver Children's Foundation in 2009 after four years as camp director. She holds an MS in social work from Columbia University and BA in speech pathology from Hofstra University. Prior to joining Fiver, Christie completed two years of national service in the AmeriCorps National Civilian Community Corps in Washington, D.C., and worked as a social worker in the areas of homelessness, HIV/AIDS, and mental illness in New York City. She also sits on the board of the American Camp Association of New York and New Jersey.
Laurie Browne, PhD, is the director of research at ACA. She specializes in ACA's Youth Outcomes Battery and supporting camps in their research and evaluation efforts. Prior to joining ACA, Laurie was an assistant professor in the Department of Recreation, Hospitality, and Parks Management at California State University-Chico.  Laurie received her Ph.D. from the University of Utah, where she studied youth development and research methods.
Photo courtesy of Brooks School Day Camp in North Andover, Massachusetts
Thanks to our research partner, Redwoods.
Additional thanks goes to our research supporter, Chaco.