If you've been keeping an eye on your ACA Now newsletter, you probably saw us push out our Summer 2022 Trends and Issues Survey recently.  Perhaps you even responded.  (If you did, thank you!)  Just in case you missed it, we asked three questions each about enrollment and campers, camp staff, and budget and operations. Well, the results are in and as always, we're eager to share what we're hearing from everyone out in the field!
A total of 719 people responded to the survey (although not every respondent answered every question or completed the entire survey).  Of those who responded, about 51% represented camps that ran all or mostly overnight programming and about 26% represented camps that ran all or mostly day camp programming.  In terms of camp sponsorship, about 42% represented a not-for-profit camp that is affiliated with another agency, 34% represented an independent not-for-profit camp, 21% represented independent for-profit camps, and 3% represented a for-profit camp affiliated with another entity.
Enrollment & Campers
We started out by asking about how many unique campers were served in summer 2022, to which the most common response was more than 1,000 unique campers. Then we asked whether camps served, more, less, or about the same number of campers in 2022 compared to 2021. Looking at the figure below, which shows the results of this question, you can see that more than half of the camps responding to this survey reported serving more campers in 2022 than 2021.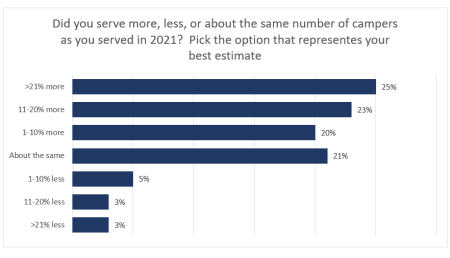 When we asked what the most challenging issue related to campers in summer 2022 was, more than one-third of the responded (36%) reported that camper behavior while at camp was the most challenging issue. With this question, we also asked respondents to describe these challenges for us. Looking at their text responses in greater detail, the top 5 themes that emerged were:
inappropriate/challenging behavior (e.g., "inappropriate behaviors, immaturity, language issues, boundary pushing with other campers and staff, difficulty resolving conflict, escalating conflicts"),
increased incidents (e.g., "more behavioral issues this summer than in last 7 years: disrespect for authority, anger, fighting, drama, depression)"),
bullying (e.g., "bullying, usually during down time when counselors should be present"),
defiance/disrespect (e.g., "we had a lot of kids who just blatantly would not listen to staff and wanted to do their own thing, and it was obvious our campers were still lingering from a year of no structure when at home due to COVID"), and
lack of interpersonal skills (e.g., "kids didn't know how to relate to one another, interact in larger groups, or "free play" together").
Camp Staff
Shifting to look at camp staff, we started by asking how many seasonal staff were hired at the start of summer 2022. The figure below details the responses to this question, broken down according to primary camp type (that is, all or mostly day camp programming vs. all or mostly overnight camp programming).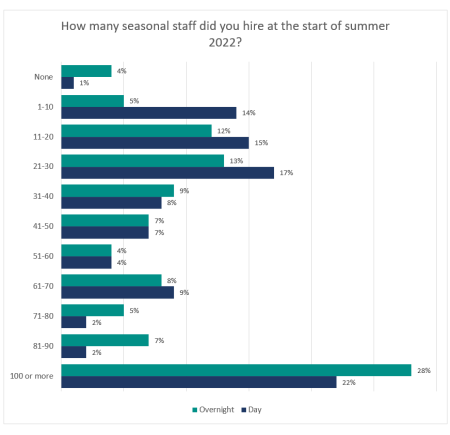 Next we asked how many seasonal staff left unexpectedly (did not show up to or complete staff training, were let go, or left voluntarily) before the end of the season. The figure below breaks these results down again by primary camp day.  Although more than three-quarters of both day and overnight camps reported having at least one seasonal staff member leave unexpectedly before the end of the season, we can see that this seemed to happen with higher frequencies at overnight camps.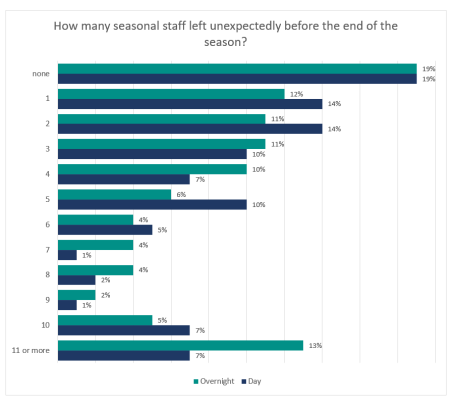 Finally, when we asked what the most challenging issue was related to camp staff in summer 2022, nearly half (47%) of all respondents indicated that recruiting qualified staff (seasonal, specialized, etc.) was their most challenging issue. Once again, we also asked respondents to describe these challenges for us. Looking at the text responses accompanying this question, the top 5 themes that emerged were:
not enough general applicants (e.g., "what's facing the rest of the country is facing the camp industry: labor market shortages"),
not enough specialty applicants (e.g., "we could not find specialists for our program areas"),
unable to fill positions (e.g., "had to cancel a significant number of programs due to not being able to source enough staff"),
lack of experience and/or interest (e.g., "finding those with experience who want to work"), and
difficulty attracting applicants (e.g., "competitive pay isn't in the budget").
Budget & Operations
The last section of the survey started off by asking about the range of typical, published, daily per-person fees for summer 2022.  As one might expect, overall, daily per-person fees appeared to be higher for overnight camps compared to day camps (see figure below). More specifically, whereas most day camps reported a daily per-person fee between $1 and $100, overnight camps were more likely to report daily person fees higher than $100.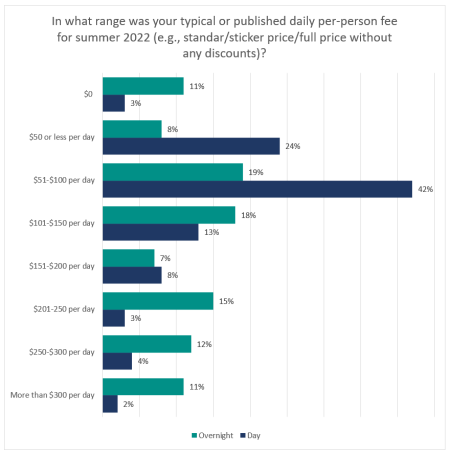 Next, when asked if they anticipated their 2023 fees to increase, stay the same, or decrease compared to 2022, nearly three-fourths (73%) of all respondents indicated that they anticipate their 2023 fees will increase, while 26% reported that they anticipated they would stay the same, and only 1% anticipated their 2023 fees would decrease compared to 2022. Lastly, when asked what the most challenging issue related to budget in summer 2022 was, the most commonly reported responses were increased staff-related costs (36%), followed closely by increased cost of food and/or food service (32%). When asked to elaborate on these selections, we were able to sort responses into the following themes:
Top 3 Budget Challenge Themes Regarding Increased Cost of Food and/or Food Service
Theme
Example
% Increases in Costs
"25%" "30%" "40%"
"10% higher" "Food cost up 20%" "food costs 30% increase"
Increased Costs
"Food prices soared"
"Food costs went up exponentially"
"EVERYTHING! So, so expensive"
Other
"Cost per person"
"Had to hire a caterer vs in-house cook"
"Food continued to go up after budget set"
Top 4 Budget Challenge Themes Regarding Increased Staff Related Costs
Theme
Example
Staff Salaries
"Staff salaries"
"Salaries"
"Salary increases"
Hourly Rates
"Main hourly staff wages"
"Hourly rate increase"
General Wages
"Wages increased but not enough"
"Increasing wages"
"Across the board increases"
Other
"Minimum pay being raised is killing us"
"Keeping up with the market in terms of how much we pay staff"
"Need to pay our staff more to get a better staff"
Based on the results from this pulse survey, it's encouraging to see that most camps are reporting an overall increase in the number of campers they are serving. Still, staffing remains an ongoing challenge, from both a hiring and a budgeting perspective. Before wrapping up, we want to extend a special thanks to everyone who responded to the Summer 2022 Trends & Issues Pulse Survey. The more responses we get, the more well-informed we ALL are about our camp industry. With that said, until next time… happy camping!
---
Taylor M. Wycoff, MS, is a recent graduate of the Parks, Recreation, and Tourism Program at the University of Utah. She serves as a research and evaluation specialist on ACA's Research Team.
Photo courtesy of Wilderness Adventure in Jackson, Wyoming.