From past real-life incidents and claims, I recall a food service director who noticed leaves building up and clogging the rain gutters at the camp's dining hall. They took the initiative to help the team by pulling out an extension ladder since they had used one before. Because the ladder was longer than the staff member needed, they used only one part of the extension ladder and ascended without a harness.
The staff member had almost cleared the clog when they tried to reach a stray leaf farther away on the roof. Unfortunately, thinking they could reach the leaf by stretching and balancing on one foot, they fell with the ladder since it was not secured to the building. They suffered multiple serious injuries that sadly ended in a fatality. From my own personal experience, one of my earliest memories at camp is of the camp ranger becoming permanently paralyzed from the waist down. He was working alone while repairing an exterior wall on a camp building when he lost his balance and fell less than six feet from a ladder. In both examples, camp staff were working alone and it took several hours before anyone found them.
Ladder accidents such as the ones described above are exceedingly common and continue to be a large loss leader within the industry, despite the fact they are completely avoidable. The American Ladder Institute reports "on average, work-related ladder falls result in one death and more than 180 nonfatal injuries every two days." The Occupational Safety and Health Administration (OSHA) argues that if correct equipment and climber training were provided, all ladder incidents could be avoided.
Reliving horror stories like the ones shared above is awful. Partnering with risk control experts can help to help prevent incidents and injuries like the ones described, and experts feel confident that they could almost be eliminated when these basic loss prevention recommendations are followed:
You should never use a ladder when you are alone. Make sure someone on the property knows you will be ascending a ladder in case you fall.
Pick the right ladder for the job. Do not use just one part of an extension ladder — that is a prohibited work practice. Instead, find a ladder that is the right height, and always place it on a firm, steady surface. Ensure the use is within the ladder manufacturer's specifications. Don't forget to also choose the right person for the job. Besides only having properly trained or qualified personnel using ladders, make sure to check your local state's age restrictions and requirements for ladder use.
Never use defective ladders. If it is rusty or otherwise damaged, place a tag on it to indicate it should not be used, or destroy it.
Always keep three points of contact on the ladder. Both feet should be on the rungs at all times, and one hand should be on the side rail. This can prevent slips and falls, and it can keep you from losing your balance.
Take great care when ascending the ladder, working at the top and descending. You should have a tool belt for carrying items, rather than using your hands. Do not overreach or use excessive force while you are on the ladder.
If your organization does not provide regular ladder training for employees, you should start now. Every person who might use a ladder should know how to properly use it and the correct angle at which ladders should be placed. Amplify and strengthen your "Jack/Jane tradesperson" status, and that of other key camp staff, by checking out these additional resources and recommendations around ladder safety and training opportunities today:
Visit blog.churchmutual.com/camps to stay on top of what is happening in today's evolving world and explore up-to-date information on pressing issues facing organizations like yours.
About the Author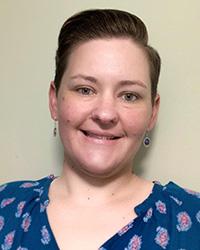 Brandie Le Clair is a risk control specialist at Church Mutual Insurance, S.I. (a stock insurer)1 dedicated to providing risk control programs and services designed specifically for the unique needs and risk exposures associated with camps and conference centers. Brandie brings extensive knowledge with almost two decades of professional experience in working with and directing both resident and day camp programs and serving most recently with the American Camp Association for five years supporting the ACA Accreditation program. As a consultant with Church Mutual®, Brandie is passionate about sharing her professional experience to help camps and youth serving organizations elevate their health, safety and risk management efforts to aid in providing a safer environment and programs for their camp community overall.
This blog was sponsored by Church Mutual.
---
Periodically, the American Camp Association (ACA) makes timely and relevant information about products and services available to its members so they can make informed decisions for their camps. However, the ACA does not endorse products, services, or companies.