Through experience as a camp professional or maybe even as both a professional and a parent, you probably know a lot about the expectations of parents when it comes to how you run your camp, take registrations, and even how you make technology part of your parents and campers day-to-day.  
Well, with our survey results, we're here to either confirm what you're thinking or bring in a fresh perspective to your thought process - because in the end, the numbers don't lie! 
Let's set some context 
We surveyed 300 parents in the United States in September 2022 to find out what their preferences were for their camp's technology and registration process.  
The goal was to understand parent challenges and preferences when it comes to finding, selecting, and registering to camps for their families. We asked parents to rank priorities or rate how much they agreed with several statements around registration, payments, and safety.
Before we dive into the numbers, to help set the scene on how these parents qualify to be sharing their opinion, we established that 69 percent of survey respondents sent their kids to camp last year. On average within these households, there are two kids per household that are sent to camp. 
Those who send their kids to camp, send their children to the following types of camps: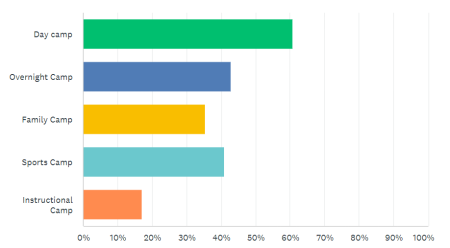 Day camps were most selected with 60 percent
Overnight camps were second with 43 percent 
Sports camps were third with 41 percent
If you are planning on expanding your camp but aren't sure what type of camp to add to your organization, the above info might help inform your decision! 
Surprising (and Not-So-Surprising) Findings about Technology Expectations When It Comes to Registrations, Payments, and Safety  
1. Registrations: Parents want the process to be easy 
Nearly 40 percent of respondents put ease of registration in their top 3 evaluation criteria when deciding which camps to send their kids to. 
Of that number, 43 people put it as the most important evaluation criteria which ranked it the third most important, after camp safety measures and type of camp out of the 10 options. 
In addition, 87 percent said they prefer to sign up online over in-person or over the phone. 
Eighty-four percent said they would like the option to be wait-listed and automatically informed when a spot opens. 
Despite these preferences from parents, our research showed that over 50 percent of people had to sign their child up via in-person or manual processes such as paper forms or over the phone. In addition, much like when a person is waiting for a restock on a sweater they'd like to purchase online, parents would like to be notified when a spot opens for their child. Not only is it time-consuming for parents to be continuously checking, but if they don't go to those lengths, you might miss out on the opportunity to fill up your camp.
2. Payments: Parents would like more options and flexibility  
This was made clear by 88 percent of respondents affirming that they wanted more payment flexibility to pay for their children's camps in terms of method of payment, whether it be credit, debit, cash or check. 
In addition, 81 percent of parents felt they lacked options to pay over the course of the camp session via payment plans or installments, which could be a way to increase your camp's accessibility. 
Finally, 87 percent of parents wanted more access to tracking their invoices, balances owed, and cancellations online. 
eCommerce and more advanced point-of sale systems are no longer just for online brands, retail, or beauty services — these tools are becoming expected in all industries. It also has been found that offering a variety of options for payment can lead to a competitive edge for your organization, tipping the scales in your favor, and even improving your own financial processes (edc.ca, 2017). This could be achieved with a software for activities and recreation programs that has a built-in payment system.
3. Safety: Parents expect technology to be used to increase camper safety 
You know what they say — "need is the mother of innovation" and due to the pandemic, many organizations leveraged technology to help increase safety and health measures during their activities and at their facilities. This has raised the bar for all organizations and programs, and we found it was reflected in our study of camp parents' expectations and preferences: 
Eighty-two percent of parents would prefer to have access to complete and sign forms or waivers online. 
In one of the strongest results, 93 percent of parents would like easy, online access to their children's profiles in order to update medical information, photo IDs and approved guardians. 
Eighty-four percent of parents expect to have a check-in and check-out system at their child's camp that can be monitored online. 
In addition to seeing when they check in and check-out, 88% of parents would like access to see who picked up their child. 
Parents are telling us what they expect loud and clear. When they can check their front door, track their cat in the neighborhood, and remotely log into work everyday thanks to technology, expecting the caretakers of their children to use that same technology isn't such a stretch. Fact is, technology is being used more and more to increase child safety (toddle.com, 2020). Incorporating tools into your camps' daily routines will create the safe environment and experience parents have come to expect. Not only that, but there are also numerous benefits for you, your team, and your business. 
Implications and Recommendations 
Camps who find ways to meet parents' expectations and preferences will set themselves up for an increase in participation, as well as see business growth, higher community impact, and heightened client satisfaction. This is demonstrated by the following examples: 
Desjardins Aquatic Complex of Mascouche, who obtained a new audience by being the more efficient option for online registrations. Camp Funderblast was able to welcome more campers with an increased payment flexibility offering, amongst other eCommerce innovations the camp put into place by leveraging tech. 
If you have a registration process that requires parents to be in-person or to pick up a phone, there's a big chance that you are missing out on the opportunity to increase your participation. Download the full report to discover how you can run your camp smarter.
This article was sponsored by Amilia. Amilia helps you with your day-to-day so you can focus on bringing more to your campers. Find out why using Amilia's SmartRec eCommerce platform is the smart way to run your camp. 
Alanna is the Content Marketing Manager at Amilia. She works to create awareness about how technology can help organizations offer more to their members and grow their business. A former lifeguard and athlete, Alanna is passionate about helping community professionals discover Amilia's SmartRec™ platform while sharing industry news and connecting them with information that can help make their day to day easier.
---
Periodically, the American Camp Association (ACA) makes timely and relevant information about products and services available to its members so they can make informed decisions for their camps. However, the ACA does not endorse products, services, or companies.