My name's Petey, and I'm lucky enough to be head of the Theatre Program at Camp Brave Trails, a leadership camp for LGBTQ+ youth. I've been there since Brave Trails' beginnings five summers ago, and it is absolutely gorgeous the way that we have grown — from 43 campers for one week our first year to now 300+ campers over six weeks in two locations. Totally wild — but not totally unexpected. The hearty group of us that signed on in the beginning were excited, daunted, and ready for anything. And then camp started and blew our minds. We would look, wild-eyed, across the campfire to each other. "Can you believe this?" "What if we had this when we were kids?"
I came out almost 20 years ago, right around Ellen DeGeneres losing her career (suckers!), and I was one of the few out kids at my large high school. It is hard to imagine having a space like Brave Trails when I was a kid — it is a queer utopia full of programs like poetry and dance and theatre to express yourself, and workshops dissecting leadership, queer history, intersectionality, and identity, where each night is a party or a camp-wide game or a night spent under the stars to hobnob with as many of your peers as you can handle.
When our campers come off the bus, some are fabulous. Some are terrified. (Some are carsick — that life does not discriminate, team.) Some have never met another queer person — never mind one their own age — in real life. Some are back for their third season and knew enough to bring their guitar and a backpack full of glitter. (So much glitter. Too much glitter?)
My heart soars in this swarm of campers, new and returning, knowing that for these two weeks, they are as absolutely free as they could wish. Their pronouns and identities are respected without question. They are both the most fun kids you could meet, and also our next world leaders. I will vote for them all.
The thing about this delightful, fierce, intelligent population is that as a group for my summer session, they are unstoppable. They grow and churn and laugh and swap tough stories and make lifelong friends. And then we have to send them back out into the world. Some to amazingly supportive parents, who dropped their kids off wearing more rainbow gear than the camper. Some, not so much. Some return to a school system that rejects them, or a town that they fear, or to loneliness. All brutal — especially the loneliness.
In all this brightness and hope, it sickens me to remember the astronomical rate of attempted suicide in this community. These precious, deeply insightful souls. These leaders. These absolute shining stars.
This is why camps like Brave Trails are so important.
I believe what are doing at Brave Trails is life-saving. It brings these teens community where there may not have been one. It brings them education about their rich, queer history and tools for growth or coping. It's another summer to look forward to all year, and a creative outlet to put those emotions — heavy and proud and exuberant and singular. In a world where I get to be the person I wish I had when I was their age, I am proud, too. A camp full of queer youth? Wild. And gorgeous. And free.
---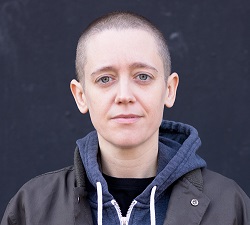 Petey Gibson is a trans actor, writer, and youth mentor in Los Angeles. You can catch him on Broad City, Grace & Frankie, and Transparent . . . unless it's Brave Trails season. peteygibson.com
Photo courtesy of Camp Brave Trails