Greetings camp evaluators! I am excited to share a blog written by a member of ACA's Committee for the Advancement of Research and Evaluation, Dr. Eddie Hill, and his students from Old Dominion University. With the help of USA Triathlon and colleague Dr. Duston Morris, Dr. Hill and his team facilitate a youth triathlon camp on the campus of ODU each summer, and evaluate the impact of the program using ACA's Youth Outcomes Battery. In this blog, they describe the program and the role of measuring camper outcomes in the hopes that you might be inspired to measure outcomes this summer.
Why Triathlon Camp at an Urban University?
The adolescent population has grown to more than 40 million and represents a more racial and ethnic diverse group than the general population. Out-of-school-time day camps provide essential services to families through academic support, mentorship, and by offering a safe environment. These are critical components as youth transition through developmental stages.
Youth pursuing triathlon can develop physical and social skills while developing positive, healthy behavior that extends into their daily lives. Offering triathlon within camp experiences is a novel approach to help campers develop physical, mental, and social skills that can transcend developmental stages.
In the summer of 2018, USA Triathlon (USAT) partnered with Old Dominion University and developed the ODU Youth Summer Triathlon Camp. Using the Outcome-Focused Programming (OFP) model, the approach included four components: (1) program goals should be identified and meaningful to the agency, participant, and other stakeholders, (2) theory-based program components should be intentionally structured to address the stated goals, (3) progress toward desired goals must be assessed, and (4) an organization must publicize its outcomes.
So, we asked: Can a week-long, triathlon day camp held on an urban college campus positively impact teamwork, problem-solving skills, and competence among camp participants?
About the Program
Children ages 7–12 participated in the day camp from 8:30 a.m. – 1:00 p.m. Campers arrived and were met by camp staff (typically an ODU student) who escorted them to the scheduled triathlon activities. Campers participated in swimming, cycling, running, and strength-training activities from the USAT Splash, Spin, Sprint Camp Manual. Nutrition activities were facilitated by a registered dietitian. Campers also participated in traditional camp activities like indoor rock climbing, a challenge course, and crafts. The week culminated with a mini triathlon, where campers selected distances in which to compete.
Camp counselors administered the 22-item questionnaire created from ACA's Youth Outcomes Battery (Basic Version) on the last day of camp. The questions were scored on a 5-point Likert scale ranging from 1 = Decreased to 5 = Increased a lot, I am sure. Each item (e.g., becoming better at thinking of new things to do in my free time) was prefaced by, "How much, if any, has your experience as a camper in this camp changed you in each of the following ways?"
Twenty of the 22 campers (one parent did not consent to the study and one camper left before the last day) completed the questionnaire. The average age of participants was 9.7 years old, with 60 percent of them identifying as male. Thirty-five percent identified as Caucasian, 35 percent identified as African-American, and the remaining campers identified as Asian, Latino, or American Indian.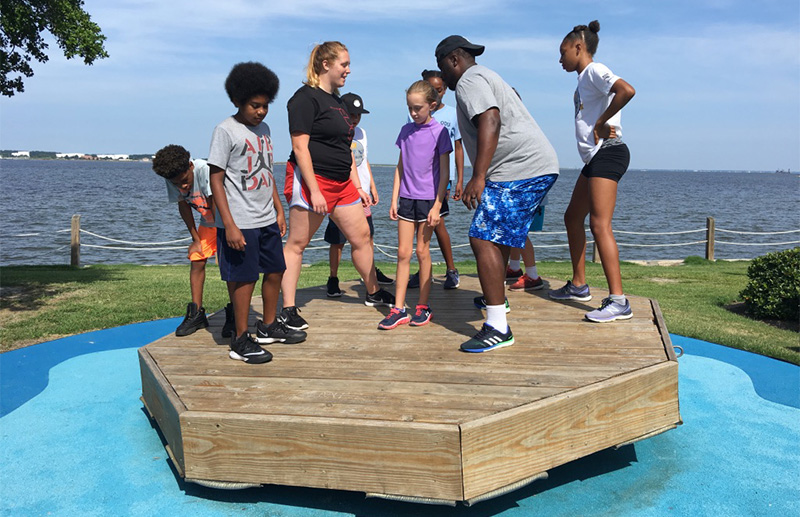 What Did We Learn?
More than 60 percent of the campers indicated that triathlon camp was one of the most fun camps they had ever attended. Eighty percent of the campers indicated they now want to do a triathlon and 95 percent said they will tell their friends about the sport of triathlon. Results of the study revealed that campers demonstrated a significant change in perceived competence, problem solving competence, and teamwork. More specifically, 85 percent of the campers indicated a change in their perceived competence, while 65 percent and 88 percent demonstrated change in problem solving competence and teamwork, respectively, as a result of triathlon camp.
What Does This Mean for You?
University day camp programs have the potential to positively impact youth development.  The findings of this study suggest one way is to engage a diverse population in a unique activity like triathlon camp. In addition to exposing campers to college, it highlights the importance of physical activity through nontraditional sports like triathlon, aligning with the 2014 induction of triathlon as an NCAA emerging sport for women. However, little research exists on triathlons or triathlon camps held on college campuses. These findings support the desired outcomes for this type of camp, and with USA Triathlon support, other camps can use this model to replicate in their OST setting.  Outcome-focused Programming allowed for deliberate outcomes, and results support the expectations that this camp positively impacted teamwork, competence and problem solving skills than lead to more resilient youth.  Interested in the camp curriculum offered through USA Triathlon? Please visit store.usatriathlon.org/Store/ProductDetail?productId=30 to learn more.
---
Authors:
Eddie Hill & Taylor McIntosh, Old Dominion University; Meg Duncan, USA Triathlon; Duston Morris, University of Central Arkansas.
Contact: Eddie Hill, ODU, Student Recreation Center, Rm. 2014, Norfolk, VA, 23529. ehill@odu.edu
Thanks to our research partner, Redwoods.
Additional thanks goes to our research supporter, Chaco.