ACA, Michigan Fall Gathering
Date
October 5, 2023
8:30 am – 5:00 pm ET
Location
Skyline Camp and Retreat Center Almont, MI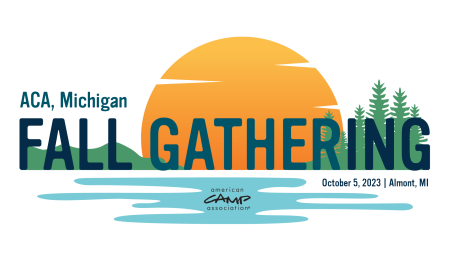 Cost
See pricing details below
CECs
4.50
Join fellow camp and youth development professionals at the ACA, Michigan Fall Gathering. Enjoy a day of first-rate education and networking opportunities at Skyline Camp and Retreat Center in Almont, Michigan.
Early Bird registration is available through September 15, 2023
Registration includes keynote, education sessions, lunch, and networking events.
Single, double, and group lodging is available on October 4, 2023. See Skyline Camp & Retreat Center tab for additional details.
Not an ACA member? Join today for FREE and get the best rates for this event!
| Type | Early-Bird | Regular |
| --- | --- | --- |
| Member | $60 | $70 |
| Non-Member | $95 | $110 |
| Additional person from same organization - Member | $51 | $61 |
| Additional person from same organization - Non-Member | $76 | $93 |
| Speaker / Student / Retiree | $48 | $54 |
| Seasonal Camp Staff | $48 | $48 |
Schedule with Session Descriptions
Wednesday, October 4, 2023
10:00 a.m. - 6:00 p.m. New Director's Orientation
Thursday, October 5, 2023
8:30 a.m. - 9:15 a.m. Registration / Social Time
9:30 a.m. - 10:00 a.m. Welcome & Icebreakers
10:15 a.m. - 11:45 a.m. Opening Keynote with Jonah Berger
11:45 a.m. - 12:45 p.m. Lunch
1:00 p.m. - 2:00 p.m. Educational Breakout Session #1
2:15 p.m. - 3:15 p.m. Educational Breakout Session #2
3:30 p.m. - 4:30 p.m. Educational Breakout Session #3
4:30 p.m. - 5:00 p.m. Closing Drum Circle with Jonah Berger

Jonah Berger is 50 years old and lives in DeWitt, Michigan. He earned an MSEd from Trinity College in Washington, DC. He is the National Youth Programs Manager and Camp Director for the CMTA; The Charcot Marie Tooth Association. He has CMT as does his daughter. He is the author of; He Walks Like a Cowboy and The Strangest of Places. Jonah grew up in Camp. His father was a camp director for over 50 years. Jonah is a Father, Husband, Camp Director, Drummer, Motivational Speaker, and Trainer. He has spoken and trained across the country spreading his message of facing your challenges with positivity and determination. "There is an amazing amount of strength to be found in the experience of weakness."
Opening Keynote - The Rhythm Within
Attitude reflects experience. Most people would think that having a physical disability would be a bad thing. I think differently. The amount of gifts and lessons I have received as a direct result of having a disability are far too many to count. When I speak, I use my disability to introduce this concept to others. That no matter what challenges you have, it can be overcome with attitude. There is an ever-growing number of differences in our world and I speak to the celebration of those differences. The embracing and the sharing of those differences. This can transform one of the biggest challenges into one of the biggest opportunities. Camp is a perfect bubble to introduce the idea to the campers and staff. To help them see the benefits of understanding and acceptance and then send them back out into the world to spread the joy. My presentation will inspire professionals to facilitate this culture in their programs. To use their challenges to inspire strength and develop this skill in the camp communities they serve. Strength can often be found in the weakest of places. And at the end of the day, it's not about what happens to you, it's how you deal with what happens to you that matters. 
New Director Orientation - October 4, 2023
Registration is closed for this preconference event
10:00 a.m. - 6:00 p.m.
Member Cost: $100
Non-Member Cost: $150
The ACA New Director Orientation (NDO) is a course for seasonal or newer camp directors, assistant directors, program directors, and others moving into camp leadership positions. The NDO is an interactive course that includes activities, lectures, and discussions in a group problem-solving environment designed to address real-life situations at camp. This course covers five critical areas to help directors and supervisors develop the skills they need to be effective leaders. The core areas to be covered include:
1. Leadership and supervision
2. Camper and staff development and behavior
3. Staff training
4. Risk management
5. Evaluation and assessment
In addition to building skills, this curriculum incorporates introspection, perspective-shifting, and awareness building. This course has been influenced by years of iteration, internal and external research, and feedback from new directors.
Registration includes NDO course and lunch.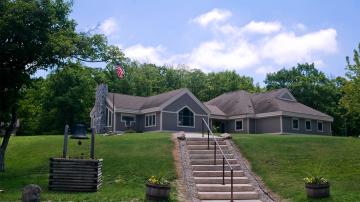 Skyline is a place of natural welcome, where people, program, and place combine in creative ways to allow for experiences of community, learning, rejuvenation, and celebration. Skyline promotes hospitality and wellbeing for its people, openness, and innovation in its programming, and caring stewardship for its place. Skyline belongs to its community, past, present, and future to preserve the opportunity to seek some peace among these trees. Located at the highest point of Lapeer County, Skyline's 200 acres include woods, fields, wetlands, and waters. We look forward to welcoming you here.
Lodging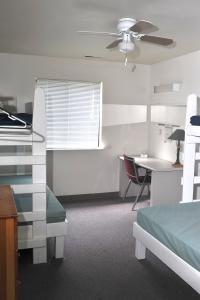 Affordable lodging is available at Skyline Camp & Retreat Center on October 4, 2023. 
Single, double, and group lodging options are available. 
Lodges are climate controlled and served by centralized restroom and shower facilities. 
Dinner will not be provided for overnight guests. Breakfast will be served on October 5, 2023. 
October 4 Lodging
Single guest room - $70
Double guest room - $58
Group lodging - $46
Lodging is limited. When registering please select the lodging option in step 4.
Title Sponsor - $3,000
Keynote Sponsor - $2,000
Session Sponsor - $1,000
Snack/break Sponsor - $500
Sponsors can choose to have a table at the event.  However, there is no unopposed time. This is not an exhibiting event.
Contact Kim Fitzgerald for exhibitor questions and sponsorship packages and details.