ACA, Michigan Fall Gathering
Date
October 6, 2022
9:00 am – 6:00 pm ET
Location
YMCA Camp Manitou-Lin 1095 N Briggs Rd
Middleville, MI 49333
Cost
See pricing details below.
CECs
3.75
Please join us for the Michigan Fall Gathering at YMCA Camp Manitou-Lin in Middleville, Michigan. Don't miss out on this top-notch day of professional development and networking. A variety of educational opportunities will be offered. 
Safe and Healthy Meetings
ACA is committed to providing opportunities to engage in the safest and most enjoyable in-person experience possible. Learn more.
Early Bird registration is available through September 12, 2022.
Registration includes conference program, continental breakfast, and lunch. 
Cabin-style group lodging with shared bath is available at YMCA Camp Manitou-Lin on October 5, 2022. See YMCA Camp Manitou-Lin tab for additional details.
Not an ACA Member? Join today for FREE and get the best rates for this event!
Type
Early-Bird
Regular

Member

$50

$60

Non-Member
$80
$95
Additional person from same organization

$41/Member

$61/Non-Member

$51/Member

$78/Non-Member

Retiree / Student
$40
$46
Seasonal Camp Staff
$40
$40

Amanda Raines
Amanda Raines is an Extension Educator in 4-H Youth Development with Ohio State University Extension in Hardin County, Ohio. Helping youth and the adults who work with them understand mental health and connect to resources is one of Amanda's specializations. She is a nationally certified instructor in Mental Health First Aid, Youth Mental Health First Aid, and Teen Mental Health First Aid, and is an Ohio Mental Health and Addiction Services' Trauma Informed Approaches Trainer. She also co-authored Your Thoughts Matter: Navigating Mental Health, the first 4-H project on the subject, and the National 4-H Council "4-H at Home: Social and Emotional Learning and Mindfulness" curriculum. In addition to healthy living, Amanda also serves as the Hardin County 4-H Camp Director, training a team of approximately 50 camp counselors annually. She believes that our youth are our greatest resource, and by providing opportunities for camp staff to learn about mental health, all camps can become inclusive spaces for youth to learn and grow. 
Opening Keynote - Jump Start Your Staff Training on Mental Health
As camping professionals, much of our time and training is spent on risk management. We prepare and plan for injuries, storms, fires, and active threats, but is your camp staff ready to help with a mental health crisis? This is a vast problem that many camps are not prepared for. One in every five American youth are diagnosed with a mental illness. This is a problem too big for youth camping professionals to ignore. For our camps to be the safest and most inclusive environments possible, preparing staff to handle mental health emergencies is critical. This interactive presentation will help jump start your staff training on mental health. You will learn about the state of youth mental health in America, planning for reducing stress at camp, and handling mental health emergencies that may arise in the camp setting. Free resources for staff training will be available so you can take what you learn and get started applying it immediately at your facility. 
Wednesday, October 5 - Preconference Session
8:30 a.m. - 5:30 p.m. - Youth Mental Health First Aid Course
Thursday, October 6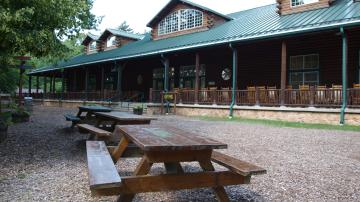 YMCA Camp Manitou-Lin has over 100 years of camping experience and is located on beautiful Barlow Lake in Middleville, Michigan. Their beautiful, natural setting provides an excellent opportunity for all who visit. 
Lodging
Affordable cabin-style group lodging with shared bath is available at YMCA Camp Manitou-Lin on October 5, 2022.
Cabins are climate controlled and feature indoor restroom and shower facilities. 
Guests will need to provide their own linens and towels.
Dinner will not be provided for overnight guests. Breakfast will be served on October 6, 2022. 
When registering online, please select this option in step 4. The cost is $27 per person. 
Youth Mental Health First Aid - October 5, 2022
The Youth Mental Health First Aid course is designed to teach individuals how to help an adolescent (age 12-18) who is experiencing a mental health or addictions challenge or is in crisis. The course introduces common mental health challenges for youth, reviews typical adolescent development, and teaches a 5-step action plan for how to help people in both crisis and non-crisis situations. Topics covered include anxiety, depression, substance use, disorders in which psychosis may occur, disruptive behavior disorders (including AD/HD), and eating disorders.
8:30 am - 5:30 pm
Member Cost: $70
Non-Member Cost: $100
Event Sponsorship Opportunities
Sponsoring an ACA event will extend your brand identity and marketing capabilities.  For questions regarding sponsorship opportunities, contact Kim Bruno.