We have all heard jokes about consultants, so let's get the most common one out of the way. "A consultant is someone who takes the watch off your wrist and tells you the time."
Truth is, there is a diversity of opinion regarding the use and utility of consultants. So, when leaders of camps and other youth-serving organizations contemplate the use of a consultant, it is in their best interest to truly understand the potential advantages and pitfalls — and how best to leverage these unique relationships to improve their impact and outcomes.
The Consultant — Who and What?
A consultant is "a person who gives professional advice or services" (Merriam Webster, n.d.). Typically, a consultant is hired for a specific purpose, for a specified time, and for an agreed upon fee.
Prior to any engagement, the hiring organization should be able to articulate the issue at hand. This description should be specific and in writing, so it is consistent and thoughtful. Verbal description of issues, especially during periods of stress, tend to flex — writing does not. A good consultant will then help identify the scale and scope of the challenge and, if engaged, help improve/solve it in a systemic manner consistent with organizational culture and values. Simple, right?
What often complicates this protocol is the authority, rationale, and timing of the engagement. First, let's consider timing and rationale through two primary prisms: stability/calm and instability/stress. (Authority is a separate wrinkle in the space-time continuum and will be addressed shortly.)
Rationale and Timing
Figure 1 outlines two consultant engagement scenarios. While stress is obviously a less-than-perfect scenario, many camp operators will experience the need for sound professional advice under such conditions. In fact, for many this past year, the scenario and the outreach to consultants has been of a decidedly unsettled nature due to hardships brought on by the pandemic. Ideally, any consultant engagement is best undertaken during periods of calm and stability, but even the best-laid plans can sometimes go awry. Part of the consultant's job is to help clients out of tight spots. The key is understanding the highest and best use of a consultant depending on the issue(s) at hand.
Authority
While the topic and scope matter, so does the authority for undertaking the project. In essence, that refers to who is encouraging or pushing to engage a consultant. Is it the professional staff or, in the case of a nonprofit camp or organization, might it be the volunteer leadership/Board of Directors? Ideally both groups will come together and mutually agree that this external support is worthwhile. When one side is resistant to the process, invariably more is going on than the actual topic being presented. More often than not, such dissonance results in a convoluted process that fails to hit the mark — and the consultant is often held accountable for this lack of success. In these cases, both parties need to get on the same page and be receptive to the engagement before proceeding. When that doesn't happen, a good consultant should work to engage any resistant individuals. At the very least, the effort could result in intel that helps the organization.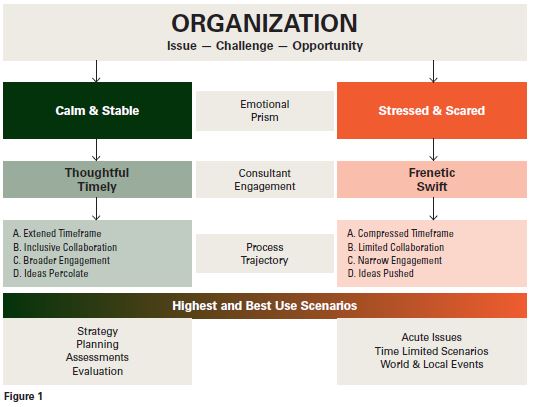 Consultants at Camp
How common is the use of consultants in the camp sector? Results from a focused survey (Immersive1st Consulting, 2021) and anecdotal feedback shed some light on prevalence — and it turns out that a lot of you use consultants. Fifty-seven percent of respondents have engaged with a consultant for a piece of work with their organizations, and just over half of these engagements took place in the last 12 months. This should come as no surprise as camps sought expert advice as they struggled to cope with COVID-19-related challenges.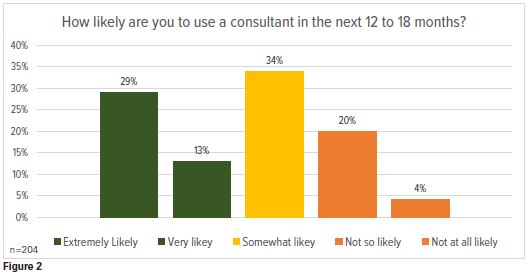 Looking ahead to the next 12 to 18 months, 41 percent of respondents said they are extremely or very likely to use a consultant, and 34 percent are somewhat likely. Take away those who were clear they will not be using consulting services, and a significant percentage (76 percent) are either going to or likely to engage a consultant (see Figure 2). That makes understanding the nuances and opportunities inherent in these relationships that much more important.
Show Us the Value
The proof of consultant value is the impact of their efforts, in partnership with the authorizing agent, on the topic of focus. To gauge value from a macro perspective, survey respondents who had engaged a consultant were asked to rate their degree of satisfaction. Figure 3 indicates that 54 percent were very satisfied and 37 percent somewhat satisfied. Only 7 percent were dissatisfied. A 91-percent satisfactory score on Amazon Prime would likely create a degree of confidence that pushed you to purchase. In the service industry, an overall satisfaction score of 91 percent would be cause for celebration. Consider this when preparing your engagement: the vast majority surveyed had a good experience. How do you best ensure you have the same positive outcome?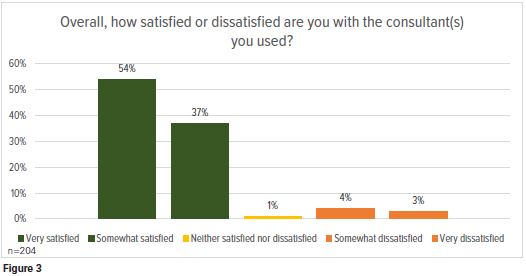 To further discover the consultant value proposition, we asked survey respondents to provide some context regarding their experience of working with a consultant. The most frequently used terms were "knowledgeable," "useful," and "reliable" (see Figure 4). While a few individuals used negative descriptors, positive words outweighed negative by a cumulative percentage score of 348 percent to 38 percent. This pattern of positives measures was consistent throughout the entire survey. However, when talking value for money, a shift worth discussing emerged.
Fees Structures
Both consultants and organizational leaders have reported concerns about or referenced fees through a negative lens. For the consultant, this manifests as jokes, innuendo, and sometimes commentary (bordering on resentment). For leadership it follows a similar thread — "Consultants are not cheap, and do they really bring value commensurate with their cost?"
While the response could be "You get what you pay for," a deeper dive may promote a better understanding of this dynamic.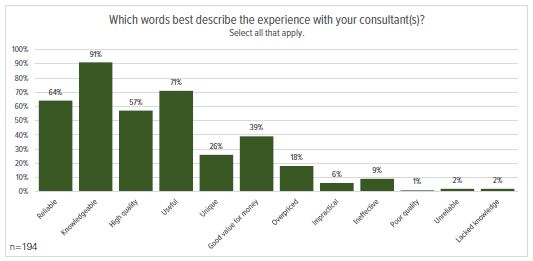 Figure 4
Fifty-nine percent of survey respondents (see Figure 5) felt positive about their return on investment (ROI). Thirty-three percent scored the value proposition as average, and only 8 percent scored it as poor or below average. While no one wants to be average, taken in context, 92 percent viewed their engagement through a positive ROI prism — value for the money paid weighs in favor of it being a positive experience.
Regardless of how well services scored on the survey, an underlying sense that consulting services are often overpriced remains. This may be historic and ingrained, unfair, or just — but as camp is in the business of understanding and kindness, we should be willing to view consulting fees from a fair perspective. Keep in mind that consultants must consider a slew of business-related expenses when building their fee structures — including employee taxes and benefits (for every dollar earned, 25–30 percent goes to the IRS and for healthcare), computer costs, accounting and legal services, licenses, marketing, office supplies, and more.
Depending on the type of engagement you choose, there are also costs associated with stability and time allocation. For example, an hourly gig does not provide the security of a project-based agreement or a retainer that affords the consultant the greatest degree of stability. Many consultants will adjust their fees to account for this fact.
Don't Expect a Jack-of-All-Trades
Experience, reliability, knowledge, and quality of product deliverables are key predictors of a successful process. Some engagements require technical knowledge that does not necessitate substantial field/firsthand experience. However, in certain areas, such as fundraising or governance, you will want your consultant to have spent years honing these skills in real-world practice before offering advice to others.
Critical to the engagement process is clarity around the consultant's exact area of expertise. Expecting a fundraising consultant to solve your septic system is going to disappoint (or entertain). Your consultant should be comfortable expressing the degree of knowledge they have and how they got it.
The holy grail of consultant engagement, one that makes lives that much easier, is for the client (a camp, for example) to have some idea of the experience they want the consultant to bring to the table. Is it built over years in the field or reliant on near-term learned information? The greater the in-field need, the scarcer the pool of great consultants and the more important it is for you to check their credentials and experience.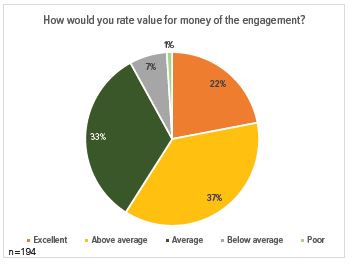 Figure 5
Hints and Hacks for Consultant Engagement
So how do you engage purposely? The chemistry of any relationship is absolutely critical and should be a primary filter considered as part of the hiring process. The goal should always be for the consultant to fulfill the role of trusted partner. Beyond the chemistry, the following sections outline keys to positive outcomes before, during, and after engaging a consultant.
Preparation/Preengagement
In advance of interviewing or approaching a consultant, consider the following steps:
Confirm authority. Who wants to utilize the consultant? If there is unanimity, great. If a significant objection exists, work through the issue as best you can (not that it should necessarily prevent engagement).
Identify the need in writing. If you cannot clearly articulate why you need input, is it fair to expect a third party to understand and respond succinctly?
Set a time frame. Date of engagement and completion are simple issues to be resolved in advance. Be realistic with your schedule and recognize that you are likely not the consultant's only client.
What is the budget range? Provide the consultant with an approximate budget range so they can build a proposal that speaks to your needs more effectively. There is no benefit to playing the back-and-forth guessing game.
Determine the engagement process. Include this procedure criteria in any formal request for proposal (RFP). A level playing field is one of the key indicators of a sophisticated, well-conceived process. Remember, the consultant is also interviewing you, and a fair proposal protocol is a great start to a healthy relationship.
Asking questions before hiring is fine — within reason. A conversation with a prospective consultant is perfectly acceptable, as is asking questions. Expecting multiple hours of guidance regarding an issue is not. That knowledge and time is the consultant's goods and services and should not be treated as a freebie (especially if you are unsure if you will be hiring them).
Interview and Contracting
Have a conversation in advance of any formal interview. This allows you to gauge the consultant's perspective, experience, and, most importantly, the chemistry between the parties.
Whittle down your potential consultant pool to two (three at most). Developing a formal proposal takes time, so be kind and quickly inform those who have not made the cut.
Request a proposal in writing. Ideally, provide an RFP document that outlines exactly what you expect to see in a candidate consultant's proposal and how it should be outlined. This makes comparisons during the interview stage easier and fairer.
Interview the candidates. Use the same small cadre of camp personnel to conduct all interviews to ensure process consistency. Give interviewees enough time to present and include time for Q&A. Sixty to 90 minutes should be enough time for round one. Experts should be able to demonstrate experience as well as deep and current knowledge related to the area of service.
Inform quickly. Let the candidates know your outcomes swiftly so the consultant chosen can begin to allocate time to your project, and the other interviewees can move on and focus on other opportunities.
Contract efficiently. The consultant likely has a standard agreement you can use. Have your lawyer review but be realistic. Asking the consultant for unreasonable or predatory conditions simply delays the process and will negatively impact the relationship. Be realistic and fair and expect the same in return. Contracts are important — trust is equally so.
During Engagement
Determine the point of contact. Who will manage the day-to-day relationship with the consultant for the duration of the project? Ensure they know, are briefed on working with consultants, and are willing participants.
Stick to a timetable. Agree upon a written timeline for progress. Update it together as necessary.
Communicate regularly. Agree on a meeting schedule — perhaps a check-in every other week, for example — and then set dates/times at least two weeks in advance.
Stick to the task. Unless it is a tiny distraction, keep the consultant focused on the task for which they were contracted. "Project creep" is easy to allow and hard to undo. It can also impact the deadline for completion.
Discuss outcomes in advance of a formal report. Do your best to ensure the outcomes feel good to you. If you think they should shift, talk to the consultant and negotiate a comfortable compromise. Do not ask the consultant to compromise their integrity, ethics, or knowledge base.
Post Engagement
Acknowledge the help. Consultants typically work alone, and your thanks and appreciation can mean a lot (and it's the kind thing to do).
Offer to provide a reference. Your approval and willingness to support the consultant with a written review or reference as they transition to other clients is kind and strategic. The warmer the relationship the more likely it is that the consultant will prioritize your needs in the future.
So, go find the help you need and be strategic in how you determine, engage, progress, and conclude. If this help can make your organization (and you) more successful, increase revenues, improve community perception, make your community safer, or help in the professional development of your employees and/or volunteers, then why not?
Perception Is Key
Volunteer and professional development, governance, evaluation systems, etc., are issues perfect for consultant assistance. A principal challenge of attempting to examine and/or change professional/volunteer engagement is the struggle for internal legitimacy and perceived (or real) self-interest of those pushing the process. It can get messy — ultimately causing problems that go beyond the scope of the original challenge. If your camp or organization is offering a professional development opportunity for everyone's benefit, you want it to be perceived as such. Evaluating, discussing, and making manifest shifts in culture or policy should be carefully considered and the internal capacity to facilitate this process carefully calculated. Outside parties not only bring years of experience and tools that can help shape dynamic outcomes, but they also come with a neutral perspective that is, for many, easier to accept. This allows participants to focus on the issue (and opportunity) and less on the politics and power dynamic, etc. Moving beyond any perception of self-interest and hidden agendas is a fundamental step toward positive change. For that reason, it is often smart to call in expert consulting help when focused on these specific areas.
Photo courtesy of Raquette Lake Boys Camp, Raquette Lake, NY.
David Phillips is principal of Immersive1st, a firm specializing in fundraising, planning, visioning, governance, acute organizational analysis, and program creation, implementation, and evaluation. A lifelong communal professional, his passion is doing important things with good people who make a difference (and having fun while doing it). He holds an MSW in Social Work with a focus on community organizing and development from the University of Pittsburgh. David can be reached at david@immersive1st.com or via the web: immersive1st.com.
References
Immersive1st Consulting. (2021, March). Survey of camp professionals.
Merriam-Webster. (n.d.). Consultant. In Merriam-Webster.com dictionary. Retrieved from merriam-webster.com/dictionary/consultant
---