Each year, ACA's Eleanor P. Eells Award for Program Excellence recognizes camps that embody the award's namesake by developing superior programming that effectively and creatively addresses the needs of people and society through the camp experience. We commend the 2018 winners. They are all definitive proof of the might of camp programs to equip campers of all abilities with the resiliency and belief to build better futures for themselves and their communities.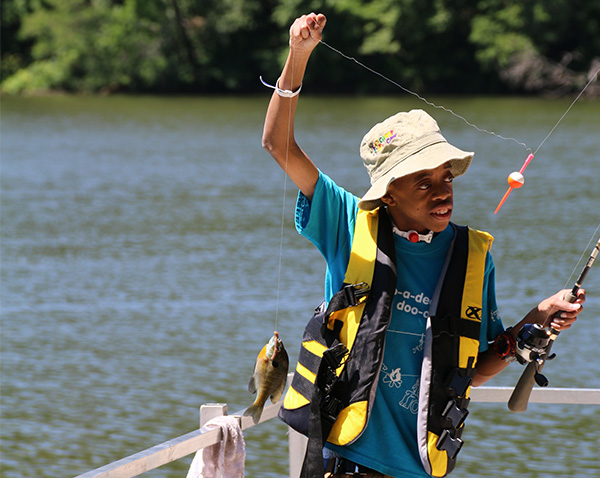 CHAMP Camp
Indiana
Founded in 1991, CHAMP Camp provides a weeklong, action-rich experience for kids with tracheostomies, and those who require other technological respiratory support, to give them the opportunity to engage in activities that are typical of an outdoor summer camp. Activities including canoeing, climbing, fishing, swimming, and zip lining, as well as plenty of opportunities to socialize, "provide our campers with increased self-esteem, confidence, and feelings of independence," said Jennifer Kobylarz, executive director of CHAMP Camp.
From day one, innovation has been an integral part of the CHAMP Camp planning process. Creative thinking must be applied to each potential activity to ensure it can be appropriately modified to meet campers' needs and ensure they get the full camp experience. Kobylarz explained, "This innovation has been evident from the beginning when we determined that you can run 50 feet of ventilator tubing so a child can climb or be hauled to the top of a climbing tower while still connected to their vent, to today when we worked to develop an opportunity for campers with limited physical ability to safely participate in zip lining." As many CHAMP Camp participants have wheelchairs and ventilators, the chance to zip line through the trees is pure magic.
Opportunities for growth far surpass just physical challenges though. CHAMP Camp provides a community of both campers and counselors who learn to care for each other during their week at camp and during the 51 weeks of the year they are not together. "They learn to think of each other first and provide support through new experiences that encourage growth intellectually, emotionally, spiritually, and socially," said Kobylarz. "And this growth happens not only for our campers, but for our amazing counselors as well."
CHAMP Camp continues to build relationships with medical professionals to identify as many potential campers as possible who would benefit from the camp experience. "We plan to continue to develop programming that provides a unique experience to our campers and to engage volunteers who can provide this opportunity safely while inspiring our campers to try things they have never tried before. Our goal is, and always will be, to send our campers home feeling empowered to try new things and live their best life," said Kobylarz. "We like to say that CHAMP Camp helps discover one's place in the sun."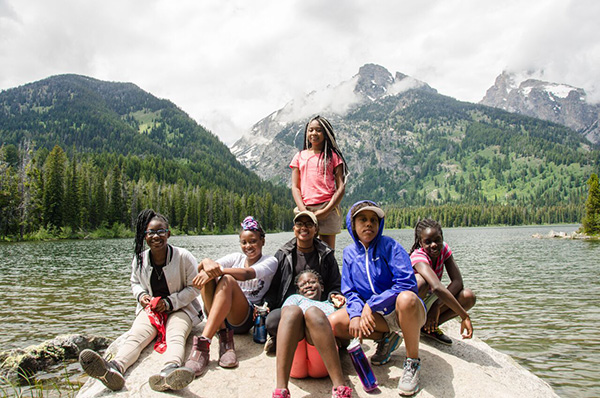 City Kids Wilderness Project
Chesapeake
City Kids Wilderness Project, created in 1996, is a nonprofit organization founded on the conviction that providing transformative experiences to Washington, DC, youth builds resiliency, broadens horizons, and teaches skills that enrich their lives as well as the lives of their families and their greater communities. City Kids is a seven-year program that begins when youth enter the program in their sixth-grade year. Participant development is supported through local after-school programming and weekend outdoor adventures in the wilderness areas of the Mid Atlantic during the school year, as well as job training and college preparation help. In the summer, City Kids runs three camp sessions at Broken Arrow Ranch in Jackson Hole, Wyoming, in addition to career exploration and internship programming for older youth.
"Each year brings new challenges, opportunities, and excitement, and the program is carefully structured to provide age- and stage-appropriate support as youth mature," said Eloise Russo, executive director of City Kids Wilderness Project. "Our goal is for all of our youth to pursue their dreams and to have the knowledge and confidence to think big and not get stuck or quit when things get hard."
While the DC graduation rate is less than 69 percent, in the past five years, 97 percent of City Kids program participants have graduated from high school, and 90 percent have gone on to enroll in college, the military, or vocational training.
"In the next five years, over 100 new youth will enroll in our multiyear program, and we will have served over 500 youth," said Russo. The aim is to continue to strengthen City Kids' organizational capacity to provide increased access to after-school and weekend programs. "We also plan to increase our support for our young alumni as they transition from high school to college, employment, and other training opportunities. We hope to bring on a new staff member to support our 18- to 24-year-old alumni, as this will allow us to more deeply support their development into young adults and bolster the level of impact we are able to have"
Russo added, "Whether they go on to be mountain climbers, college graduates, business owners, teachers, or fire fighters, we are excited to be a part of their journey on their pathway to success."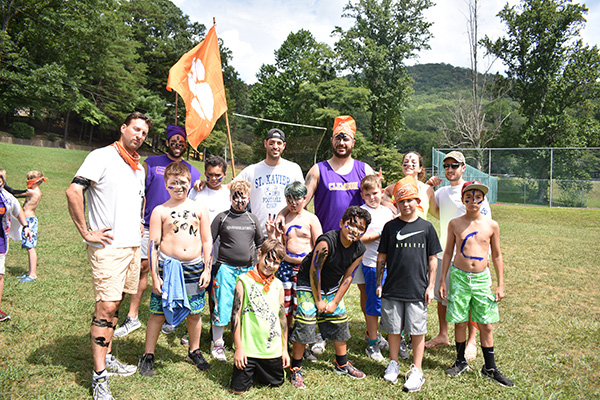 Experience Camps
New England
Experience Camps are one-week camps for boys and girls who have experienced the death of a parent, sibling, or primary caregiver. The Experience Camps' program is "built on the power of connection," said Sara Deren, chief experience officer of Experience Camps. "In the case of our campers, their connection stems from their shared experience with grief, but the platform of camp is what creates that community and bond, which is so critical to their journey."
Experience Camps offer an emotionally safe environment where campers can feel "normal" because everyone there has suffered the loss of a loved one and understands the burdens grief can cause. "We adapt our program based on what campers teach us about grief and how we can best support them," said Deren.
This understanding also extends to program volunteers. "A large percentage of our volunteers are involved with camp because they've experienced their own loss either as children or more recently," Deren explained. "When they come to camp, they are looking to help others, but there's also a piece of them that is processing their own grief throughout the week. We now add in time for the volunteers to have some space during the week to reflect and talk to other volunteers about their own experience."
Experience Camps continues to encourage community throughout the year by relying on social media and other technology to stay connected. They also offer monthly support webinars for parents and caregivers. Constantly evaluating new methods of communication that fit with participants' lifestyles is an Experience Camps rule of thumb.
The plan for the future is to seek ways to expand year-round programming and partnerships with camps and organizations that have similar philosophies on grief and the value of camp, to increase camper capacity in regions already served, and to keep expanding to new areas of the country. Said Deren: "Our goal is to never have a waitlist."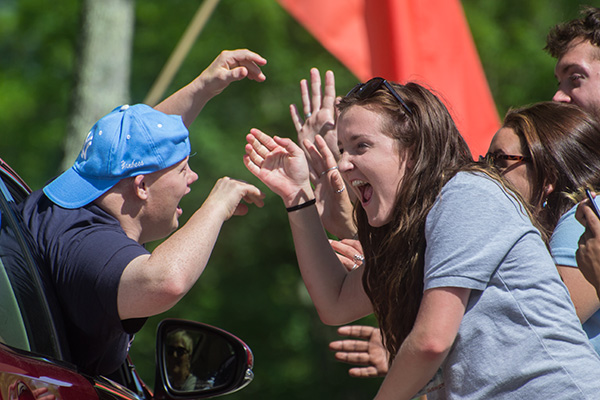 Horizons
New England
Horizons was founded in 1979 to provide children and adults with developmental special needs a nurturing, two-week, residential camp experience where they can engage in activities that might otherwise be out of reach in their daily lives. Through camp recreational activities including swimming, horseback riding, boating, drama, crafts, and more, Horizons seeks "to create and sustain person-centered opportunities for people with special needs where they live, learn, work, and play."
"We look at every person as an individual. We want our campers to experience success, build relationships, try new things in a safe and supportive environment, and to have opportunities to experience self-reliance and confidence," said Scott Lambeck, Horizons camp director.
Relationships are the key. Horizons staff use intentional, "positive practice" techniques that emphasize effective communication in the context of the individual independent of the disability.
"We are a program that doesn't age out," said Lambeck. "We structure our camp-based activities to be age-appropriate, and we continue to grow with the changing needs of our campers. We believe in routine and structure — meeting those needs is important — then expanding to implement new and exciting ways for both campers and staff to explore outside their comfort zones." For older adults, that means adjusting the pace of activities and increasing socializing time and physical support with programs that correspond with community center adult education opportunities, such as computer skills workshops, foreign language lessons, and paint nights. Apprentice programs offering job training skills and added responsibilities are also available for young adults expressing an interest in community-based employment.
Horizons will continue to adapt programs and facilities (such as air-conditioning all living spaces and expanding pavement and sidewalk areas) to accommodate the changing needs of returning and aging campers, to solve problems, and overcome barriers. This is one reason why, from year to year, 92 percent of campers return to Horizons for another summer.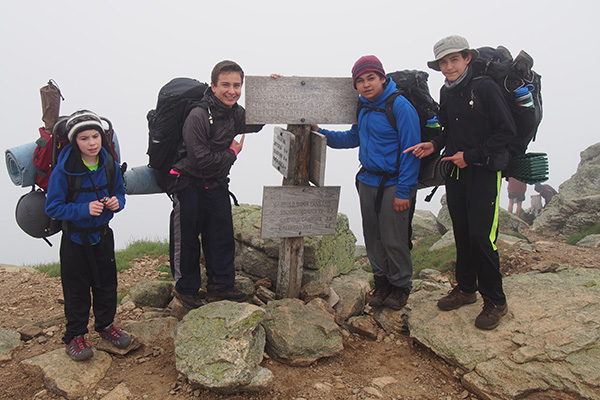 The Mayhew Program
New England
Since 1969, the Mayhew Program has been challenging and helping at-risk New Hampshire boys to believe in themselves, work well with others, and find their best. "It's being Yoda," said Jim Nute, Mayhew Program's executive director.
"If you're unfamiliar with the Star Wars movies, Yoda is the diminutive Jedi mentor with a philosophical bent heavily influenced by the Buddhist principle: Each individual is his or her own Buddha. In Yoda-speak, 'Train the Jedi, you cannot. Help the Jedi become, you can.' That's Mayhew in a philosophical nutshell. We're not the experts on the boys; they are. Our job is to help each boy see this, know this, and act on it as he journeys to becoming his best."
The Mayhew Program relies on caring community members, teachers, and guidance counselors to refer boys in whom they see concerning behavior but also potential to overcome difficult circumstances. Mayhew — an eight-year, in-depth, tuition-free program — provides participants with both transformative summer experiences and school-year mentoring from age ten through their high school graduation. A big part of the program is the staff living by the program's four core ideals — responsibility, respect, community, and challenge — and encouraging the boys to do the same.
"I have a special appreciation for how one participant, Raven, who is now in his sixth year in the program, described Mayhew," said Nute. "He said, 'It's easy to do well when things are good, but things aren't always good. Mayhew has helped me make the best of the tough times. Not by making them easier, but by making me challenge more from myself.'"
While Mayhew hopes to share more broadly what it has learned in nearly half a century with others in a position to reach out to and support at-risk youth beyond the boundaries of New Hampshire, Nute said, "Mayhew's main goal hasn't changed much over its 49 years. We want to get ever better at helping the boys find their best. We want to get better at helping them thrive in college, career, the military, and/or volunteer service. We want to improve in helping them build affirming and supportive relationships with family and friends. We want to be more impactful in encouraging them to invest their personal time in helping others. We want to improve in helping them build their optimism for the future."
Also given each year since 2015, The Eleanor P. Eells Award for Excellence in Research in Practice honors camp programs that:
Develop and implement or apply an exemplary research or evaluation project.
Use research or evaluation findings to improve program practice.
Develop model research or an evaluation project that can be adapted or replicated.
Share research or evaluation findings with others.
We salute this year's winners.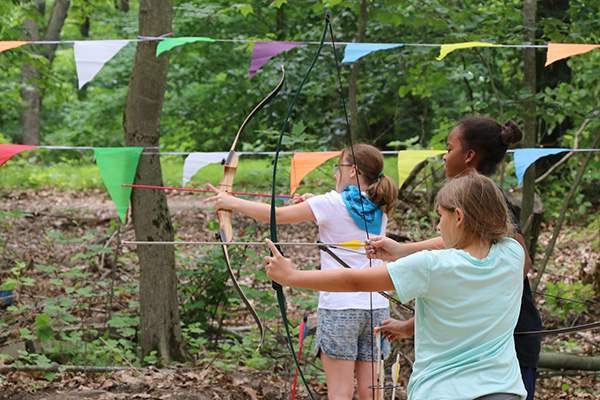 Camp Newaygo
Michigan
Camp Newaygo, began its programs for girls, women, and families in a rustic camp setting in 1926 with the conviction that every girl should have a safe place to become her best self. Owned and operated by a rural nonprofit organization, its year-round staff works hard to make Camp Newaygo an integral part of the surrounding community. One of the ways the camp furthers its youth development and community goals is to work with Dr. Anja Wittington, EdD, an associate professor of recreation, parks, and tourism at Radford University, and participate in her research efforts focusing on girls' experiences in the outdoors, the impact of program participation on girls' lives, and program development and evaluation.
This research partnership began in 2014 when Camp Newaygo was one of eight camps in Whittington's "Measuring Outcomes of Girls' Experiences at Camp" study, which helped to develop the Adolescent Girls' Resilience Scale. Two years later came "Developing College Readiness Skills at Camp," a study that utilized a retrospective analysis approach to glean data from Camp Newaygo alumnae. Camp Newaygo then hosted a research symposium in 2017 to share results of these studies with camp donors, parents, and supporters.
"Camp Newaygo is excited to have an avenue to measure the work we are doing through our camp programs," said Jane Vitek, the camp's executive director. "Those of us on the front lines of camp, knowing that we are impacting children in our programs isn't enough. We must be able to show others outside the camp world as well."
The camp's current research project, "Developing College Readiness Skills at Camp 2016–2018," is another joint venture with Wittington and tailor-made for Camp Newaygo. This study, which utilizes the ACA Youth Outcomes Battery and the Adolescent Girls' Resilience Scale, was designed to help measure skills specifically targeted in Camp Newaygo's programs: independence, problem solving, teamwork, and resilience. Results will be used in program development, camp recruitment, and as supporting evidence for donor and foundation reports.
"Our goal is to continue to grow our summer camp programs and outreach to the community, providing camp programs and activities that improve the quality of life in our communities," Vitek said. "Keeping young families excited to participate and engaging volunteers in program delivery and facility improvement extends the camp's reach year round."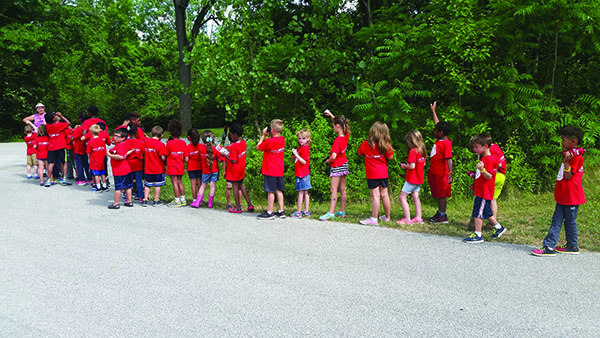 Jameson Camp
Indiana
Jameson Camp has been serving Indiana youth with character-building summer camp programs since 1928, and has evolved from a "fresh air camp" to one that offers summer camp, youth leadership programs, a challenge course, and an outdoor education center. Jameson Camp identifies as a year-round youth development agency with the goal to welcome children and families of any background and social status in an environment that models positive relationship-building and focuses on nurturing the strengths of each person.
"Jameson Camp has a real focus on genuine relationships and care for our people: our campers, our staff, volunteers, and partners," said Tim Nowak, the camp's program director. "We use the power of relationship-building to accept everybody as they are and to create experiences that are meaningful, unique, and meet people where they are."
Jameson Camp's evolution in programming continues in part through intentional implementation of research "that connects to [the camp's] bigger-picture hopes and goals," Nowak said. "We are great at problem-solving, so it only follows that we can be some of the best at bringing research and practice together to truly impact and improve the camp experience."
Jameson Camp uses the 40 developmental assets identified in the Search Institute's Developmental Assets Framework to guide its youth development efforts, implementing a system of colored beads to help campers learn about concepts such as empowerment, positive time use, and social competencies. Campers have the opportunity to earn beads, reinforcing friendship-making skills, creativity, perseverance, and many other crucial noncognitive skills in the process.
"Growth in terms of quality has no limits, and I don't think we yet know the limits of the scale that can be achieved for the camp experience," said Nowak. "There are so many people yet to engage in what we know to be a beautiful and life-changing opportunity. Research feeds our growth, both with quality and with scale. I hope that we, as camp professionals, continue to problem-solve and facilitate research into practice, as there is unknown beauty and potential to be reached."
Photos courtesy of CHAMP Camp, Inc., Bradford Woods, Indiana; City Kids Wilderness Project, Washington, DC, and Jackson, Wyoming; Experience Camps, Westport, Connecticut; Horizons Inc., South Windham, Connecticut; The Mayhew Program, Bristol, New Hampshire; Camp Newaygo, Newaygo, Michigan; and Jameson Camp, Indianapolis, Indiana.
Marcia Ellett is a professional writer and editor. She is currently the assistant editor of ACA's Camping Magazine.