Want youth feedback about outcomes from your program?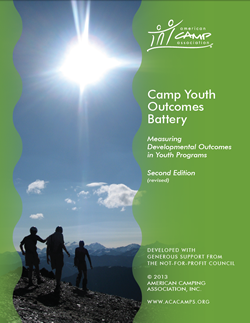 ACA offers data-gathering youth self-report measures that focus on common camp outcomes related to skills that build successful contributing members of our society. Questionnaires are statistically tested, camp-specific, age-appropriate, easily administered tools AND they can be customized to any camp.
Includes access to the YOB Basic Version onine and paper surveys as well as online data analysis
Includes all 12 measures in PDF form only
Purchase Scales in PDF Form Individually
Want staff or parents' perceptions about youth outcomes from your program?
The ACA Youth Outcomes Battery: Staff and Parent Perceptions measure outcomes growth based on adult observations of youth under their direct care of staff or a caregiver. The same outcomes available in the YOB are used in this version for staff and/or parents. These measures were statistically tested, easily administered, and offer staff language useful in communicating with parents about the growth of their child. The YOB: Staff and Parent Perceptions are stand-alone measures or ideally are used in conjunction with the YOB camper surveys. The measures work well with any age youth, but are especially helpful when working with children under the age of 10 years old or whom may have special needs.
How Much Do These Measures Cost?
Once purchased, you can make as many copies as needed.
More Information on the Youth Outcomes Battery
Other ACA Outcomes Research Resources