Fundraising Resources
Fundraising Ideas
 Below are just a few examples of types of fundraisers your camp can run. This is not meant to be an exhaustive list.
Host a walkathon. Find participants for your team, and reach out to your community for pledges based on how many miles your participants walk, run, hike, bike, or perform other activities.
Have an online giving day. This type of fundraiser focuses on raising money in a 24-hour window of time. Set a challenging but attainable goal that will encourage your community to help you reach it.
Run a social media fundraising campaign. Make sure to reach out across all your social media platforms with your fundraiser information and a link to donate — you may not have the same audience on Facebook that you do on Twitter or Instagram.
Camp Moves Me Creative Assets
Camp Moves Me is a fundraising program created by the American Camp Association (ACA) for ACA-accredited camps to use whenever they want, however they want.
We have created several different styles of logos for camps to use to promote their fundraisers via social media. Using a logo consistently will help brand your fundraiser so your community will recognize it.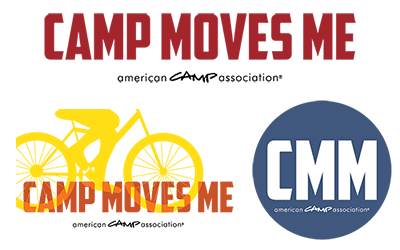 If you have any questions about the 
Camp Moves Me
 fundraising campaign, please contact Kaley Amonett at
kamonett@ACAcamps.org
. If you have questions about the ACA Camper Scholarship Program, please contact Andrea Stearley at
astearley@ACAcamps.org
.
Other Tips to Remember
The most important part of any fundraiser is the why. When communicating with potential donors, make sure to emphasize the importance of camp and your program.
Establish the parameters of your fundraiser. Let your potential donors know how long the fundraiser will last, and build up your communication around that timeline.
Highlight other ways that those who want to help can get involved. Encourage people to share your fundraiser and discuss any volunteer opportunities that may be open.