ACA Connect allows you to manage community discussion notifications in the following format:
Real Time — Receive an email each time a new message is posted.
Daily Digest — Receive a single email with all posts over a 24-hour period from a community. 
Daily or Weekly Consolidated Digests — If you belong to more than one community, you may consolidate multiple community discussion emails into one daily or weekly email.
No Email — No email message or digest is sent. You can still access the discussion through the ACA Connect site.

To manage your community subscriptions, navigate to your profile and select Community Notifications from the My Account menu.


On this page, you can manage your community subscriptions, establish notification overrides, and create Consolidated Digests.
NOTE: By default, all community notifications go to your primary email address; however, if you'd like to have emails from specific community Discussions and digests delivered to an alternate address, you can set that up here.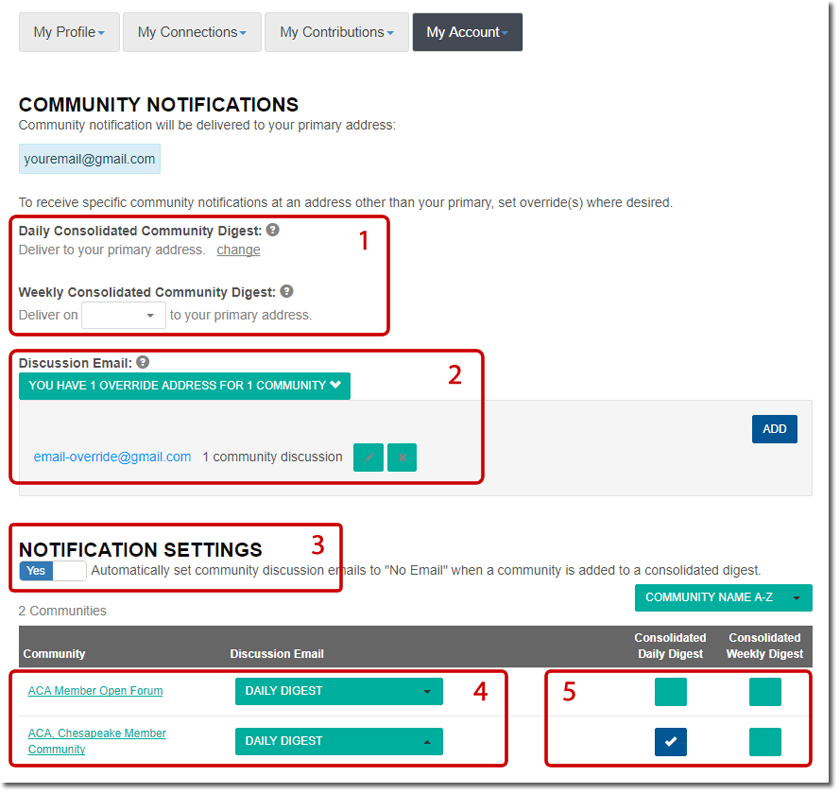 Set an override email address (optional) for both your daily and weekly consolidated digests.
 
Set up optional override email addresses (optional) for any desired community Discussions.
 
Toggling this option to YES automatically sets a community's Discussion subscription to No Email if that community is added to a Consolidated Digest. Be sure you understand the difference between Consolidated Digests and Discussion Subscriptions before enabling this feature (see the note below).
 
Manage the subscription type for each community you belong to.
 
Add and remove specific community Discussions into a Daily or Weekly Consolidated Digest by checking/unchecking their associated option. 
NOTE: Consolidated Digests (daily and weekly) are different than Discussion (daily digest and real time) subscriptions in this way:
Only previews of Discussion posts are included, meaning longer posts are not shown in their entirety (but you can click the links to view them).
You cannot reply to messages directly from the Consolidated Digests emails in the same way you can from Daily Digest and Real Time emails. 
For these reasons, Consolidated Digests are typically not the recommended notification type for Discussions, especially if you want the ability to reply via email.