Dear Friends and Colleagues,
While this was a challenging week, we also saw moments of hope every day:
Shining a Bright Light
So many camps have stepped up to inspire our children, with engaging, powerful virtual camp programs and activities. We.See.You. You are reaching out to your families, offering interactive resources and critical support at a stressful time. When you "show up," you remind families about camp's ability to help children successfully overcome adversity. That's an essential message.
Focusing on Parent Connections
Parents are looking to us as a source of optimism in this difficult time. They are hopeful that many of you are continuing to plan to offer camp experiences for their children this summer. They are also grateful that some of you are developing other ways to care for your campers and their families. Maintaining the confidence of our camp families is critical during these next weeks and months, and we need to remember that they will be looking to us for signals during this uncertain period and into the future.
Planning Ahead
As June and July approach, we'll need new resources to make camp safe. Ideally, we'll have the ability to screen campers and counselors for the virus in real time, or to know if someone was previously exposed to the virus and is now immune. As the public health authorities continue to learn more about COVID-19, the ACA is focused on developing guidance and resources to help camps be the best possible public health partners this summer.
Our Approach: To plan…to watch…to learn…and to synthesize emerging information into an action plan that we can all use to make camp happen this summer.
Our Goal: With detailed analysis, planning, identification of best practices and clear talking points, we can engage with state/local health authorities and other licensing entities from a place of confidence, competency and knowledge. To begin that dialogue now, without the benefit of an action plan, is a risky proposition. Please give us time to develop these resources and share them with you.
Finding Early Victories
Our last few weeks focused on aggressive advocacy in Washington to ensure that each of you has the support you need to manage current and future impacts of COVID-19 on your organizations. The CARES Act was signed into law today and provides a first step and offers camps a 7(a) SBA loan to fund the equivalent of 2.5 months of your current payroll. This loan is forgivable under a wide variety of circumstances. In addition, Disaster Assistance Loans through the SBA are now available. Check here for more information.
Continuing the Fight: Unfortunately, CARES didn't go far enough. The camp community needs further attention on our unique seasonal challenges, as well as sufficient resources to withstand a worst-case scenario. Our DC advocacy team is determined to find additional support, and we will share information as it emerges.
Using Our Superpower
As camp professionals, we are experienced contingency planners, with a plan "A", "B" and "C" for almost every issue. While COVID-19 presents a unique challenge, it won't stop us from planning ahead. If camp professionals have one superpower, it is finding their way through the thorniest of situations. We all need to use those superpowers now, and the ACA will be at your side, developing resources and supporting you in every way that we can. Together, we can prepare for what might be the most important summer ever for our kids and our families.
Relying on Our Community
We will be in touch regularly, but we also hope that you reach out to your friends and peers. Our community of camp professionals is one of our greatest assets, and we can offer both wisdom and solace during this difficult time. We are stronger together.
You are bringing hope, optimism and community to millions of grateful families…and you are inspiring families who haven't experienced camp before. Thank you for all that you are doing.

Scott Brody
Chair, ACA Board of Directors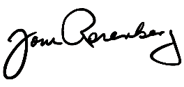 Tom Rosenberg
ACA President/CEO