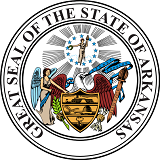 Date Revised: 05/19/2022
Governing Body:
Overnight Camps: Arkansas Department of Health
Day Camps: Department of Human Services | Division of Child Care and Early Childhood Education
License Required for Day Camps :
Yes
License Required for Resident Camps:
Yes
Criminal Background Checks Required:
Yes
Criminal Background Checks Information:
Arkansas State Police - Online Criminal Background Checks
$22.00 per Arkansas State name based check request
$11.00 per Arkansas State name based check request (volunteers)
$13.00 per National/FBI fingerprint based check request
$11.75 per National/FBI fingerprint based check request (volunteers)
$25 mailed in requests
State Allows FBI Checks:
Yes
Driving Record Checks:
An individual may obtain a copy of their record by either visiting the main office in Little Rock or any Arkansas revenue office. Revenue offices can only release driving records to the individual requesting the driving record.
Online payment is $10.00 for an insurance record which covers a three (3) year period or $13.00 for an employment or commercial driver record which may contain information for longer than the three year period.
Records picked up or mailed will be $7.00 for the insurance record or $10.00 for the employment or commercial driver's record.
State Sex Offender Registry:
Minimum Wage Coverage and Exemptions:
Employees for an organized camp and religious and non profit educational conference centers that operates for not more than 7 months per year; employees covered by FLSA; bona fide executives, administrators, and professionals; students who are working for the school, college, or university where enrolled and are regularly attending classes; federal, state or local government employees (except public schools and school districts); volunteers or non-employees for educational, charitable, religious or nonprofit organizations
Subminimum Wage:
Learners, apprentices, and certain handicapped workers with special license: less than state minimum permitted. Full-time students attending an accredited school and working not more than 20 hours a week (40 hours when school is not in session): at least 85% of minimum wage.
Overtime Pay Requirements:
1½ times regular rate after 40-hour week.
Overtime Pay Exemptions:
Those employees exempt from the FLSA or the state minimum wage, and agricultural employees.
Meal/Rest Period Requirements:
No specified state-level meal/rest period requirements. Federal FLSA meal/rest period requirements apply for those covered by Act.
Student Exemption from Unemployment Tax:
Yes
Student Exemption Information:
Not all student wages are exempt from Arkansas SUTA taxes.  However they do have an exemption for students under the age of 22 that are participating in a work-study program at an educational institution.
Details.