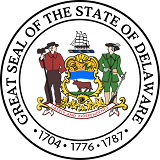 Date Revised: 04/07/2023
Governing Body:
Delaware Deptartment of Health and Social Services, Division of Public Health
License Required for Day Camps :
Yes
License Required for Resident Camps:
Yes
Criminal Background Checks Required:
Yes
State Allows FBI Checks:
No
State Sex Offender Registry:
Minimum Wage Coverage and Exemptions:
Persons under age 18 employed by a nonprofit organization as a junior counselor or a counselor-in-training in a summer camp program are exempt. So are executive, administrative or professional employees, and volunteers for educational, charitable, religious, or nonprofit organizations.
Subminimum Wage:
Labor department can permit subminimum wage for learners, apprentices, and handicapped workers. Details
Overtime Pay Requirements:
No specified state-level requirements. Federal FLSA ovetime pay requirements apply for those covered by Act.
Overtime Pay Exemptions:
No specified state-level overtime page requirement exemptions. Federal FLSA overtime pay exemptions apply for those covered by Act.
Meal/Rest Period Requirements:
Minors: 30 minute rest period for employees under age 18 working shift of more than 5 continuous hours.
Meal period: 30 minutes if employee works 7½ hours or more (must be taken after first 2 hours and before last 2 hours).
Exemptions: professional employees certified by the state board of education and employed by a local school board to work directly with children. Secretary of Labor may grant exemptions if: compliance would adversely affect public safety, the duties of a position may be performed by only one employee, the employer has less than 5 employees on a shift at a single place of business, or the continuous nature of the employer's operations requires employees to be available to respond to urgent or unusual conditions at all times and they are compensated for break and meal periods.
Student Exemption from Unemployment Tax:
Yes
Student Exemption Information:
Wages earned by an individual who is enrolled in a full-time educational program that combines academic instruction with work experience are exempt if it is an integral part of the educational program.
Details, page 6 "Exclusions from Definition of Employment"