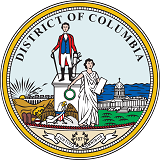 Date Revised: 04/07/2023
Governing Body:
D.C. Department of Consumer and Regulatory Affairs
License Required for Day Camps :
No
License Required for Resident Camps:
No
Criminal Background Checks Required:
No
Criminal Background Checks Information:
Henry J. Daly Building
MPDC Headquarters
300 Indiana Avenue
NW, Room 3055, WA 20001
(202) 727-4245
Fee of $7
State Allows FBI Checks:
No
Driving Record Checks:
Available through the DMV website.
Fee of $7 - $13
State Sex Offender Registry:
Minimum Wage Coverage and Exemptions:
Covers all employees unless specifically exempt or covered by wage order.
Exemptions: volunteers for educational, charitable, religious, or nonprofit organizations; lay officers of religious organizations if engaged in religious functions; bona fide executives, administrators, professionals, and outside salespeople as defined by FLSA
Subminimum Wage:
Federal minimum wage may be paid to: newly hired learners age 18 or older (for no more than 90 days), students employed by institutions of higher education, and minors under age 18. Less than minimum wage permitted for handicapped workers under special certificates. Persons employed under the Job Training Partnership Act, Youth Employment Act, or Older Americans Act must be paid at rates required by those Acts.
Overtime Pay Requirements:
1½ times regular rate after 40-hour week
Overtime Pay Exemptions:
Those employees exempt from the state minimum wage
Meal/Rest Period Requirements:
No specified state-level meal/rest period requirements. Federal FLSA meal/rest period requirements apply for those covered by Act.