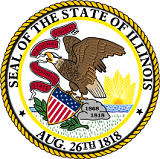 Date Revised: 8/25/2022
Governing Body:
Illinois Dept. of Public Health | Division of Environmental Health
License Required for Day Camps :
Yes
License Required for Resident Camps:
Yes
Criminal Background Checks Required:
Yes
State Allows FBI Checks:
Yes
Driving Record Checks:
An individual can request a driving record in person at a Driver Services Facility or by writing the Secretary of State in Springfield.
State Sex Offender Registry:
Minimum Wage Coverage and Exemptions:
Covers employers with 4 or more nonexempt employees, excluding the employer's family.
Exemptions: certain camp counselors; members of religious organizations
Subminimum Wage:
$9.25/hour for adults age 18 or older for first 90 calendar days of employment .
$9.25/hour for minors under age 18. 
Less than minimum wage permitted for handicapped, disabled, or elderly employees with special license; full minimum wage required if individual's production level equals that of nondisadvantaged employees.
Overtime Pay Requirements:
1½ times regular rate after 40-hour week.
Overtime Pay Exemptions:
Agricultural workers; public sector employees who are FLSA-exempt; bona fide executive, administrative, or professional employees as defined by the FLSA (nonprofit corporations may adopt a lower rate standard than federal law for these employees); those employed instead of another under a worktime exchange agreement between employees; certain employees of nonprofit educational or residential child care institutions
Meal/Rest Period Requirements:
Meal period: 20 minutes taken during first 5 hours of scheduled shifts of 7½ or more consecutive hours, unless collective bargaining agreement provides otherwise; excludes employees who monitor individuals with developmental disabilities or mental illnesses, or both, who, in the course of such work, are required to be on call during an entire 8 hour work period (but such employees must be allowed to eat a meal during the 8-hour work period while continuing to monitor those individuals).
Minors under age 16: 30-minute meal period if scheduled to work for 5 continuous hours.
Student Exemption from Unemployment Tax:
No
Student Exemption Information: