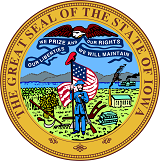 Date Revised: 08/26/2022
Governing Body:
Iowa Department of Human Services
Iowa Department of Public Health : Camps with Food Service
License Required for Day Camps :
Yes
License Required for Resident Camps:
Yes
Criminal Background Checks Required:
Yes
State Allows FBI Checks:
Yes
State FBI Checks Text:
Checks are only done for qualified organizations.
State Sex Offender Registry:
Minimum Wage Coverage and Exemptions:
Covers all employees covered by FLSA.
Exemptions: FLSA-exempt employers (exception–enterprise exemption applies only to an enterprise made up of one or more retail or service establishments whose annual gross volume of sales made or business done is less than $250,000, excluding excise taxes)
Subminimum Wage:
At least $6.35/hour until the employee completes 90 calendar days of service. Employees terminated after completing the 90- day period and rehired within 3 years must be paid full minimum wage.
Other subminimum rates may be paid under special certificates to learners, apprentices (at least age 16), student-learners (not less than 75% of minimum wage), full-time students (at least 85% of minimum wage), handicapped workers/trainees (may be less than 50% of minimum wage if severely handicapped, but not less than 25% if multi-handicapped).
Overtime Pay Requirements:
No specified state-level requirements. Federal FLSA ovetime pay requirements apply for those covered by Act.
Overtime Pay Exemptions:
No specified state-level overtime page requirement exemptions. Federal FLSA overtime pay exemptions apply for those covered by Act.
Meal/Rest Period Requirements:
No general provision. Minors: 30 minute rest period for employees under age 16 working shift of 5 or more hours.
Student Exemption from Unemployment Tax:
Yes
Student Exemption Information:
There is an exemption for employers of students if there is a religious affiliation and the mission is ministerial.  There is no exemption specifically for secular-based activities.