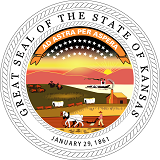 Date Revised: 8/26/2022
Governing Body:
Kansas Department of Health and Environment
License Required for Day Camps :
Yes
License Required for Resident Camps:
Yes
Criminal Background Checks Required:
Yes
Criminal Background Checks Information:
For any staff, substitute, or volunteer:
Kansas Bureau of Investigation
Attn: Criminal History Records Section
1620 SW Tyler
Topeka, KS 66612-1837
1-800-452-6727
Name Based Checks - $20.00
Fingerprint Checks - $35.00
Qualified agencies dealing with children, the elderly or disabled clientele - $19.75
State Allows FBI Checks:
Yes
State Sex Offender Registry:
Minimum Wage Coverage and Exemptions:
Covers all employees unless specifically exempt.
Exemptions: employees covered by FLSA; bona fide executives, administrators, and professionals; volunteers for nonprofit organizations; parttime or occasional employees under age 18
Subminimum Wage:
For learners and apprentices: 80% of state minimum wage when hired, 90% after 2 months, full minimum wage after 3 months (with permit from Secretary of Human Resources). The number of apprentices or learners hired at one time may not exceed 1 worker for each 5 regular employees, and they may not work on a parttime or occasional basis for less than 40 hours/week.
For handicapped and patient laborers at state institutions or hospitals: At least 85% of state minimum wage (with 1-year permit from Secretary).
Overtime Pay Requirements:
1½ times regular rate after 40-hour week.
Overtime Pay Exemptions:
Those employees exempt from the state minimum wage
Meal/Rest Period Requirements:
No specified state-level meal/rest period requirements. Federal FLSA meal/rest period requirements apply for those covered by Act.
Student Exemption Information:
There is an exemption only for certain services performed by students, inmates of correctional institutions, hospital patients, recipients of certain rehabilitation work-relief and work-training programs.
Details.