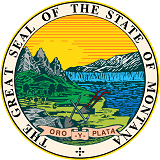 Date Revised: 08/29/2022
Governing Body:
Montana Department of Public Health & Human Services
License Required for Day Camps :
No
License Required for Resident Camps:
Yes
License Information:
Resident Camps:
Criminal Background Checks Required:
No
State Allows FBI Checks:
Yes
State Sex Offender Registry:
Minimum Wage:
$4.00 per hour* (businesses with gross annual sales of $110,000 or less)
*Federal minimum wage rate applies
Minimum Wage Coverage and Exemptions:
Covers all employees, except farm workers, unless specifically exempt.
Exemptions: employees covered by the FLSA (unless the state minimum wage is higher than the federal rate); students in a distributive education program established under an accredited educational programs; volunteers for nonprofit organizations whether fully or partially reimbursed; certain handicapped workers; apprentices or learners (exempt for up to 30 days); bona fide executives, administrators, or professionals; live-in managers of lodging or personal care facilities
Subminimum Wage:
Apprentices and learners may be paid subminimum rates for 30 days if exempted by the Labor Commissioner. Farm workers under age 18 may be paid subminimum rates (of at least 50% of the minimum wage) for 180 days.
Overtime Pay Requirements:
1½ times regular rate after 40-hour week; 48-hour week for students working and receiving board, lodging or other facilities at seasonal amusement or recreational areas. Overtime inapplicable to farm workers.
Overtime Pay Exemptions:
Guides, cooks, camp tenders and livestock handlers for a licensed outfitter; those employees exempt from the state minimum wage; employees covered under Part I of the Interstate Commerce Act
Meal/Rest Period Requirements:
No specified state-level meal/rest period requirements. Federal FLSA meal/rest period requirements apply for those covered by Act.
Student Exemption from Unemployment Tax:
Yes
Student Exemption Information:
Services performed in the employ of a school or university if the service is performed by a student who is enrolled and regularly attending classes at the school or university. Or, Service performed by a fulltime student in a internship program taken for academic credit at an educational institution that combines instruction with work experience.
Details. Students, interns, scholars- Special Classes of Employment and Special Types of Payments