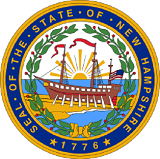 Date Revised: 02/01/2019
Governing Body:
N.H. Dept. of Environmental Services Drinking Water and Groundwater Bureau
License Required for Day Camps :
Yes
License Required for Resident Camps:
Yes
Criminal Background Checks Required:
Yes
State Allows FBI Checks:
Yes
Driving Record Checks:
Request form available through the DMV web site.
Fee of $15.00
State Sex Offender Registry:
Minimum Wage Coverage and Exemptions:
Covers all employees unless specifically exempt
Exemptions: employees of summer camps for minors
Subminimum Wage:
At least 75% of state minimum wage for workers with less than 6 months' experience and minors age 16 or younger, if employer files application with Labor Commissioner within 10 days of hire.
Overtime Pay Requirements:
1½ times regular rate after 40-hour week.
Overtime Pay Exemptions:
Those employees exempt from the minimum wage; employees covered by the FLSA; and employees of certain amusement, seasonal, or recreational establishments.
Meal/Rest Period Requirements:
Meal period: 30 minutes after 5 consecutive hours worked, unless employee is able and permitted by employer to eat while working.
Student Exemption from Unemployment Tax:
Yes
Student Exemption Information:
In some situations, camps would be exempt from paying the UT for full time students as follows: RSA 282-A:9 IV (r): IV.  The term ""employment"" shall not include:
Service performed by a full-time student in the employ of an organized camp: 
(1)  If such camp: (A)  Did not operate for more than 7 months in the calendar year and did not operate for more than 7 months in the preceding calendar year; or (B)  Had average gross receipts for any 6 months in the preceding calendar year which were not more than 33 1/2 percent of its average gross receipts for the other 6 months in the preceding calendar year; and
(2)  If such full-time student performed services in the employ of such camp for less than 13 calendar weeks in such calendar year. 
In order for the exemption, the individual in question must be a full-time student, and either (A) or (B) from the first part AND the 2nd part must apply.