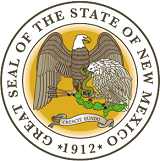 Date Revised: 8/29/2022
Governing Body:
Day Camps: Children, Youth and Families Department
Resident Camps: New Mexico Environment Department
License Required for Day Camps :
Yes
License Required for Resident Camps:
Yes
License Information:
Day Camps:
Day camp programs may need to receive a child care license as "out-of-school time programs," however summer camps, wilderness camps, and programs operated for recreational purposes by recognized organizations such as churches, schools, and the boy and girl scouts, are exempted, provided such camps and programs are not conducted in private residences.
Resident Camps:
Permits are required for camps that provide food services, swimming pools, and drinking water:
Contact an NMED Food Specialist or your District Field Office for more information.
Criminal Background Checks Required:
Yes
Criminal Background Checks Information:
Yes (for those licensed as child care)
New Mexico Dept. of Public Safety
4491 Cerrillos Rd.
Santa Fe, NM 87507
(505) 827-9181
State Allows FBI Checks:
Yes
Driving Record Checks:
A downloadable form to request a check is available from the New Mexico MVD website.
$6.63 or $9.99
State Sex Offender Registry:
Minimum Wage Coverage and Exemptions:
Covers all employees unless specifically exempt; Exemptions: bona fide executives, administrators, or professionals; federal and state government employees; volunteers or nonemployees for educational, charitable, religious, or nonprofit organizations (including persons who are paid to work there while being rehabilitated); students regularly enrolled in primary or secondary schools working after school or during vacation periods; employees age 18 or younger who are not students; and employees age 18 or younger who are not graduates of a secondary school.
Subminimum Wage:
Labor Commissioner may set subminimum rates (but not less than 50% of minimum wage) for handicapped or disabled workers, including agricultural workers (under special certificates).
Overtime Pay Requirements:
1½ times the regular rate after 40-hour week.
Overtime Pay Exemptions:
Those employees exempt from the minimum wage
Meal/Rest Period Requirements:
Meal period: 30 minutes during shift of 6 hours or more.
Student Exemption from Unemployment Tax:
No
Student Exemption Information:
N/A