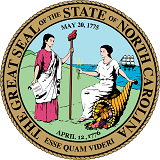 Date Revised: 08/31/2022
Governing Body:
North Carolina Department of Health and Human Services
License Required for Day Camps :
Yes
License Required for Resident Camps:
Yes
Criminal Background Checks Required:
Yes
State Allows FBI Checks:
No
State Sex Offender Registry:
Minimum Wage Coverage and Exemptions:
Covers all employees unless specifically exempt.
Exemptions: employees of summer camps or seasonal religious or nonprofit educational conference centers; a spouse, child, parent, or other dependent of the employer; employees of establishments that have less than 3 employees in a workweek; bona fide executives, administrators, professionals, and outside salespeople as defined by the FLSA; bona fide volunteers in medical, educational, religious, or nonprofit organizations where there is no employment relationship; seasonal recreational program employees run by the state or a local government
Subminimum Wage:
90% of minimum wage for fulltime students, learners, apprentices, and messengers, rounded to lowest nickel. Other subminimum rates may be set for handicapped workers.
85% of minimum wage for: persons unemployed for at least 15 weeks and economically disadvantaged, persons whose families are receiving Work First Family Assistance or are receiving supplemental social security benefits (under special certificates) for up to 52 weeks, and seasonal amusement/recreational and food service employees.
Overtime Pay Requirements:
1½ times the regular rate after 40- hour week; 45-hour week for seasonal amusement or recreational establishment employees; after hours over 8 in a day or 80 in a 14-day work period for hospital and nursing home employees if notified in advance. Alternative methods of computing overtime that are permitted under the FLSA are permitted under the state wage-hour law.
Overtime Pay Exemptions:
Those employees exempt from the state minimum wage; state and local government employees; child care workers or other live-in employees in homes for dependent children.
Meal/Rest Period Requirements:
No general provision. Minors: 30 minute rest period for employees under age 16 who work shift of more than 5 continuous hours.
Student Exemption from Unemployment Tax:
Yes
Student Exemption Information:
Students enrolled and attending classes at a non-profit or public school which combines credit for academic studies and work experience. This service must be an integral part of the school's program and the school must certify the service (co-op programs).