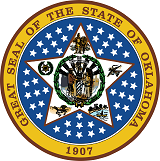 Date Revised: 9/16/2022
Governing Body:
Oklahoma Department of Human Services
License Required for Day Camps :
Yes
License Required for Resident Camps:
No
Criminal Background Checks Required:
Yes
State Allows FBI Checks:
Yes
State Sex Offender Registry:
Minimum Wage:
$7.25 per hour (Employers of ten or more full time employees at any one location and employers with annual gross sales over $100,000 irrespective of number of full time employees)
$2.00 per hour (All other employers)
Minimum Wage Coverage and Exemptions:
Covers employers with more than 10 employees at any one location or place of business; an employer with less than 10 full-time employees (or the equivalent of 10) at any one location or place of business is covered if it's annual business gross exceeds $100,000/year. Employees of the state or any lessee or concessionaire of the state are specifically covered.
Exemptions: temporary part-time employees who work less than 25 hours a week; employees under age 18 who have not graduated from high school or a vocational training program; employees covered by the FLSA; employees under age 22 who are regularly enrolled students in a high school, college, university, or vocational training program; bona fide executives, administrators, and professionals
Subminimum Wage:
Commissioner of Labor may set subminimum rates for learners, apprentices, messengers, and handicapped and disabled workers (under special certificates for a fixed period), employees of state or local governments or instrumentalities, and students and regular attendants at institutions of higher learning.
Overtime Pay Requirements:
No specified state-level requirements. Federal FLSA ovetime pay requirements apply for those covered by Act.
Overtime Pay Exemptions:
No specified state-level overtime page requirement exemptions. Federal FLSA overtime pay exemptions apply for those covered by Act.
Meal/Rest Period Requirements:
Rest period: for minors under age 16, one cumulative hour of rest during 8 consecutive hour shift, including one 30-minute rest period after 5 consecutive hours' worked.
Student Exemption from Unemployment Tax:
No