The J. Wendell and Ruth T. Howe Awards recognize those individuals who contribute their talents to Camping Magazine.
The Golden Quill Award is presented to the authors of quality articles that promote a better understanding of the camp/outdoor education/youth development field, including current practices, critical issues, and research. The Golden Lens Award recognizes good photography that depicts the camp experience.
 
2023 Golden Quill Award
Kathleen "Mo" Taylor, OTR/L 
Life and Autism: How Camps Can Support Campers and Staff on the Autism Spectrum
(January/February)
Kathleen "Mo" Taylor, OTR/L, is an occupational therapist with a 39-year history of working with individuals with autism spectrum disorder (ASD) across the life span. As a part-time faculty at the University of New Mexico and the owner of Theraplay, LLC, Mo provides non-traditional outdoor and camping experiences as well as consultative therapy to enrich the lives of the people she serves with more choice and opportunity. She has shared her experiences through trainings around New Mexico, nationally and internationally. Mo is the co-author of Social Engagement & the Steps to Being Social. Her career has been devoted to better "real life" outcomes for all individuals. 
Spending time with people with autism and camping are two of my most favorite experiences. So, 38 years ago I began building a bridge to bring these two together. The article, Life and Autism, includes lessons learned and concrete ideas from national and international experiences. Expanding camp communities to include campers and staff with ASD can truly embrace the goal to learn about differences, not to change them, but to appreciate everyone. Camp can and should be the place where we truly make space for everyone, because deep down, we know that everyone belongs at camp.
2023 Golden Quill Award Honorable Mention
Jolly Corley, MS and Kim Aycock, MST
Commitment: How Do We Earn It — and How Do We Keep It
(March/April)
We believe that staff culture and camp culture are tied together. In fact, the culture our staff embraces, and models is our camp culture. The values we have in place help us connect future staff to our camp's mission after we discover their values and what is important to them. There is a difference between earning and receiving commitment from staff. Commitment to camp is not automatic; we must do our part to earn the staff loyalty and trust that will keep them committed through the end of the camp season.
Jolly Corley, MS, is obsessed with creating dynamic, thoughtful workplace cultures, especially at camp. Jolly's passion is helping others cultivate their purpose. Using games, theater, and life experiences she prepares staff to understand that our own experiences are the most useful tools for reflection and growth to a solid foundation in becoming leaders for life. Jolly spends winters in Minnesota enjoying the snow and frigid temperatures with her husband, and their two kids. In the summer, she hangs out on Lake Winnipesaukee at Camp Robindel in New Hampshire. Jolly likes skiing, popcorn, and iced coffees.
Kim Aycock, MST, has several decades of experience developing young people with skills robots are unable to do. While blending the talents of a master teacher with the knowledge of a seasoned camp expert, Kim ignites the learning for varying levels of camp pros worldwide through her interactive and innovative presentations. Kim speaks at regional/national conferences, contributes regularly to Camping Magazine and ACA blogs, and serves as co-chair of ACA's Staff Recruitment and Retention Committee and Staffing Summit. Kim lives in Southport, North Carolina, with her husband, Jeffrey, and two dogs, Gus and Gumbo. She loves running, watching dolphins, Diet Coke, and ice cream.
2023 Golden Lens Award
Luke Coxhead 
"Wings of Wonder"
Camp Chinqueka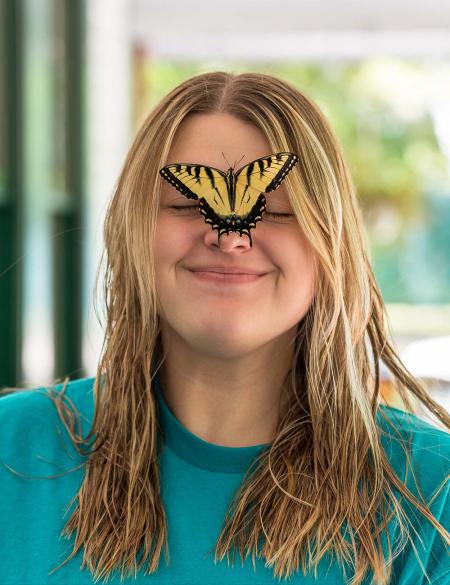 Luke Coxhead is a photographer from Surrey, England, who has a passion for capturing and telling the stories of others. Luke began studying photography at 14 and continued for seven years until he graduated from Solent University in 2019 with a BA honors degree. His work has been displayed in exhibitions in Southampton, Guildford, and London. Luke is currently preparing to move to Connecticut to start a career as the media director for Ebner Camps.
"Wings of Wonder" was taken outside Camp Chinqueka's friendship lodge. The butterfly in the image is a female Eastern Tiger Swallowtail. The species is attracted to flowers and is usually solitary; however, this one was very interested in Lindsay, the CIT coordinator. The butterfly landed on Lindsay's head, rested in her hands, and made its way up her face until it said goodbye and returned to the nearby flowers. As life at camp can often be busy, it was a rare opportunity to stop and appreciate the simpler things in life. Although the butterfly was only with us for a moment, it's a memory I will cherish for life.
2023 Golden Lens Award Honorable Mention
Sasha Calderon 
"Riding the Camp Wave"
Camp Surf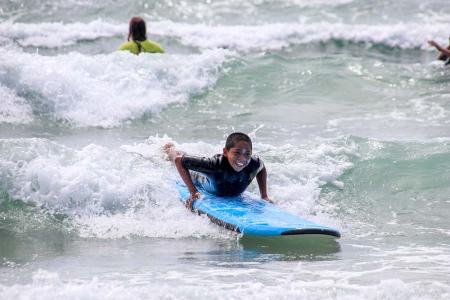 Sasha Calderon is so honored to have received this achievement with ACA! Camp Surf has been a part of Sasha's life since age 14 —and Sasha has been in love ever since. Sasha is originally from LA but now calls San Diego home. Sasha strives to capture life's moments — both the good and bad — to find the beauty in all of it. Sasha is graduating from the University of San Diego this May with a BA in Communication and Film Studies. Sasha has a wonderful boyfriend, AJ, who Sasha met at Camp Surf, and they share a best friend, Jetty — a corgi pup! 
The beauty of this photo is crystal clear. A child is accomplishing a challenge that not many get to experience. But the joy that comes from trying something new, having fun, and being outside will always leave a smile on your face. I took this photo and immediately knew it was special.