THE AMERICAN CAMP ASSOCIATION'S PUBLIC POLICY AGENDA FOR THE 114TH CONGRESS MAKES THE HIGHEST PRIORITY OF TWO SPECIFIC GOALS: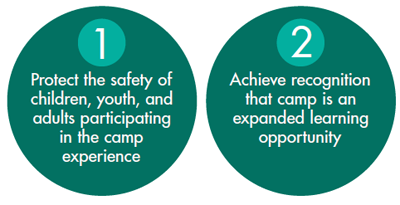 While it has been challenging to make progress in previous sessions of Congress, ACA is optimistic for the future! At the time of this writing (January), Congress was not back in session, but updates on any of these issues are always available on our public policy page online at www.ACAcamps.org/publicpolicy. 
Among the items we intend to focus on in the near future are:
• Child Protection Improvements Act: A bill to close the gaping hole in federal law that prevents camps, children's groups, and other organiza­tions that work with children from gaining access to federal criminal background checks on employees and volunteers. 
• No Child Left Inside Act: A bill that addresses environmental educa­tion and achieving environmental literacy for all children. 
• Americans with Disabilities Act: ACA continues to work with others to provide educational information to camps regarding this law and subsequent updates in accessibility regulations. 
• Community Parks Revitalization Act: A bill to support rebuilding, remod­eling, expanding, or developing existing or new recreational areas and facilities; and to provide matching grants for innovative programming.
• Federal Motor Carrier Safety Administration Commercial Regulations: We continue to partner with others to ensure that camps will not be deemed commercial carriers, such as Greyhound bus lines, when utilizing 15 passenger or less vans to transport staff and campers.
• The Patient Protection and Affordable Care Act (PPACA) and the Health Care and Education Reconciliation Act (HCERA) — Heath Care Reform: ACA continues to monitor these laws and resulting regulations and their impact on camps as employers.
• Relationship Building and Other Issues: ACA also continues to partner with others to achieve shared public policy goals. For more in­formation on any of these organizations or issues, visit the main public policy page at www.ACAcamps.org/publicpolicy. Current partnerships include: Afterschool Alliance, Healthy Out-of-School Time Coalition, MENTOR, No Child Left Inside Coalition, National Human Services Assembly, Outdoors Alliance for Kids, Urban Parks Coalition, and the YMCA of the USA.