Last summer, my husband and I were designated to pick our grandson Corbin up at the end of his two weeks at Green River Preserve in North Carolina. We literally spent eight hours in the car with probably the perfect poster boy for camp — everything we hoped would happen did — he expressed compassion and confidence — pure joy and excitement — and I'm pretty sure he came away with all those noncognitive skills we want our children and grandchildren to develop.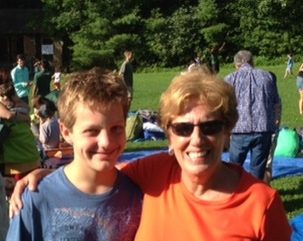 I came to work for the American Camp Association twelve years ago — just before Corbin was born. I never went to camp as a child, but as part of my position as director of communications and editor of Camping Magazine, I visited and stayed at dozens of camps. I vowed that as soon as Corbin turned nine, we would send him to camp — no matter what I had to do to convince his parents. That wasn't necessary — the convincing part — because when he was eight he called me and asked if next summer he could go "to one of those camps just like you go to — you know one out in the woods in nature." I had him enrolled in a one-week program at a close by YMCA camp within the hour.
After two years close by, when he was ten, we enrolled him for a two-week program at Green River Preserve. I knew that this was the perfect program for Corbin and I wanted so badly to be right. As we drove up the mountain to deliver him the first time, he was nervous and apprehensive and so was I — but when his two weeks were up, he asked, "Can I please go back next summer?"
Yes, of course he went back the next summer, and, apparently, he loved it even more than the year before. For those eight hours in the car he shared so much: the food was "awesome"; he climbed to the top of one of the mountains using climbing gear ("We were the first group to ever do that and we got to name the route and they even had a pair of size eleven climbing boots for me to wear"); he learned how to square dance; he went into some cave; he beat the oldest and best boy at fencing; he figured out how to manage a boy in his cabin he thought was aggravating; he thought his counselors were the best; and he only lost two things — and that was just part of it. He told us that he learned that everything doesn't have to be perfect to be wonderful — and that some things that aren't planned are the best. I almost cried when he told me his candle burned out at the final campfire before the ceremony was over, but "I think it was symbolic — like even though I didn't have a candle at the end it was still perfect."
We picked up a boy who is better, wiser, and happier than the one we dropped off. And, I swear he was also taller, more handsome, and totally as awesome as he said camp was.
Needless to say, he's planning for next year. The deposit has been paid. I'm so grateful that I know what I know about camp and that we can do this for him — that we are able to give him the camp experience that is perfect for him. What a wonderful investment we are making in his future — by sending him to camp, we are giving him memories for a lifetime plus skills, confidence, independence, and pure fun. As a grandmother, there is no greater gift I can give my grandson and all my grandchildren. When the younger ones are the right age, we will send them, too.
Just one camp experience can positively impact a child's life forever.
Did you know that just $35 will send a child to camp for one day and $500 will send a child to camp for one week?ACA's Send a Child to Camp Fund helps send kids to camp nationwide. Your generous donation will give a deserving child the gift of friendships, time in nature, accomplishment, confidence, and fun.
This holiday season, give the gift of camp to a special child!
Photo: Corbin and Harriet at camp.
Harriet Lowe was the past editor-in-chief of ACA's Camping Magazine.