Last month, we offered questions to consider regarding veteran staff so you can spend time reflecting on each person individually to envision how they fit with the staff culture you wish to create long-term. We would like to continue the theme of reflection (with additional questions!) as we are caught in this unique time of year that has us between two staff seasons. While we are close enough to the recent summer to recall successes and challenges, there is time in the months ahead to incorporate lessons learned into developing a plan for next year. Acting on this plan can put you on the path to turning your vision for staff culture into reality. 
Reflect
Postseason Staff Inventory
(Please feel free to add to or subtract from this list!)
Are there specific complaints staff have every summer? What does communication look like between leaders and frontline staff? In what ways are staff trusted to do their job without being micromanaged? What access do staff have to program supplies, equipment, and other curriculum resources? When do staff have time on the clock to do camper reports or other administrative tasks? In what ways do staff expectations match their reality? What is the feeling around staff unity?  
Do staff feel prepared to do their job with orientation and ongoing training? What were your a-ha moments or pet peeves from the recent summer? What reminders did you repeatedly make? What "basic" or "common" knowledge do you wish staff understood? What topics can be predicted for timely staff development throughout the season? In what ways can staff have their bag-of-tricks refilled on a regular basis to offer new ways to engage campers and re-energize those on the frontline? What useful feedback did parents and campers give in evaluations that pertain to staff? Who on your team is fully or partially ready to lead training?
What other forms of professional development will help grow your staff?  Who on your staff team or in your alumni pool can coach or mentor staff? Where can you be creative with the camp or post/pre-season schedule to offer training for various cohorts of staff based on their level of experience (former campers, first year, staff returning for second or third year, leadership team, etc.)? What skills are being developed that staff can utilize beyond camp? How are these skills reinforced through assistance to translate onto a resume or practice for future interviews? What certification training or conferences are available to staff in the upcoming months?
In what areas might you have some flexibility to give staff more autonomy? What tasks can you alone do? What are tasks that only some people in your organization can do? That anyone can do? How can this list empower staff who are "leaders" but may not be in "leadership" positions? In what ways are you in the "business of saying yes" when someone offers a new idea or suggestion? What adjustments can be made for rock star veteran staff who are not available the entire summer?
How do staff re-energize? What on-camp space is good for those needing to be alone or with others to recharge? How can staff be given well-deserved time off with no camp duties or responsibilities? What options are available for those needing frequent but smaller chunks of time away or for others wanting fewer but longer breaks throughout the summer? What accommodations can be made for staff without transportation to go off-campus if desired? How can the staff community as a whole continue to be nurtured once campers arrive?
What support do you have in place for the physical, emotional, and mental health of staff? When/where do staff have the time and place to exercise? What healthy options are available during meals and snacks? Where can staff go to de-stress? Who can staff talk with if feeling anxious or overwhelmed?
Do staff feel valued and appreciated individually and as a group? How are staff encouraged to show peer-to-peer gratitude? Which staff members prefer a word or note of thanks? Who enjoys spending quality time with you or just having someone "bend" an ear? What staff members could have benefited from extra hands during set-up or clean-up for activities or events? Who might be looking for a hug or high-five? What snacks would go over well at staff meetings? Are there any "perks" that would be welcome at various key points during the summer? In what ways can staff show appreciation to each other? What is being done so that ALL staff are being shown appreciation and not just those directly involved with the campers? What possibilities exist to involve campers in the appreciation funnel? What resources are out there for collecting inspiration and ideas to use next summer? (Follow Jolly's Instagram or Kim's Pinterest board as good places to start!)
When/how is feedback given to staff? How do staff know if they are doing a good job or if improvement is needed on an incremental basis? What coaching is offered to staff for demonstration of either strong or weak performance? How are staff informed if they are eligible for rehire and made aware of any advancement opportunities that are available? 
What provisions are made for staff to connect with people or obligations in the 'real world?' What possibilities are there for staff to maintain important communication with family and friends? What access to reliable technology do staff have if needed for their role at camp or for school/work requirements? 
While reflecting on the above categories is a good start to taking stock of ideas to be considered for next summer, there is another question still out there. This one may require a little more thought than the others. It may hit you or your organization where it counts. Asking this question could really help you take forward steps to the culture you envision at your camp. We suggest that you consider how you are investing in staff. As budget monies are distributed for various improvements to purchase new equipment and add to your facility, think about the impact those items will have on the overall camper experience. A camp friend often says that with the right staff, camp could be held in a parking lot. We all know great staff who could make the magic of camp happen with minimal resources in just about any location! 
"1 Great Staff = 3 Good Staff"
(adapted from The Container Store)
Develop
We firmly believe that camp is only as good as the staff who interact with the campers on a daily basis. The real reason campers choose to come back or not directly relates to the quality of relationships campers have with staff. Why not put some serious dollars towards making sure staff are well supported, developed and valued? Investing in the biggest impact areas of camp makes sound financial sense. Start with the staff on your team you have already determined are willing and capable and invest in their personal and professional development. Put more money into attracting not just good staff but great staff. Increase staff salaries across the board. When camp leadership invest in frontline staff in these and other impactful ways, this models for staff how they should in turn invest in their campers. This is the stuff that can move the needle on your camp culture. As Kip Tindell, CEO of The Container Store, states, "If we take better care of our (staff) than anyone else — by paying them better and training them more — they will in turn take better care of our (campers) than anyone else." 
Let's face it! Change is hard. According to Robert Sharma, "Change is especially hard at first because of the need to overcome escape velocity. Just like the space shuttle, more fuel is used in the first 60 seconds then it will use up during its entire circumference around the earth." Sometimes liftoff is the most challenging part and requires the most energy. It is possible that in taking a look at various aspects of your staff culture through reflecting on the above questions, you may come to the realization that there are things going quite well while others need your attention sooner than later (in the next month or two). There are certain action items that will need to be put on your long-term plan for six months, a year, or several years from now. Investing time now and filling the fuel tank will make it much easier for liftoff this summer. When a million other things come up and the forest can't be seen through the trees, a plan of action will already be in place.
To take small bites over a longer period of time, it may be desirable to break this process down and focus on one of the proposed categories and accompanied questions each week over the next few months. From here, a plan can be developed for what realistically can be done to impact the next and future summers. There will be certain things that you will need to stop doing because they are holding your camp back from progressing to its desired culture. Other items may need tweaking or updating because while still good, they are not reaching their potential for full impact. You may also discover through collaborating with your staff team or networking with other camp professionals throughout the year that there are some really awesome new ideas out there that you would like to try.
Act
Finally, we offer the following sample "Purpose to Impact Plan" for you to start plugging in both short and long term goals that will move you closer to the staff culture you envision. We invite you to add to or edit the chart below as you see fit.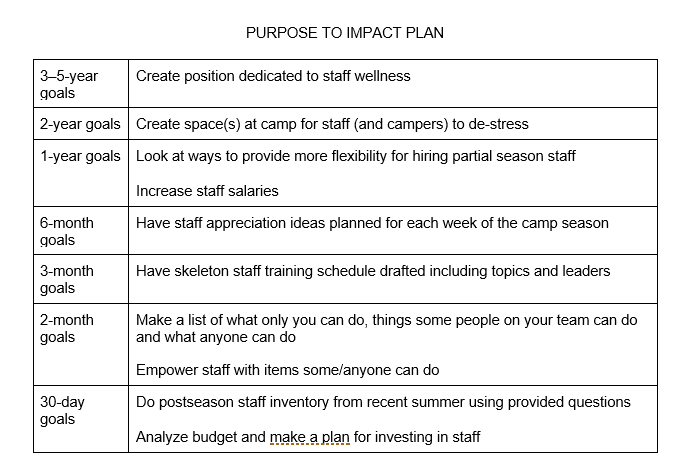 Kim Aycock, MST, has 30+ years of experience developing young people with skills robots are unable to do. While blending the talent of a master teacher with the knowledge of a seasoned camp expert, Kim ignites learning for varying levels of campers and staff worldwide. She speaks professionally at conferences, presents webinars, contributes regularly to Camping Magazine and ACA blogs, and serves as Co-Chair of ACA's Project Real Job Committee. More information can be found at: kimaycock.com.
Jolly Corley, M.S. works each summer developing 150 emerging leaders to create a dynamic & thoughtful camp culture through staff development. Using games, theatre & life experiences she prepares staff to understand that our own experiences are the most useful tools for reflection & growth to a solid foundation in becoming leaders for life. Her work with jolly corley, llc, takes her around the world providing training to develop a staff culture that promotes personal & professional growth. Check out jollycorley.com for more information.
Photo courtesy of Green River Preserve in Cedar Mountain, North Carolina