Test requests and allocations are being coordinated through the Epidemiology and Laboratory Capacity for Prevention and Control of Infectious Diseases (ELC) school testing leads (Iowa and Ohio are not participating in this program). 
Update: As of August 1, 2022, some states still have point-of-care tests available.
Interested camps are encouraged to take the following steps to apply for free COVID tests:
 
1. Reach out to your state or local ELC school testing contact. When you reach the CDC page, scroll down to the map and click on your state.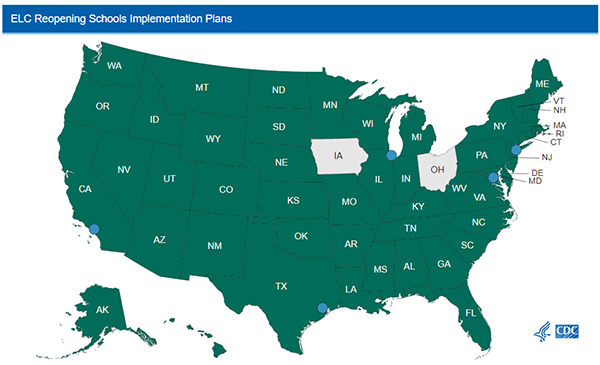 2. On your state page there will be a blue box that outlines if your state has a contact person. Some states do; some states do not. Examples:


You can also find your state's contact on this spreadsheet. Note: This program was initially intended for schools but has since expanded to include camps in many states. While not all states are participating in the ELC funding, you can use this resource to reach out and determine if your state has tests available.
 
3. If your state has a contact, please click that link and email them with your COVID testing request. The request should include:
Your name
Your email/phone
Camp name
Camp address
Number of COVID tests requested
Date needed
Purpose of tests: screening, diagnosis, weekly testing of staff, other use
Provide the approximate number of campers/staff you will be serving
 
4.  If your state does not have a contact, please email covidschooltesting@cdc.gov and ask to be connected to your state ELC contact to request COVID tests for camp. The CDC is working to provide connections between camps and their state ELC contacts.
 
5.  Once the CDC provides the contact, send them the information from #3 listed above.
FAQs
How quickly will we get our tests?
Once you submit your request it goes through an approval process and is dependent on the number of requests in your state for that week. The processing takes about a week and then you should receive notice from your state ELC or public health folks to let you know if you have been approved for free tests. CDC states they ship the test within 7-10 days of the approval. Therefore the process should take about two weeks.
Can we request COVID tests on more than one occasion?
Yes, you can make a second request, but the CDC is monitoring for repeat requests and if you submit a second request, please be sure to provide the rationale for the second request and why it was not included in the first submission.
What type of tests are these?
The tests may be point of care tests or over the counter tests.
Best of luck for summer 2022!