Hello camp researchers and evaluators! Welcome again to Research 360: ACA's new full circle approach to research and evaluation. I promised in last week's post that I would dive deeper into ACA's 5-year research project, which is one element of Research 360 (local camp evaluation is the other). 
The Big Question
Before I introduce the cast of characters behind this initiative, I want to provide some context for the project. The idea of a 5-year research project came out of the ACA Board of Directors' decision to focus on research and evaluation as a strategic direction for the association. A Board Task group of ACA volunteers was charged to take the Board's strategic direction and turn it into a specific research focus for a multi-year project. Here is what the task group came up with:
Do camp experiences prepare campers and staff to persist and succeed by developing and transferring necessary skills, values, dispositions, and abilities leading to college/career readiness and lifelong learning; and, if so, what enables the development and transfer of these work and life skills for campers and staff?
Why an Advisory Group?
With this group's task complete, a Research Advisory Group (again, all volunteer experts) was formed to oversee the research project that would explore this question. An advisory group such as this is critical to this study because it ensures accountability to the ACA community and trustworthiness of the research results, values that continue to make ACA's first large-scale study an important resource for camp professionals and researchers alike. 
The Advisory Group's responsibilities include recommending a third-party research team, reviewing annual project reports, and working with ACA to share research results in ways that will improve the camp experience and advocate for camp to a board audience. Over the course of the 5-year project, the Research Advisory Group will make valuable contributions to this aspect of Research 360; so, with that in mind, let me introduce them to you.
The Cast of Characters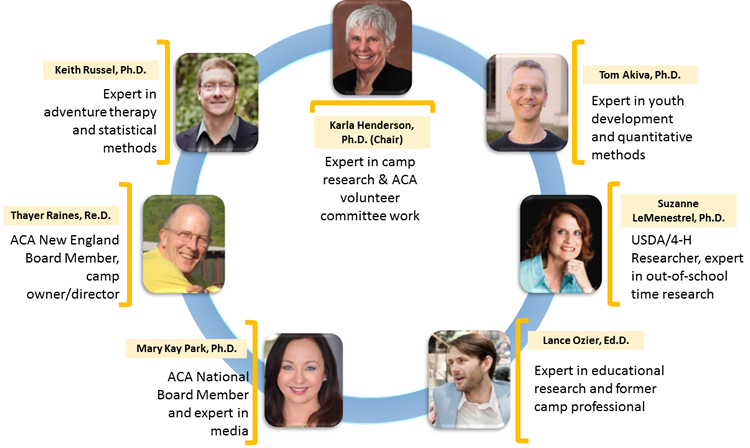 Read more about the Research Advisory Group, and stay tuned for the next Research 360 post, Cast of Characters Part 2, which will introduce the University Research Team.
Laurie Browne, Ph.D., recently joined the Research Team at ACA. She specializes in ACA's Youth Outcomes Battery and supporting camps in their research and evaluation efforts. Prior to joining ACA, Laurie was an Assistant Professor in the Department of Recreation, Hospitality, and Parks Management at California State University-Chico.  Laurie received her Ph.D. from the University of Utah, where she studied youth development and research methods.
Thanks to our research partner, Redwoods.
Additional thanks goes to our research supporter, Chaco.