The American Camp Association (ACA) is excited to partner with CampDoc and the Association of Camp Nursing (ACN) to improve health and safety at camp through strategic research efforts. As a Research Partner, CampDoc continues its shared commitment with ACA and ACN to enhance the education for camps, and offer significant insights to reduce illnesses and injuries, and address other health-related issues across all camp settings.
CampDoc has collaborated on multiple camp health research studies, with publications in prominent medical journals and presentations at conferences for leading medical organizations:
American Academy of Pediatrics
World Association for Disaster and Emergency Medicine
Society of Academic Emergency Medicine
Pediatric Academic Societies
The CampDoc platform allows camps to instantly access vital camper and staff health information, including allergies, medications, and immunization records, as well as track medication administration, and record illnesses and injuries electronically.
In collaboration with the ACA and ACN, this research partnership will allow CampDoc to leverage its extensive 10+ year data repository to develop camp-related illness and injury insights and benchmarks.
CampDoc, ACA, and ACN will participate as equal partners in the research to support the processes of data collection, analysis, and future reporting, including insights for the Healthy Camp Toolbox and Healthy Camps Committee.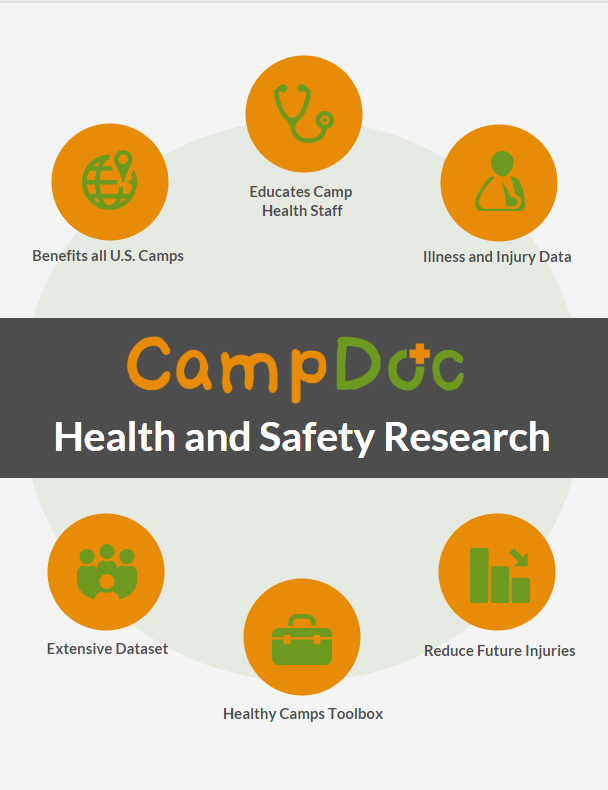 About CampDoc
CampDoc, a division of DocNetwork, is an international, comprehensive electronic health record system, offering solutions to improve efficiency and maximize safety in local camp communities.  A collaborative effort between camp doctors, nurses and camp directors, CampDoc helps summer camps manage health forms, allergies, medications, and illness and injury tracking.  CampDoc also offers online registration, travel and emergency medical protection, emergency text message alerts, discounted camp medical supplies, and one-way parent emails for children at summer camp. For more information about CampDoc and web-based health management, please visit www.campdoc.com or call 734-636-1000.