ACA, Indiana Winter Gathering
Date
December 12, 2023
8:30 am – 4:00 pm ET
Location
Conner Prairie 13400 Allisonville Road
Fishers, IN 46038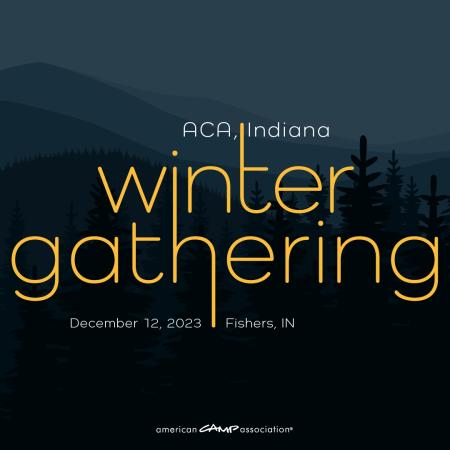 Cost
See pricing details below
CECs
3.00
Please join us for the Indiana Winter Gathering! Connect with fellow camp professionals for a great day at Conner Prairie in Fishers, Indiana. The conference features a variety of educational sessions and networking opportunities. 
Safe and Healthy Meetings
ACA is committed to providing opportunities to engage in the safest and most enjoyable in-person experience possible. Learn more.
Early Bird registration is available through November 13, 2023.
Registration includes conference program, continental breakfast, and lunch.
Not an ACA Member? Join today for FREE and get the best rates for this event!
| Type | Early-Bird | Regular |
| --- | --- | --- |
| Member | $65 | $75 |
| Non-Member | $90 | $100 |
| Additional person from same organization - Member | $60 | $70 |
| Additional person from same organization - Non-Member | $85 | $95 |
| Retiree / Student / Speaker | $55 | $60 |

Dr. Jamye Hardy-Wille offers an approach to leadership development that is grounded in her passion to help people and organizations grow to be their best by incorporating wellbeing and play into applicable learning outcomes for audiences. She is a Licensed Master Social Worker, a Doctor of Education in Leading Learning Organizations and Strategic Change, former faculty, and current higher education administrator in Student Care. A native of Nashville, TN, Jamye lectures and facilitates dialogue from her unique experience of life, leadership, and volunteerism, as well as improv and stand-up comedy. Dr. Hardy-Wille deeply values the arts, culture, and education, and currently serves on the Board of Directors at W.O. Smith Music School, the Board of Directors for Unscripted Improv, and the Advisory Board for Promise Land Heritage Association, and the Alumni Board for University School of Nashville.
Dr. Hardy-Wille is passionate about highlighting the connections between mental health and success, and primarily facilitates dialogue and consults with leaders on elevating purpose, identifying accountability and tools, the value of a wholistic approach to wellbeing, and mindset development. Her approach to practice is grounded in the strengths perspective, positive psychology, growth mindset, and the value of play.
Dr. Hardy-Wille's first job in high school was that of a camp counselor after a childhood of summers full of Girl Scout, music, sports, cultural, and academic camps, and attributes much of her creative approach to team building leader development to the foundation that those experience developed. Equally important to Jamye as her service to others is her love sports, arts, travel, and spending time with her husband and pit-ridgeback rescue, Nala.
Opening Keynote: Beyond Recreation: The Strategic Impact of Play
In a world often dominated by stress and demands, the concept of play seems to have been pushed to the background. The camp industry is designed to facilitate fun engagement for the development of our campers, but do we, the people behind the strategy and implementation of programming believe in play for ourselves? What if play could be the key to unlocking a more joyful, connected, and productive existence? In this keynote, we'll embark on a journey to dispel myths and rediscover the essence of play and its profound impact on our lives. Together, we will explore the transformative value of play and learn how incorporating it into our lives and work can lead to better connections, enhanced leadership, and overall well-being.
Monday, December 11
9:30 a.m. - 5:00 p.m. IYPC Preconference
6:00 p.m. - 8:00 p.m. Social Gathering at Mashcraft Brewing in Fishers, IN

Join us for a fantastic opportunity to connect, share experiences, and build lasting relationships with other camp pro's
Tuesday, December 12
Full Schedule with Session Descriptions
8:30 a.m. - 9:15 a.m. Registration & Social Time
9:20 a.m. - 9:45 a.m. Welcome Activity
9:45 a.m. - 11:00 a.m. Opening Keynote with Dr. Jamye Hardy-Wille
11:15 a.m. - 12:15 p.m. Educational Breakout Sessions 1
12:30 p.m. - 1:30 p.m. Lunch
1:30 p.m. - 2:30 p.m. Roundtable Discussions
2:45 p.m. - 3:45 p.m. Educational Breakout Sessions 2
4:00 p.m. - 4:30 p.m. Closing Activity
Breakout Sessions Include:
Staff Recruitment: Connecting with colleges, universities, and beyond
Moving from Surviving to Thriving at Camp: An Adult Centered Approach
The Future of Camp: Responding to Camper Behaviors
Queer Camp Roundtable: How we built an intentionally inclusive LGBTQ+ camp experience and how you can too
Power Play: Leading and Learning from Improv
Equity and Belonging: Staff Practices to Promote Equity & Belonging (And How Leaders Can Model Them)
Learning to CampWell: Tips to Take Care to the Next Level
Youth Program Planning: What is your Risk PREFFerence?
December 11th
9:30 am   Registration & Networking
10:00 am  DEI with Dr. Tim
12:00 pm  Lunch
1:00 pm   Indiana Youth Institute Presentation
1:30 pm   Camps on Campus Handbook Workshop
3:00 pm   Q&A with Tracey Gaslin, Alliance for Camp Health
3:30 pm   Presentation by Brandon Griffith, Dunes Learning Center
Youth Mental Health First Aid Course 
Wednesday, December 13
9:00 a.m. - 3:00 p.m. 
Hosted at Jameson Camp in Indianapolis, IN
The Youth Mental Health First Aid Course is designed to teach individuals how to help an adolescent (age 12-18) who is experiencing a mental health or addictions challenge or is in crisis. The course introduces common mental health challenges for youth, reviews typical adolescent development, and teaches a 5-step action plan for how to help people in both crisis and non-crisis situations. Topics covered include anxiety, depression, substance use, disorders in which psychosis may occur, disruptive behavior disorders (including AD/HD), and eating disorders. 
This course is blended, there will be an online portion as well as the in-person training. 
Participants will need to provide their own lunch. Registration includes the training and course materials. 
Event Sponsorship Opportunities
Sponsoring an ACA event will extend your brand identity and marketing capabilities.  For questions regarding sponsorship opportunities, contact Kim Bruno.