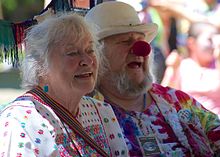 Wavy and Jah from Camp Winnarainbow for over 40 years of dedication and commitment to the camp movement.
Distinguished Service Award
This award will be bestowed upon an individual who has given outstanding and extensive service to a particular camp for at least 10 years. A camp may nominate an individual for this honor to recognize them for lifetime contributions to the camp or camping movement.
About Camp Winnarainbow
Camp Winnarainbow provides a training ground to nurture leaders for a peaceful, harmonious and sustainable world by teaching responsibility for one's own behavior and developing confidence, inner security and appropriate self-expression.