This tool kit has everything you need to successfully invite an elected official to your camp and manage their visit.
Inviting elected officials to camp is a great relationship-building and press event for your camp, and this tool kit contains templates and insights to help you do it successfully.
The comprehensive guide and the J-1 Cultural Exchange Storytelling Best Practices are effective tools to communicate the transformative experiences of campers and counselors.
Please let ACA know that you've invited an elected official or government official to camp and if you've completed a camp visit.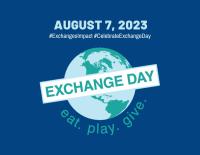 Celebrate Exchange Day on August 7
Raise awareness of international exchange programs and spread the word on #ExchangeDay2023 about the power and breadth of cultural exchange.
Summer is a great time to invite your elected officials to camp! We encourage camps to invite elected officials to camp to promote close ties between camps and the community. Camps provide an opportunity for representatives to witness first-hand the power of the camp community and learn how camp experiences enrich the lives of children, youth, and adults.
Camp is more than recreation; as part of year-round learning experiences, it contributes to the growth and development of children, youth, and adults. The camp experience significantly enhances the work done by schools, civic organizations, and government institutions helping children develop into healthy adults. Camp provides a safe and nurturing environment that gives children and youth a sense of community. Kids are at less risk when they feel loved, capable, and included. Camp fosters these feelings of accomplishment and self-worth. The camp offers a supervised, positive environment with well-defined boundaries that help children and youth grow. Camp builds compassionate committed leaders who understand community service.
Camp provides opportunities that are critical to a child's total education. The camp community includes caring adults who offer experiences that promote discovery, exploration, and active participation. Children practice growing up by taking healthy risks. The camp experience also teaches young people the values of shared responsibility and strong stewardship of our environment. Camp enriches lives and changes the world for today and tomorrow.
Visits to camps by elected officials will help bring these messages home to parents and children. Interacting with the people who make the nation's laws will help campers understand how government works and what our democratic system will expect of them as they reach adulthood. Policymakers will have a greater appreciation for the next generation of Americans. These visits will also allow you to share the concerns of your camp, community, and the camp industry as well as express that summer camp for every kid is needed.
US House Representative and Senator (Federal laws)
Find your member of Congress and invite them to camp. Federal laws passed by the US Congress apply to the entire country. For example, the Far Labor Standards Act establishes minimum wage and Child Protection Improvement Act gives camps access to FBI background checks are federal laws.
State Representative and Senator (State laws)
Find your state legislator and invite them to camp. Each state has its own set of laws and regulations governing the operation of summer camps. For example, some states require camps to be licensed or may be planning to do so.
City and County Council Member (Local laws)
Find your city or county council member and invite them to camp. Local zoning ordinances and building codes can impact the operation of camps. For example, a local zoning ordinance may restrict the use of certain types of land for camping, or a building code may require that cabins or other structures meet certain safety standards.
Step 1: The Invitation
Letters of invitation should be sent to your elected official as early as possible. The letter should do the following:
Introduce yourself
Invite the elected official to spend a day at camp to highlight the role camps play in the community and how they contribute to the personal development of youth.
Provide a profile of the camp, including:
A brief history and description of the camp's location
The number of campers and employees, and some information on the camp's economic contribution to the area
 A little about the campers who attend — their ages, residence, diversity, etc.
Describe what the elected official will experience during the visit, such as:
Campers involved in activities
Events in which they may participate
A briefing and tour of the camp
Opportunities to talk with campers and staff
Explain what you hope they will contribute, such as:
How much time (options: an afternoon, a full day, an overnight, etc.)
A speech to the campers in the meeting hall
Participation in campers' activities
Explain what you will do, such as:
Film the visit for use in a video
Invite the press to participate
Feature the visit in an article for a newsletter or other communication with parents
Feature the visit on the camp Web site Invite the elected official to bring staff.
Identify who they should contact to RSVP and make arrangements for the visit.
Enclose a brochure or other preprinted information about the camp.
Step 2: Follow up
It is important to follow up on the written invitation and call the office to which the letter was sent. Ask for "the scheduler." Once you are talking to the correct person, ask whether the invitation was received and if there are any questions.
Step 3: Additional follow-up
If there is no response within a week, call the office again. Ask if there is anything you can do to make a visit more worthwhile and how soon you can expect a response.
Step 4: Invitation of staff
If an elected official declines, extend an invitation to the elected officials' staff. A staffer may be visiting the area during the summer.
Step 5: "Thank you for accepting" letter
Follow up acceptances with a thank-you letter that contains more details on the visit (including background on issues of greatest importance to the camp community and your community). If you are not sure about what all the public policy issues relevant to camps are, visit the ACA's Issues — Education and Information page. Let the visitor know a proposed itinerary and that additional information will be provided close to the time of the visit. The itinerary should include:
Directions to camp
Estimated time of arrival
Who will meet the elected official and where (transportation from an airport or other location should be offered)
If different from "who will meet the elected official," who will be the elected official's designated host, and where they will meet (Note: elected officials should have a designated tour guide that is familiar with the programs and their purpose)
Briefing by the camp owner/director and senior staff
Brief tour of the camp facilities
Observation of or participation in events involving campers
Assembly of campers for a speech by your guest and presentation of mementos of visit (inquire of the executive assistant what the rules are for accepting mementos)
Press opportunities
Estimated time of departure
Instructions on casual attire
Anything else pertinent to the visit
Step 6: Have a great visit with elected officials
Have fun, take plenty of photos, record videos, and advocate for what is important to your camp and the camp industry.
Step 7: "Thanks for visiting" letter and posting on social media
After your visit from your elected official, follow up with a thank-you email and post the content from your visit on social media and other relevant platforms.