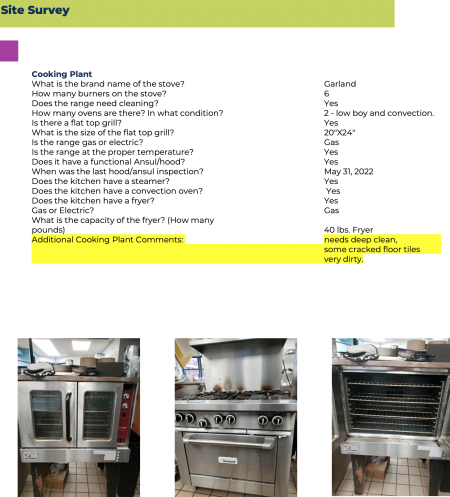 Ensuring the safety and compliance of your kitchen is a top priority for any camp or organization. However, conducting a thorough site survey can be time-consuming and overwhelming.
Introducing Site Survey by Campus Cooks — the comprehensive solution to ensure your kitchen is ready. Our expert team will thoroughly evaluate your cooking plant, refrigeration/freezer, scullery, and kitchen areas. With detailed pictures, recommendations, and sourcing options for equipment, you can easily identify and address any issues, ensuring the highest standards of safety and satisfaction for your campers and staff.
Trust Site Survey by Campus Cooks to certify your kitchen's readiness and ensure a safe dining experience. Contact Anderson Dolton at anderson.dolton@campuscooks.com for more information or to schedule a survey. Note: only available in certain markets.