ACA, Southwest Winter Workshop
Date
January 11, 2024
9:00 am – 4:30 pm
Location
Natural History Museum of Utah, Rio Tinto Center 301 Wakara Way
Salt Lake City, UT 84108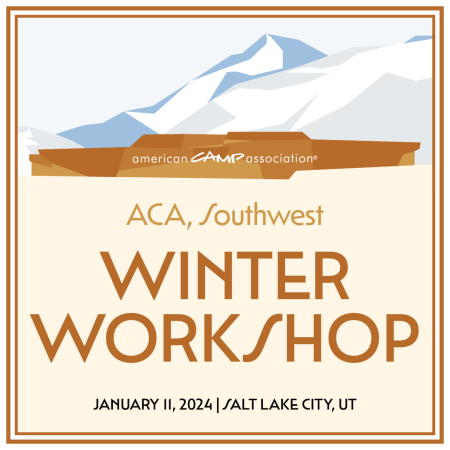 Cost
See registration costs below. 
CECs
5.00
Please join us for the Southwest Winter Workshop at the Natural History Museum of Utah in Salt Lake City!  This not-to-miss event features an opening keynote, breakout sessions and plenty of opportunities to network and connect with friends.
Call for Proposals
The Call for Proposals for the Southwest Winter Workshop is now open.  Lectures, hands-on sessions, and panel discussions are welcome.  Topic ideas include innovative programs, fundraising, justice, equity, diversity, and inclusion, camper and staff mental health, and the latest in research, to name a few, however the team is open to other topics, as well.  Speakers receive a discount on their event registration.    Sessions are 60 minutes long and will be accepted on a rolling basis.  The deadline to submit is November 14, 2023.   Submit a Session Proposal
Early Bird registration is available through December 14, 2023
Registration includes workshop program, continental breakfast, and lunch.
Not an ACA Member? Join today for FREE and get the best rates for this event! 
| Type | Early-Bird | Regular |
| --- | --- | --- |
| Member | $95 | $125 |
| Nonmember | $160 | $190 |
| Additional person from same camp-member | $80 | $105 |
| Additional person from same camp-non-member | $140 | $185 |
| Speaker | $70 | $70 |
| Student/Retiree | $60 | $60 |
9:00 a.m. – 9:30 a.m.                         Registration/Continental Breakfast/Networking 

9:30 a.m. – 10:45 a.m.                       Welcome and Keynote

10:45 a.m. – 10:55 a.m.                     Break

10:55 a.m. – 11:55 a.m.                     Breakout Session 1

11:55 a.m. – 12:55 p.m.                     Lunch and Awards

12:55 p.m. – 1:55 p.m.                       Breakout Session 2

1:55 p.m. – 2:05 p.m.                         Break

2:05 p.m. – 3:05 p.m.                         Educational Session 3

3:05 p.m. – 3:15 p.m.                         Break  

3:15 p.m.– 4:15 p.m.                          Education Session 4

4:15 p.m.                                            Thanks for attending!   
Breakout Sessions Include:
Play Matters
Staffing Round Table
What's In Your Backpack? Getting Deeper About Your Mental Health
Youth Belonging at Camp and Connection to Nature: A Collaboration Between Practitioners and Researchers
De-escalation Basics
Camp Panel of Experts
Oh no! That activity was supposed to take longer: How to extend hands-on activities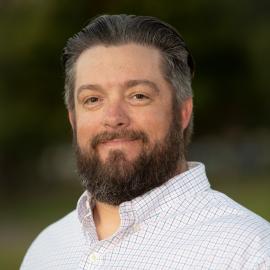 Tim Huchton is the President and CEO for Presbyterian Mo-Ranch Assembly in Hunt Texas. He started working in the camp industry while still in high school and has spent most of his professional career in this space. As a relationship builder he is passionate about helping create space for community and connections and feels that camps are some of the best places in the world to do so.
Tim has worked for numerous camps across Texas and the country and is a past employee of the American Camp Association. During his time with ACA, he helped coordinate and start the work with Camps on Campus as well as serve the needs of camps across the country. Tim's work with Mo-Ranch allows him to connect employees, alumni, donors, guests, and other stakeholders to a vision that creates a place and programs for people of all walks of life to gather and connect.
Opening Keynote-Camp Matters
Camp is more important today than ever before. Youth and young adults are facing a variety of challenges that did not exist 20 years ago. Technology, over programming, learning loss, a mental and emotional health crisis, and of course the COVID years. These challenges also present opportunities and a chance to make significant impacts in the lives of those we serve through our programs. Camp CAN and DOES make a difference in the lives of our participants and staff alike. It has the power to help them overcome challenges and build important life skills along the way, all while having a great time.  Tim will share current trends in our industry, the importance of the life development skills we incorporate in our programs for both campers AND staff, and stories of impact throughout the years.
The New Director Orientation (NDO) is not just for new directors!  The NDO is a must for leadership staff and camp directors who have been in their position for five years or less. The course covers:
•    camper and staff development and behavior
•    leadership & supervision
•    staff training
•    evaluation and assessment
•    risk management
Registration includes program, lunch, and a workbook that is full of incredible resources. 
This NDO course will be offered in a hybrid model.  Participants need to attend the virtual portion of the training on January 5 from 9:30 a.m. until 12:00 p.m. (don't worry-there will be breaks!) as well as the in-person training on January 10 from 10:00 a.m. to 3:30 p.m.
Participants will be contacted by the instructor prior to the course and given instructions and access to course materials.
The registration deadline is January 3, 2024.
Not an ACA Member? Join today for FREE and get the best rates for this course!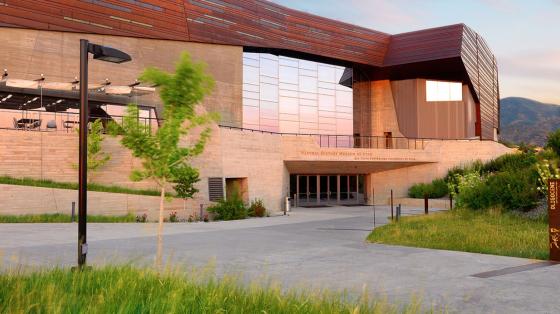 The Natural History Museum of Utah's home, the Rio Tinto Center, is an inspired architectural wonder nestled in the foothills above Salt Lake City. Its distinct architecture, complete with incredible exhibit galleries and sweeping views of the valley, offers a unique setting for the Southwest Winter Workshop. 
Event Sponsorship Opportunities
Sponsoring an ACA event will extend your brand identity and marketing capabilities.  For questions regarding sponsorship opportunities, contact Kim Bruno.