Courageous Conversations at Camp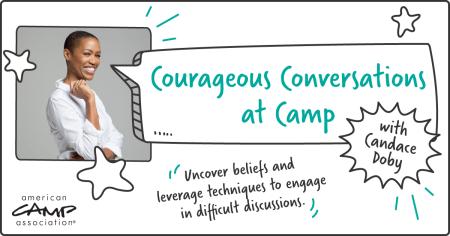 Core Competency
Diversity, Equity, and Inclusion
Leadership
Type of Course
Online Course
Cost
See pricing details below.
CECs
1.25
A coworker makes a racially insensitive joke. A board member resists changes that foster inclusion. A supervisor's communication style impedes belonging. Hard conversations within the camping profession are real and waiting on you to engage them to help your teams (and yourself) tap into possibility and elevate to the next level. In this course, speaker and coach Candace Doby helps participants uncover beliefs and leverage techniques to help them have courageous conversations.
At the end of this course participants will:
Learn about the benefits and opportunities that can come from hard conversations
Uncover the root of what makes some conversations difficult
Learn the process to call up the courage to manage fear and discomfort that generates from hard conversations
Get equipped with tools and strategies to engage in difficult, yet necessary, conversations that will make them better professionals and improve the communities they serve
Cost
Regular Rates
Single person access — Price: $40 member; $80 nonmember
Purchase access for multiple persons — Price $65 member; $150 nonmember for a bundle of 10 learners.  Please contact us to purchase access for more than one person. 

Your staff will self-enroll into course with an enrollment key we provide. 
Your staff may complete the program at their convenience. 
Presenter Bio

Candace Doby is a speaker, author of A COOL GIRL'S GUIDE TO COURAGE, and coach who works with organizations to create cultures of courage for increased engagement and productivity.
Candace combines a decade of research on courage with her experiences launching her own business, leading marketing teams at a global brand and traveling the world solo. This unique combination equips her with the implementable strategies she has shared with 40,000 leaders and counting to help them courageously speak up, step up and show up authentically. Candace is the owner of online greeting card and gift company Pep Talker and the creator/host of The Courage Hotline podcast. 
Candace holds a bachelor's degree in Journalism and Mass Communication and a master's degree in Technology and Communication from the University of North Carolina at Chapel Hill. 
Sponsored by: