CampSafe® Child Sexual Abuse Prevention Training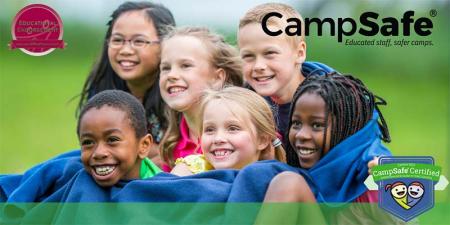 Core Competency
Family & Community
Health & Wellness
Human Resources
Leadership
Risk Management
Youth Development
Type of Course
Partner Online Course
CECs
2.00
Training your staff to the level of safety and professionalism that you and your camp families expect becomes a greater challenge each year.  Your primary focus is safety and that includes the personal safety of your campers and staff.  CampSafe® is an innovative, interactive online training, provided before staff arrive at camp, which sends the message that your camp has a zero-tolerance policy for any type of abuse, specifically sexual abuse and that you provide staff an open and supportive work environment.  CampSafe helps to ensure that all staff including frontline counselors, specialists, dining, and administration, have a strong foundational knowledge on child sexual abuse prevention, and response. This training is specifically designed for camp staff to take the topic seriously without instilling fear and includes animation vignettes representing real camp situations. CampSafe is created by experts in child sexual abuse prevention. The CampSafe for staff training takes approximately 40 minutes to complete. The course has a post test and certificate.
Endorsed by the ACA
CampSafe® includes a comprehensive training for camp directors and camp leaders. The Director training is taken prior to your staff taking the CampSafe training.
CampSafe® Director Certification modules include:
Screening, interviewing and background protocol

Creating a Camper Advocate Team

Child protection policy and procedures

Preventing peer on peer abuse

Supervising around the issues of child sexual abuse prevention

Follow-up training outline to provide during Pre-camp Orientation

Links to state resources

Establishing healthy boundaries ice breakers for counselors/campers

Sexual harassment

Letters to Parents and Staff

Post testing for certification

And much more.
Benefits of the CampSafe® training
Whole-Camp Approach

: All staff and volunteers go through the training BEFORE arriving at camp. This includes counselors, dining, maintenance, administration, specialists, health providers. Everyone.

Powerful Messaging:

 Demonstrates to parents that protecting their children is your foremost concern. Demonstrates to staff and volunteers that your camp has zero tolerance for sexual abuse.

Orientation Kickstart

: Reinforces and enhances orientation week sessions focused on abuse prevention.

Harm Reduction

: CampSafe trained staff reduce the risk of sexual abuse at camp.

Proactive approach

: Training staff and volunteers helps break the cycle of child sexual abuse and shines an important light on this often-taboo topic. This results in Educated Staff, Safer Camps.

Combination themes

: Open conversations with staff about sexual abuse prevention are paired with conversations about modeling healthy relationships, boundaries, and consent.

Focus on Compassion

: CampSafe training promotes compassion toward campers. Trained staff become fluent in the language of safety while providing comfort, aide and access to supervisory staff guidance.
Testimonial: CampSafe provided an easy yet effective resource to train our summer and seasonal staff in the important understanding of protecting children placed in our care. It handles the serious matter of child abuse in a way that doesn't sugar coat the problem but also makes it digestible for high school and college age staff. The online course also provided great discussion points when we did our in-person training. We would recommend CampSafe to any camp to equip their staff and make sure their campers are safe. Residential Camp, Director of Learning, North Carolina
At the conclusion of this training all staff will be able to:
Identify the signs of sexual abuse and characteristics of a child in need.

Describe and recognize the signs of grooming in a camp setting.

Follow professional camp protocol to seek supervision regarding any concerns or to report abuse.
For more information about CampSafe: https://www.centerforchildcounseling.org/programs/kidsafe/campsafe/
Evaluation process:  Post testing. Post summer interviews and surveys with Directors.
To learn more about this course and fees (depending on camp size) contact BeKidSafe@centerforchildcounseling.org