Purpose of the Accreditation Program
Accreditation educates camp owners and directors in the administration of key aspects of camp operation, particularly those related to program quality and the health and safety of campers and staff. 
Accreditation establishes guidelines for needed policies, procedures, and practices. 
Accreditation assists the public in selecting camps that meet industry-accepted and government-recognized standards. ACA's Camp Database, called Find a Camp provides the public with eleven separate ways to search for the ideal ACA-accredited camp.           
Value of Accreditation 
The Value of Accreditation — Helpful information for prospective camps, parents, media (PDF)
Industry Standards
ACA is the only independent accrediting organization reviewing camp operations in the country. ACA's nationally recognized standards focus primarily on the health, safety, and risk management aspects of a camp's operation. ACA's accreditation is administered through a peer-review process. ACA collaborates with experts from the American Academy of Pediatrics, the American Red Cross, and other youth-serving agencies to assure that current practices at the camp reflect the most up-to-date, research-based standards in camp operation. ACA's Accreditation Program is not intended to circumvent the licensure required to operate your primary business.
Accreditation Basics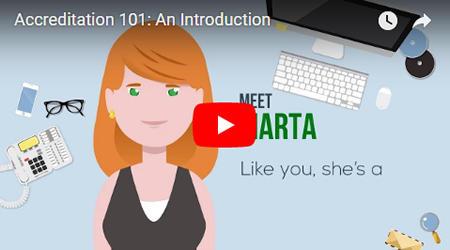 Who ACA Accredits
Updated criteria for who ACA accredits follows:
U.S.-based camps with at least one program that occurs in the United States or its territories.
Programs with a primary audience of campers five years and older. (NOTE: Many camps offer programs that serve some three- or four-year-old campers. If this is the camp's primary audience, accreditation or licensure through a different organization is most appropriate.)
Program sessions must be at least three days in length, with a specific purpose and goals.
Single-day programs and one-night/two-day programs are not considered for ACA accreditation.
Timeline and Important Deadlines for Camps Seeking Accreditation
To Do List — To receive a visit in the upcoming summer, a camp must do the following.
Fall/Winter/Spring but no later that March 1 — Submit an application and fees. If your program occurs primarily outside of the summer months, please contact ACA.
Fall/Winter/Spring but no later than March 31 — Complete an Accreditation Process Workshop.
Winter/Spring — Prepare materials and written documentation required by the standards; review and evaluate each area of camp operation, using the guidelines noted in the standards.
May 1 — Submit the written documentation required in the Written Documentation Review by May 1.
Summer — Participate in the peer review process (the "visit").
November — Receive notification of your accreditation.
Resources 
Questions? Call us 1- 800-428-2267 Dial option 2.