When did summer camps begin? According to Eleanor Eells, author of History of Organized Camping: The First 100 Years, "Many writers refer to camping as old as man himself." Spending time in nature, adopting a simpler lifestyle, experiencing educational opportunities of the outdoors – people have been more or less "camping" for centuries. Organized camping, on the other hand, is a more recent adoption, dating back to the late 1800s. Families moving to more rural areas, spending increased time in mountains, on lakes, at the seashore – the desire for recreational and educational opportunities in these settings quickly grew in popularity.
In the text American Camping Association, organized camping is defined as a "sustained experience which provides a creative, recreational, and educational opportunity in group living in the out-of-doors. It utilizes trained leadership and the resources of natural surroundings to contribute to each camper's mental, physical, social, and spiritual growth"(8). This is summer camp as we know it today, starting with The Gunnery Camp.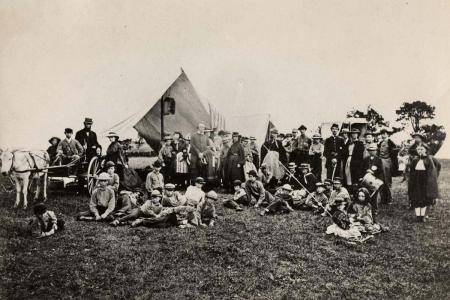 Photo courtesy of ACA, New England.
The Gunnery Camp is considered the first organized American camp. Frederick W. Gunn and his wife Abigail operated a home school for boys in Washington, Connecticut, known as the Gunnery School. In the days of the Civil War, the students sought to march, to fight, and live outdoors, just like the soldiers they heard about. Open to the idea of time in nature, physical activity, and an opportunity to build character, Frederick Gunn took the whole school on a two-week trip in 1861. The class hiked to their destination and then set up camp. The students spent their time boating, fishing, and trapping. The trip was so successful, the Gunns continued the tradition for fifteen years.
Because of his influence and ingenuity, Frederick Gunn is considered to be "the father of organized camping," inspiring camps and outdoor programming for years to come.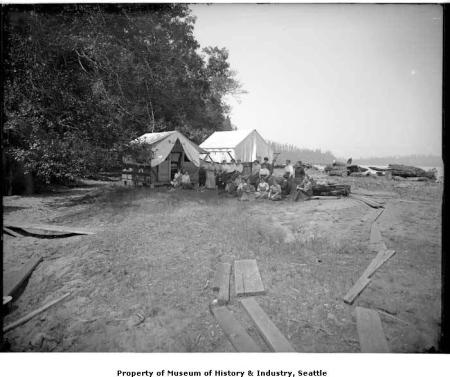 Photo: YWCA camp on Bainbridge Island, 1905. Museum of History and Industry, Seattle
The Young Women's Christian Association (YWCA) was a pioneer in the field of camping for women in America and the first organization to provide vacation programs for industrial women workers (Eells, 48). The Philadelphia chapter of the YWCA founded the organization's first camp (or "vacation project," as it was called). This summer boarding and vacation house was for "tired young women wearing out their lives in an almost endless drudgery for wages that admit no thought of rest or recreation." The first YWCA camp was at Asbury Park, New Jersey, and was called Sea Rest.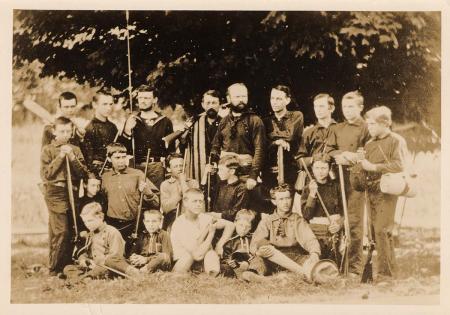 Photo: Campers with Joseph Trimble Rothrock, M.D., Botanist, in 1876.
An American environmentalist, and recognized as the "Father of Forestry" in Pennsylvania, Dr. Joseph Trimble Rothrock founded the North Mountain School of Physical Culture near Wilkes-Barre, Pennsylvania (National Archives). For about $200, boys from Philadelphia and Wilkes-Barre came for four months over the summer. The idea was to take "weakly boys out into camp life in the woods . . . so that the pursuit of health could be combined with the practical knowledge outside usual academic lines" (Dr. Rothrock).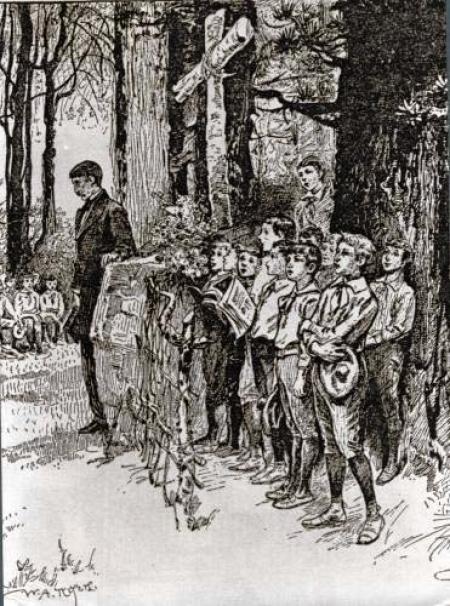 Camp Chocorua, located in Squam, New Hampshire, was founded by Ernest Balch in 1881. Balch was concerned about the life of wealthy adolescent boys in the summer. His aim was to develop hardy, responsible, independent, and resourceful youth by providing no servants, no class distinctions, and no snobbery in his camp's small, democratic, sharing community.
Photo: Ernest B. Balch and boys in Camp Chocorua's outdoor chapel, as pictured in an article by the founder's sister Elizabeth Balch, "The Boys' Paradise," in the magazine St. Nicholas, June 1886. Courtesy of the New Hampshire Historical Society, Concord Monitor.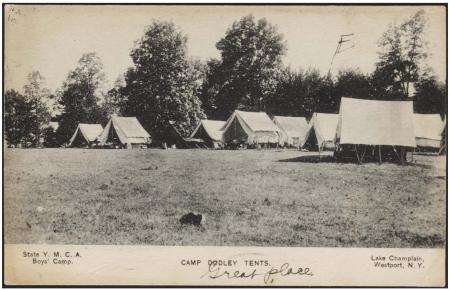 Photo: State YMCA Boys' Camp Camp Dudley tents Lake Champlain, Westport, N.Y., ca. 1900-1915. Springfield College Archives and Special Collections.
As early as the 1850s, the YMCA (Young Men's Christian Association) developed resources and programs for teenage boys and young men who were alone in the big city where they experienced temptations, loneliness, unbelievably long working hours, and a lack of recreation (Eells, 48).  Sumner F. Dudley, a young businessman, and seven boys from the YMCA in Newburgh, New York, go on a camping trip. By 1891, there were eighty-three campers. The camp became known as Camp Dudley and is the longest continually operating camp in the United States.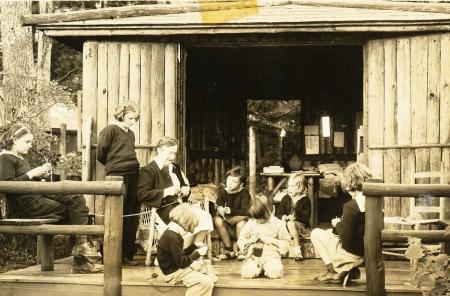 Photo: Camp Kehonka, 1940s, Kehonka Wordpress
In 1892, Camp Arey in Arey, New York, became the first camp to admit girls. By 1902 the camp was serving girls exclusively. Other camps serving girls made their appearance in 1902 as well, including Camp Kehonka in New Hampshire, Pinelands of Center Harbor, Maine, and Wyonegonic Camps in Denmark, Maine. Others quickly followed such as the Aloha Camps in 1905 and Alford Lake Camp in 1907 as well as the Gulick Wo-he-lo Camp in 1910. As the movement spread 125 girls' camps were established by 1925. Wyonegonic is the oldest continuously running camp for girls in the United States.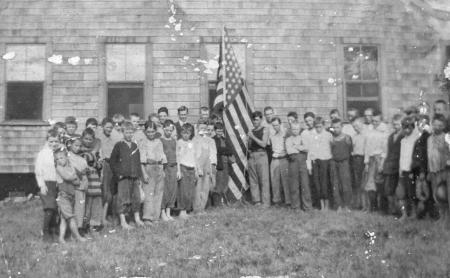 Photo: Boys & Girls Club of Greater Salem Massachusetts - Boys at Camp Rowley, 1915 "Citizens of Tomorrow" Boys and Girls Club of Greater Salem Collection.
The Boys' Club in Salem, Massachusetts, organized a seven-week summer camp and seventy-six boys attended. By 1930, more than sixty Boys' Clubs conducted summer camp with approximately 26,088 campers attending. In 1990, the organization changed its charter to include girls and its name to Boys & Girls Clubs of America.
Up until this time, camping was a man's world. That all changed when Laura Mattoon, a trail blazer in organized camping, founded Camp Kehonka for girls in New Hampshire. Mattoon was a private school teacher who created opportunities for her students to interact with the natural environment during a time in our society that did not believe this experience was appropriate for girls. She created bifurcated garments for girls so that they could move freely in the outdoors. Her ideas were often misunderstood or met with social resistance. She understood the place that women were to occupy in the 20th century and that the camp experience would prepare them for it. Her ideas about camping, education, and a woman's role were in advance of her time.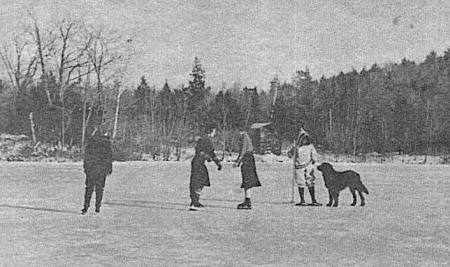 Photo: Laura Mattoon and her dog Major on Knight's Pond, circa 1934. Camp Kehonka.
In the late 1800s, researchers discovered adults in the farming community did not readily accept new agricultural developments on university campuses, but found that young people were open to new thinking and would experiment with new ideas and share their experiences with adults. In this way, rural youth programs introduced new agriculture technology to communities.
The idea of practical and hands-on learning came from the desire to connect public school education to country life. Building community clubs to help solve agricultural challenges was a first step toward youth learning more about the industries in their community.

In 1902, A.B. Graham started a youth program in Clark County, Ohio, which is considered the birth of 4-H in the United States. The first club was called "The Tomato Club" or the "Corn Growing Club." T.A. Erickson of Douglas County, Minnesota, started local agricultural afterschool clubs and fairs that same year. Jessie Field Shambaugh developed the clover pin with an H on each leaf in 1910, and by 1912 they were called 4-H clubs.
Today, 4-H serves youth in rural, urban, and suburban communities in every state across the nation. 4-H'ers are tackling the nation's top issues, from global food security, climate change, and sustainable energy to childhood obesity and food safety. 4-H out-of-school programming, in-school enrichment programs, clubs, and camps also offer a wide variety of STEM opportunities - from agricultural and animal sciences to rocketry, robotics, environmental protection and computer science - to improve the nation's ability to compete in key scientific fields and take on the leading challenges of the 21st century.
Source: 4-h.org
The first Jewish camps in North America were JCC Camps, created as Fresh Air Fund camps. Just as the first Jewish Community Centers were established to provide educational and cultural support for adults new to the U.S., summer camps were opened to give their children some relief from the hot and dirty city. The first camps, Surprise Lake Camp, Tamarack Camps, and Camp Wise, were all established between 1902 and 1907. Motivated by the idea that no child should be denied a true outdoor experience, these camps focused on providing healthy meals and fresh air, ensuring that underprivileged Jewish children could experience a carefree week or two in nature.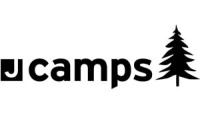 Around the same time, day camps grew out of local recreational programs, often started by school coaches or neighborhood nursery schools. They began to expand after World War II, just at the time that many Jewish families moved from urban centers to the suburbs. As young mothers entered the workforce in the 1970s and 80s, day camps became more important and greatly enhanced their programming, offering a wide variety of sports, arts, and special-interest activities.
Today, JCC day and overnight camps make up the largest network of Jewish camps in North America. Over 50 overnight camps and over 150 day camps provide meaningful summer experiences for thousands of campers and staff every summer.
Source: jcccamps.org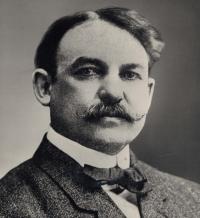 CDAA was founded in 1910 by Alan S. Williams. Williams created a model and standardizing influence for the organized camp experience for the young. The CDAA merged with the National Association of Directors of Girls' Camps in 1924 and changed its name to the Camp Director Association (CDA). In 1933, the name was changed to Camp Directors Association of America, then the American Camping Association (ACA) in 1935. This name would not be changed again until 2004, when it became the American Camp Association (ACA).
The first official Boy Scouts of America camp was held at Silver Bay, Lake George, New York, in August 1910.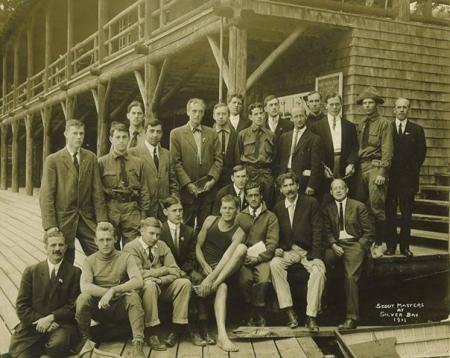 Photo: At the Boat House, photo by J.S. Wooley. Scout Masters at Silver Bay, 1911. KIHM.
The first Girl Scout camp was held in Savannah, Georgia. The first troop, organized in 1912, went on a five-day camping trip that same year. Since then, camp has played an important role in the Girl Scout program. In 1922, the organization decided to charter camps throughout the country.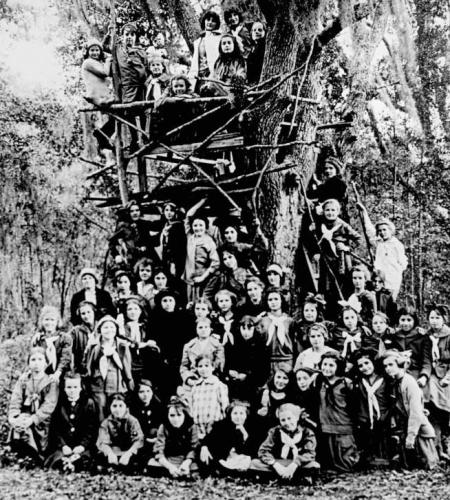 Photo: Group Photograph at Camp Lowlands, Savannah, GA. Girl Scout Archive Management System.
Dr. Luther Halsey Gulick and his wife, Charlotte (Lottie) Vetter Gulick, held strong interests in childhood education and concern for the problems of adolescence. In 1906, Dr. Gulick's interest in children's play and the universal need for recreation drew him into the Parks and Recreation Association of America with Dr. Henry Curtis of Boston. Soon after, in 1907, the Gulicks moved to South Casco, Maine, where they became friends with Dr. George Meylan, medical director and head of the Physical Training Department at Columbia University. Like the Gulicks, Meylan understood the vital role a camping trip could play in youth development, leading him to establish White Mountain Camp for Boys. The Gulicks purchased adjoining property to the camp, eventually establishing Sebago-Wohelo Camp for girls, believing that girls should be afforded the same or similar opportunities as boys. At first a campsite for the Gulick family and a few friends, it became a permanent camp in 1910, with 17 campers and Mrs. Gulick as director.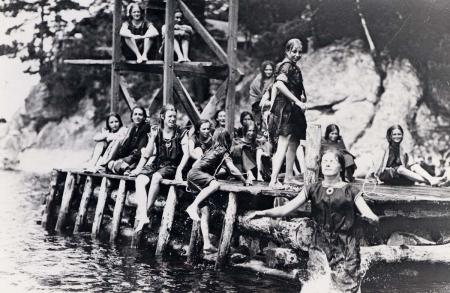 Photo: Camp Fire Girls at Lake Sebago. New England Historical Society.
A year later, in 1911, the Gulicks opened Camp Fire for Girls, with approximately 500 campers. Now known as Camp Fire, the camps of Wohelo and Camp Fire still operate today under the direction of the Gulicks' great-grandchildren.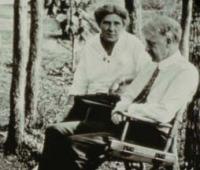 The interest in girls' camps grew after higher education for women was no longer a rarity and the graduate degree became the goal of more college graduates. Women had wider choices of careers, and woman's suffrage was on the way. Volunteer service became increasingly a "professional" occupation as a way to understand the social problems and their relation to the country's future. The profession of directing a camp was taken as seriously as that of teaching, social work, or the arts. In 1916, the National Association of Directors of Girls' Camps was formed at a meeting in New York City. Mrs. Charlotte V. Gulick became their first president.
Photo: Charlotte Gulick and Dr. Luther Gulick. Camp Fire Golden Empire.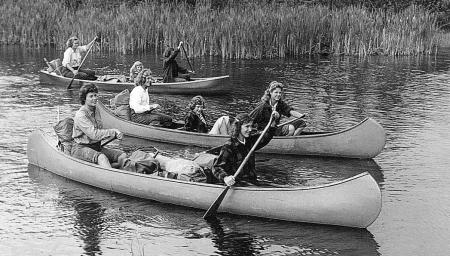 Photo: Clearwater Camp for Girls.
The Mid-West Camp Directors Association was formed in Chicago, Illinois. J.P. Sprague was named as its first president. Sprague was the founder and director of Wisconsin's private Camp Minocqua (Paris, 84). He married Sarah Holiday in 1931, who had previously established a summer camp on Lake Okoboji in Iowa in 1914. Together, they opened a new girls' camp in 1933, Clearwater Camp (Clearwater Camp for Girls).
Salvation Army camping began, as all Salvation Army programs, with a concern to improve the quality of life for families living in the crowded conditions of the inner city. The forerunner of camping consisted of "fresh air" outings for mothers and children; they were all day excursions via trolley or train to parks or areas outside the immediate city. 
At the same time the army held "camp" meetings - extensive evangelistic campaigns during warm weather months in the outdoors, usually under large canvas tents.
The popularity and success of both programs inspired greater endeavors and led eventually to the acquisition, by various means, of large tracts of land to be used for fresh air camps, for evangelistic camp meetings, and for outdoor oriented programs for Salvation Army group activities. 
Star Lake Music Camp, located 35 miles from New York in Bloomingdale, New Jersey, was founded in 1923 by Commissioner John Allen in the beautiful setting purchased during that year under the leadership of Commissioner Thomas Estill.
These early beginnings of Salvation Army camping have evolved into a variety of multipurpose camping programs, serving multiple populations through both traditional and specialized camp experiences.
Photo Source: The Salvation Army Central Museum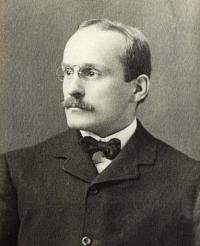 Photo: George L. Meylan (1903). Springfield College Archives and Special Collections.
On March 14, the Camp Directors Association (CDA), the National Association of Girls' Camps, and the Mid-West Camp Directors Association formed the Camp Directors Association. Dr. George Meylan, director of Maine's White Mountain Camp for Boys, became the first president. As a father of seven daughters, Meylan also purchased Camp Arcadia for Girls (Camp Arcadia).
By 1930, the CDA had become more national. It had nine regional branches, including the Mid-Atlantic Section, Midwestern Section, Rocky Mountain Section, and Pacific Section, reflecting the spread of camps across the country.
Initially published in 1926 as The Camp Directors Bulletin, in 1930, the name of the magazine was changed to The Camping Magazine. The Camping Magazine was the official publication of the Camp Directors Association, under the authorization of the National Board of Directors. Its purpose is to inform and educate camp professionals and others in related fields so they can successfully serve their clientele. The publication's title was shortened to Camping Magazine in 1946.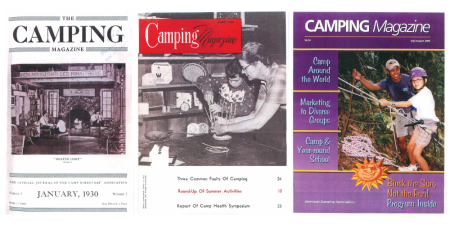 Only in the postwar era did the ACA grow more substantially, beginning to enforce minimum standards among its own members (but not the industry at large) with a new program of accreditation. ACA adopted the standards, beginning with the resident camp standards, which became the basis for ACA camp accreditation. ACA standards are recognized by courts of law and government regulators as the standards of the camp industry. There are currently up to 260 standards for health, safety, and programming. In 1954, for the first time, camps were required to provide evidence of compliance with ACA Camp Standards to be eligible for camp accreditation.
In 1956, ACA Camp Standards were broadened with the adoption of Day Camp Standards and the Report of Practices form for day camps.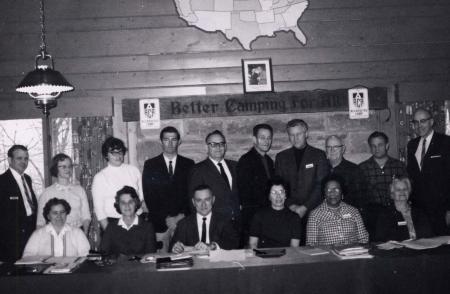 In 1968, a national standards rewrite committee was appointed to study the standards, using the research conducted by students at George Williams College. In the fall of 1971, the Individual Standards with Interpretations was revised and presented to the ACA Council of Delegates at the 1972 National Convention in New York City, where the revisions were adopted.
In 1998, camp standards were changed to reflect the nature of year-round camps. Many camps offer outdoor education in partnership with schools as part of the year-round camp operation. Additionally, the New York Public School System initiated Breakaways, a new model for public education. The nation's largest public school system incorporated camp into its curriculum. The new focus on year-round learning added up to twenty-eight days of nontraditional learning during the summer and school-year breaks.
In 2006, The Council of Delegates met in Chicago and adopted revisions to the standards. Influenced by ACA research and a renewed focus on the value of the camp experience, the National Standards Commission proposed the revised standards to expand requirements beyond physical safety to better address emotional safety in camps.
In 1950, the Program Committee and the Inter-cultural Committee presented resolutions to the effect that ACA, in the future, use facilities in which all hospitality and privileges were extended to all members of the Association, regardless of race, creed, or color. In October of 1950, there was a motion to uphold this resolution and change hotel venues for the 1952 National Convention in Chicago, Illinois.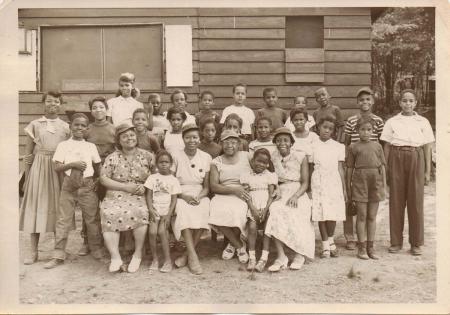 Photo: Camp Cuff, Pennsylvania, 1950.
In 1955, ACA leased four acres of land from Indiana University at Bradford Woods, the University's Outdoor Education Center near Martinsville, Indiana. Members contributed $73,000 to the effort, and ACA was able to build the first permanent home in its history.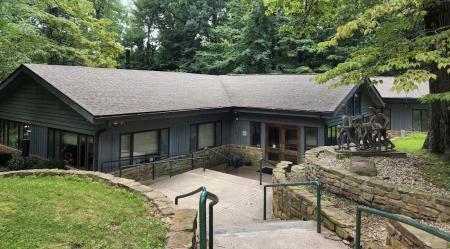 Photo: The American Camping Association moves its national headquarters to Bradford Woods, the association's first permanent location. 
In 1965 the Board of Directors proposed changes to the ACA bylaws regarding race and creed. The proposed change read, "Membership is open to individuals of all races and creeds who give evidence of agreement with and acceptance of the objectives of the Association . . . ." The proposed changes were published in Camping Magazine and a vote was taken in early 1966.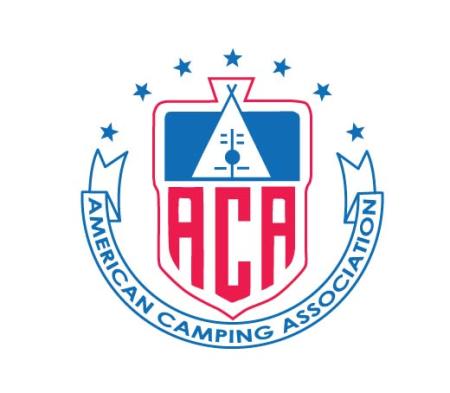 Photo: ACA logo, 1964-2004.
ACA has several Kindred Groups designed to serve the interests of niche communities of camp professionals within the organization.
In 1969, the Religiously Affiliated Camps or RAC (now called Faith-based Camp Professionals) was formed to serve the special interest of the religiously affiliated camp community, provide leadership development, and articulate the voice of the religiously affiliated community.
The Not-for-Profit Council was created in the early 1990s to serve the special interests of the nonprofit camp community.
Emerging Professionals in Camping (EPIC) is a branch of the American Camp Association started in 2004 through the ACA, New York Affiliate office and now has spread throughout the country to provide education, social networking opportunities, and events for individuals new to the camp industry. EPIC connects emerging professionals from around the country and strives to provide meaningful opportunities for learning. 
In 2014, ACA formed the Camps on Campus Kindred Group to help professionals running and operating youth programs on college and university campuses and K-12 independent school auxiliary programs. 
The Medical and Disability Camps Kindred became an official ACA group in 2021.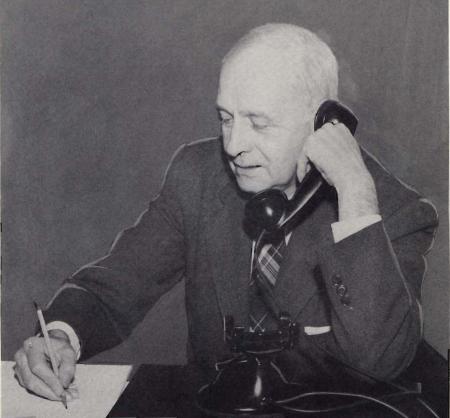 The first Hedley S. Dimock awards were given to Julian W. Smith, Sigurd F. Olson, and Stewart L. Udall. Dr. Smith served as director of the Outdoor Education Project at Michigan State University. Olson was an American author, environmentalist, and advocate for the protection of wilderness. Udall was U.S. representative from Arizona and Secretary of the Interior under Presidents John. F. Kennedy and Lyndon B. Johnson.
The Hedley S. Dimock Award was created to honor persons who had made significant contributions to the camp profession through related fields such as outdoor education, conservation, recreation medicine, education, architecture, or the social sciences through administrative, legislative, or professional contributions or by participation in local, state, or national program development. The award also required awardees to be ACA members, with at least ten years of membership.
Photo: Hedley S. Dimock.
In 1979, the ACA national conference was moved to an annual event after having rotated biennially with regional conferences for many years. The conference was called "Northland Calling, 1979 International Convention," and was held in Minneapolis, Minnesota. The conference was co-hosted by the Minnesota Section and the Canadian Camping Association.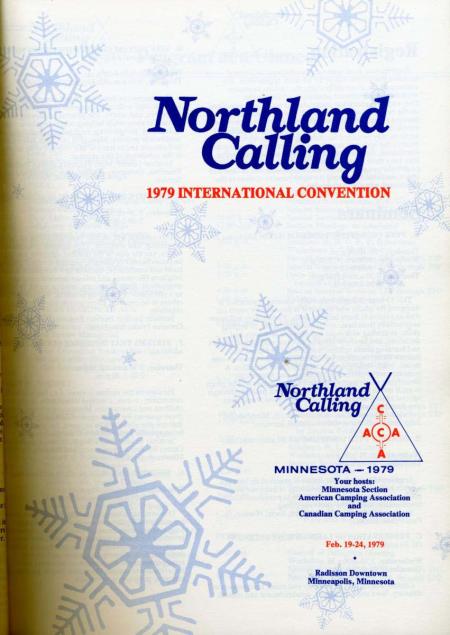 On March 4, 1983, the first meeting of members of The Acorn Society was held in Cincinnati, Ohio. The Society was created as a fellowship of individuals who believed in the purpose of organized camping and wanted to ensure that camping continues as a growing, educational opportunity. Each year, the ACA Foundation Board of Directors hosts an Acorn Society celebration dinner to honor those individuals who have made provisions for bequests to ACA in estate planning through wills, insurance policies, unitrusts, or other avenues.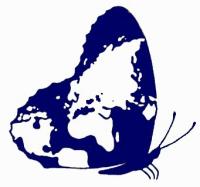 The first International Camping Congress is held in Toronto, Canada, in 1983. Four years later, the second International Camping Congress was held in Washington, DC. There were more than 1,800 people from fifteen countries in attendance. First Lady, Nancy Reagan, addressed the Congress.
In addition, the International Camping Fellowship was formed, and its basic operating standards were announced. The ICF logo – a butterfly – was born out of the "Our Fragile World" Congress theme. The butterfly logo was given to the ICF to represent the work of the ICF year after year (ICF Connect).
When first introduced, the Camp Crisis Hotline was provided during the camp season and was not available during the winter months. During the summer of 1985, there was one call placed to the ACA Camp Crisis Hotline. In 2001, the ACA Crisis Hotline became available year-round. In 2009, there were over 187 calls placed to the Hotline. Each year since, the Hotline has received over 100 calls.
The Pioneers of Camping Club was founded in 1985 by Marvin and Annette Black in honor of Marvin's father, Edwin "Hughie" Black, who started Pine Forest Camp in 1931. The Club offers special recognition for ACA members with at least thirty years of professional camp experience and for camps that have been in operation for at least thirty years and affiliated with ACA. This exclusive club's membership now includes over 130 individuals and over 165 camps. 
To accommodate growth in ACA's national staff, the groundbreaking began on the Phinney Wing of the national office. ACA members donated $1.3 million to fund the addition in honor of Theresa (Terry) Phinney, who was active for over 25 years in the ACA New England Section. She began in 1965 as the ACA New England executive secretary. In 1990 she retired from her role as the executive director. Also in 1986, the United States Senate passed Resolution 406 to honor the 125th anniversary of organized camping. Senator Christopher J. Dodd (Connecticut) championed this effort.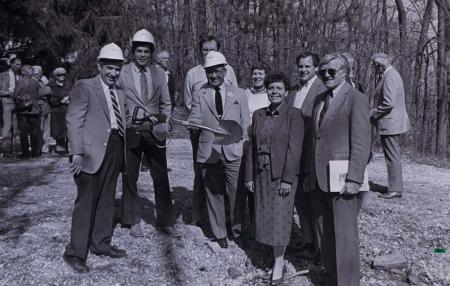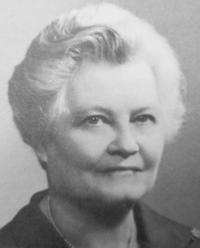 Eleanor Eells published History of Organized Camping: The First 100 Years, the first book to chronicle our history. In 1968 she received the first Distinguished Service Award presented by the American Camping Association. Her career began in 1915 at Lincoln College in Illinois, where she served as dean of women and professor of classics teaching Greek. 
After a year in this role, she enrolled at Columbia University to study social economics. Additionally, she found a job in New York's Upper East Side as an assistant girls' worker at the Union Settlement. In an effort to spark communication between two of the girls' clubs – one of young Jewish girls and one of young Italian girls – she took them to camp on the estate given by one of the Settlement's board members on Long Island's far east end. The trip was a success, and the girls wanted to return to camp the following year. 
In 1918, Eells resigned from the Union Settlement to take a job with the National Board of the YWCA in Illinois, where she was in charge of a War Work Center under the special program for girls in war-related industry. At the end of the war, the YWCA National Board decided to use their share of the National War Work Fund for developing, with local support, several camps for industrial girls in the South. They were intended for conference and recreational use and for experiments in industrial education.
In 1927, Eleanor and her husband, Edwin, moved to Association House on the northwest side of Chicago. The house was started in 1899 as a local YWCA. The program was both educational and recreational – used by Jewish children for clubs, classes, activities, and athletics. 
Soon after, the Association House Girls' Camp was started in western Lake County. It later included periods for boys and slowly developed in a neighborhood-based service, including some weekend use. In 1928 the camp was separately incorporated with its own board, and Eells became the director. 
Early in the Great Depression, the camp adapted to include services for children with emotional and behavior problems – most of them referred by social agencies. 
In 1941, Eells became the director of Herrick House and its camp for girls, Sunset Camp Service League, where she remained until retiring in 1960. She continued to remain active in the Illinois Section of American Camping Association, where she assisted with the founding of the Fund for Advancement of Camping (FAC).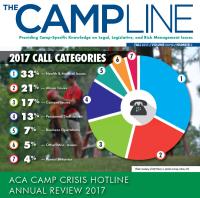 ACA introduced The CampLine, a newsletter designed to provide camp-specific knowledge on legal, legislative, and risk management issues. It was published three times a year covering topics such as legal perspectives, regulatory matters, risk management, personnel management, and current legislative issues. In the fall of 2009, The CampLine went digital, and is now available online.

Founded by Jeanne Otto RN in the early 1980s, the Association of Camp Nursing (ACN) began as a loose organization of camp nurses who received Jeanne's mimeographed newsletter once a year and grew into to being the leading voice in camp healthcare. When Jeanne decided to retire, she called for a gathering of camp nurses attending the ACA National Conference in Boston. Those 13 nurses became the original ACN Board of Directors. Incorporation followed in 1994, establishing a professional nursing organization. ACN leadership has been consistent and steady for 25 years, with only two executive directors since the beginning. Linda Erceg, RN, MS, PHN accepted the role of executive director, serving from 1994-2014. Tracey Gaslinm PhD, CRNI, CPNP, FNP-BC has been the executive director from 2014 to the present.
Acknowledging that the work of ACN includes the broad arena of camp health, the Board of Directors moved to become the Alliance of Camp Health in 2022 embracing three communities involved in camp health: nurses and health care providers, directors and camp leaders and behavioral health specialists.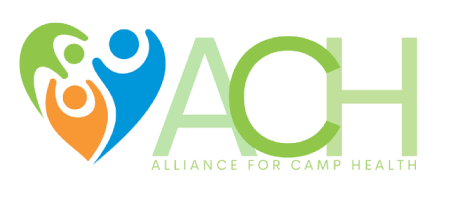 The U.S. Forest Service and ACA signed an agreement allowing camps to use public lands.
In 1997, there was a resurgence of emphasis on youth development outcomes of the camp experience. In the mid 1990s, the Search Institute began providing results of research in schools on child and adolescent development, risk prevention, and resiliency based on a framework of four developed assets, which are positive experiences, relationships, opportunities, and personal qualities that young people need to grow up to be healthy, caring, and responsible adults. ACA begins to integrate education on youth development outcomes in all aspects of camp operations.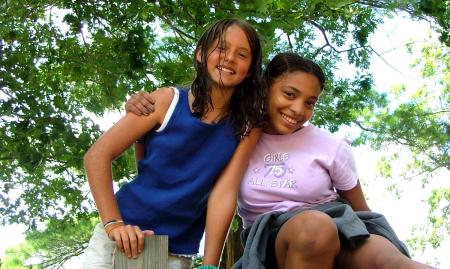 ACA was awarded a national research grant by the Lilly Endowment Inc. based in Indianapolis, Indiana, to conduct quantitative research to assess the youth development outcomes of the camp experience. The outcomes study was completed and results published in 2004.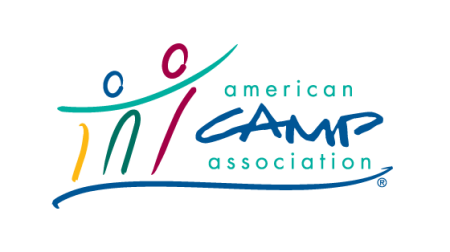 As part of the official name change from American Camping Association to American Camp Association, the ACA's logo was revamped. The new logo was launched at ACA's 2005 National Conference in Orlando, Florida.
ACA developed the Camp Program Quality Assessment tool in partnership with the Forum's Weikart Center in 2007 and currently makes a short form and simplified checklist available to the camp community. Both tools are designed for training staff and for use by internal staff teams to conduct observations and use their observations to identify opportunities for improvement while the camp program is in session. These assessments are meant to be informal, ongoing, and designed to engage staff at all levels.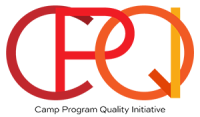 In 2020, with the generous support of Lilly Endowment, Inc., ACA launched an initiative to develop systems of support for program quality at camps. This two-year pilot project was conducted in partnership with the Forum's Weikart Center and concluded with a plan for a national "scale-up" in 2021.
ACA launched the 20/20 Vision, a definitive vision for the future of camp in which at least 20 million campers and 20,000 participants are engaged in camp and ACA by the year 2020.
ACA unveiled a groundbreaking PSA campaign, Because of Camp...®. Emma Roberts, Hill Harper, Lisa Loeb, Kerri Strug, Michael DeLorenzo, Justin Chambers, Paul Adelstein, James Pickens, Blair Underwood, Sharon Lawrence, Frank Sesno, Glynn Turman, Ashlan Gorse, and Lisa Raye shared how their lives have changed Because of Camp…™. This long-term campaign included broadcast and print. As a result of these efforts, ACA was named a national public service partner of the Outdoor Advertising Association of America (OAAA) which allowed the association to place hundreds of billboards nationwide at a fraction of the normal cost.
Preserving the rich history of the camp experience is essential for the future. The American Camp Association® celebrated our 100th Anniversary in 2010 and the 150th Anniversary of Organized Camping in 2011.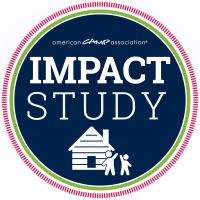 In 2016, ACA set out to explore the lasting impacts and the ways camp experiences prepare young people for college, their careers, and their lives beyond camp. The study has three major components, one focused on youth, one on staff, and one that explores leadership development through CIT programs and other staff recruitment strategies.
The 5-Year Impact Study was conducted by an external research team under the direction of an all-volunteer Research Advisory Committee, with nearly 80 ACA accredited camps participating in the study.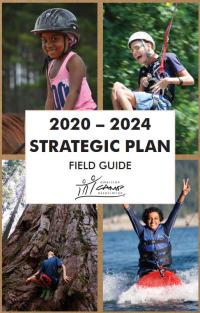 In 2018, the ACA Board of Directors invested in a nine-month strategic planning process involving hundreds of interviews, many focus groups, surveys, and retreats.
In June of that year, the board adopted a 2020-2024 strategic plan that gives substance to the 20/20 vision. It set a promising five-year agenda for ACA, and for each of us as experiential educators.
The strategic plan presents a case for bold investment in a future where all children, youth, and adults have access to high-quality camp programs.
Due to the COVID-19 pandemic, 2020 saw a massive hit to the summer camp industry. Prior to the pandemic, ACA served more than 15,000 year-round and summer camps in the US that annually serve 26 million campers and 1.2 million employees. In 2020, 19.5 million youth were unable to attend day or overnight camps, over 900,000 jobs were lost, and the industry took a hit greater than $16 billion in lost revenue.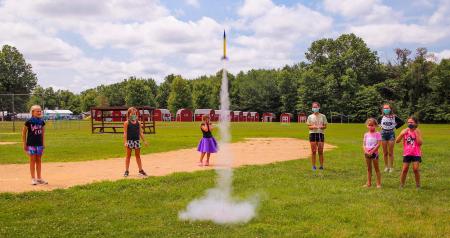 In response, ACA developed a Field Guide to help camps operate as safely as possible, arming camps with tools and resources to prevent the spread of COVID-19. Research showed that these techniques were highly effective at mitigating spread of the virus, allowing more campers to return to the summer camp experience. Despite the hardships of 2020, demand for summer camp is surging, helping the industry move closer to pre-pandemic numbers. The pandemic taught us that summer camp is more valuable than ever, playing a key role in kids' development and overall well-being.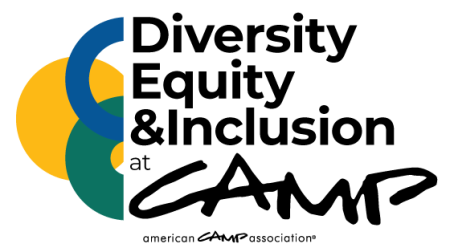 Through the Strategic Plan 2020-2024, ACA has committed to expanding equitable access to camp, and to growing the camp community through diversity and inclusion. Together with camps, camp professionals, and volunteers, ACA is working to help people of all backgrounds, beliefs, identities, and all abilities be valued inclusively and have access to camp. 
Through this work, ACA commits to prioritizing and appropriately resourcing diversity, equity, and inclusion to increase the reach, relevance, and equitable access to camp experiences. ACA will endeavor to routinely evaluate our strategy, efficacy, and advocacy for a more diverse, inclusive, and equitable experience at camp.